As the days have gotten shorter and the weather colder, I'm sure many of us are feeling the winter weariness that's approaching. It seems like there's no time in the mornings to get your bearings and map out a menu for the day—much less for the week. But because this season is all about comfort, we're sharing 30 lazy vegan recipes that will help you embrace your coziest, sweatpants-clad self. These recipes are full of quality, whole food ingredients that don't require much elbow grease. Plus, they're simple to make and effortlessly enjoyable for eating all season long.
Feature image by Michelle Nash.
Here's Why You'll Love These Lazy Vegan Recipes
I don't know about you, but when I'm being lazy, I'm being capital L lazy. With a trusty pair of pajamas and fuzzy slippers by my side, I could walk around like a zombie for hours on end. And when you catch me in this near-comatose state, I'm usually not in the mood to take on an elaborate kitchen project (though that level of culinary apathy is few and far between). If you're like me and you're looking for some simple recipes to store in your back pocket for lazy days, allow me to introduce you to this ultimate list of lazy vegan recipes.
Not only are they easy to assemble, but these lazy vegan recipes are composed of good-for-you ingredients that might just shock you back to life. (Or, at least give you something to feel great about!) But hey, if you have a chance to be lazy, why not enjoy it to the fullest? With that, it's time to kick back, unwind, and sink into some blissfully simple lazy vegan recipes for any time of day.
Lazy Vegan Recipes for Breakfast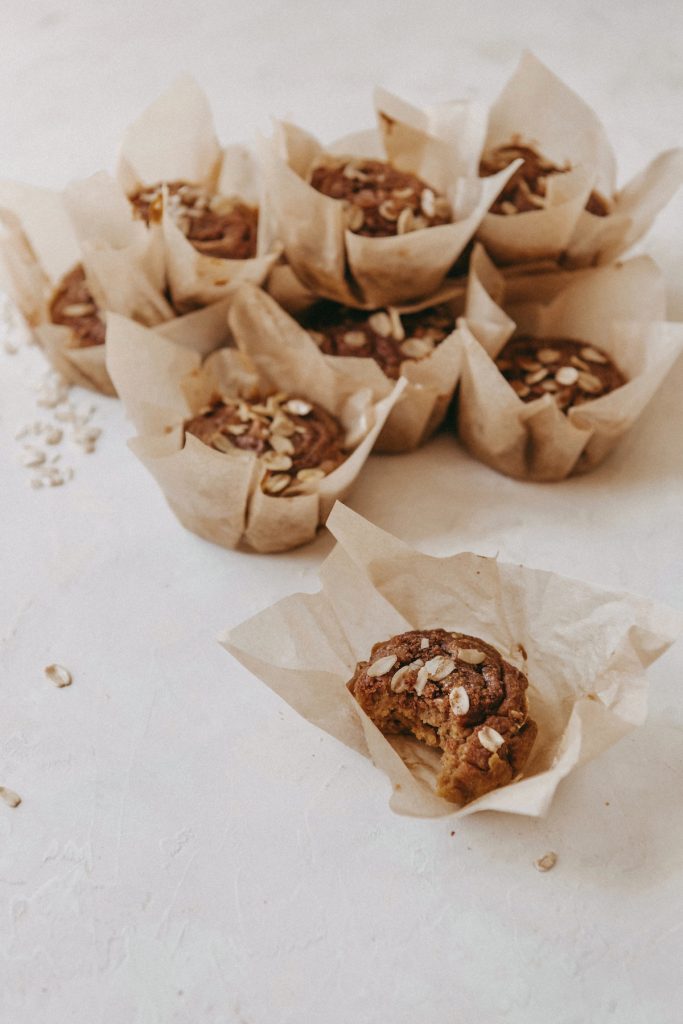 Why We Love It: These muffins are bursting with cozy vibes. The recipe is a quick fall baking project that thrives in every aspect. It's a one-bowl wonder that leaves you with fluffy, moist, easy-to-make muffins that are dairy-free, gluten-free, refined sugar-free, and totally delicious. They're perfect for breakfast on the go or a mid-afternoon snack that's both comforting and healthy.
Hero Ingredient: Banana and pumpkin is the fall collab you didn't know you needed.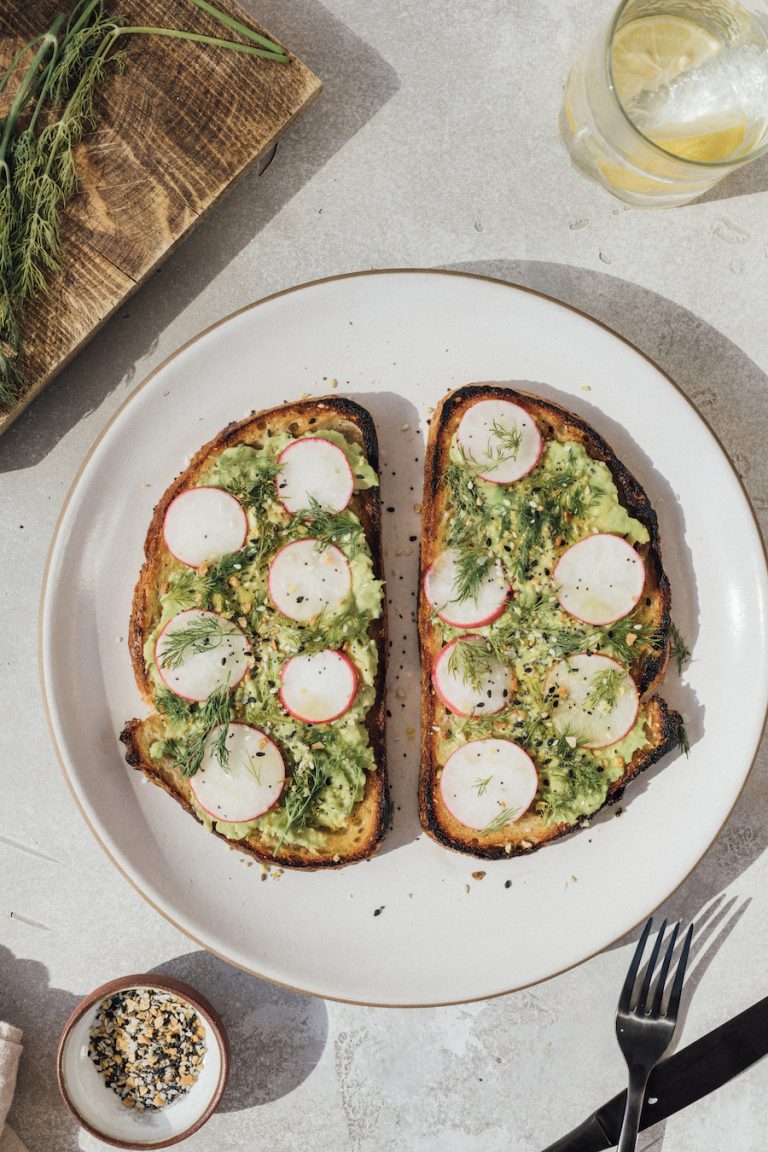 Why We Love It: Give your avocado toast repertoire an upgrade with this veggie-centric approach. With creamy avocado, crunchy radish slices, fresh herbs, and a kale pesto you'll want to drink, this one checks all the boxes. Plus, as most avo toasts are, it's practically made for lazy mornings. As far as lazy vegan recipes go, this one's definitely at the top of the list and maybe even our hearts.
Hero Ingredient: Any fresh herbs you have on hand will do nicely. Basil will usher in a lovely sweet/savory tone, mint will bring—well—mintiness, and dill will kick up the tart flavor. You really can't go wrong.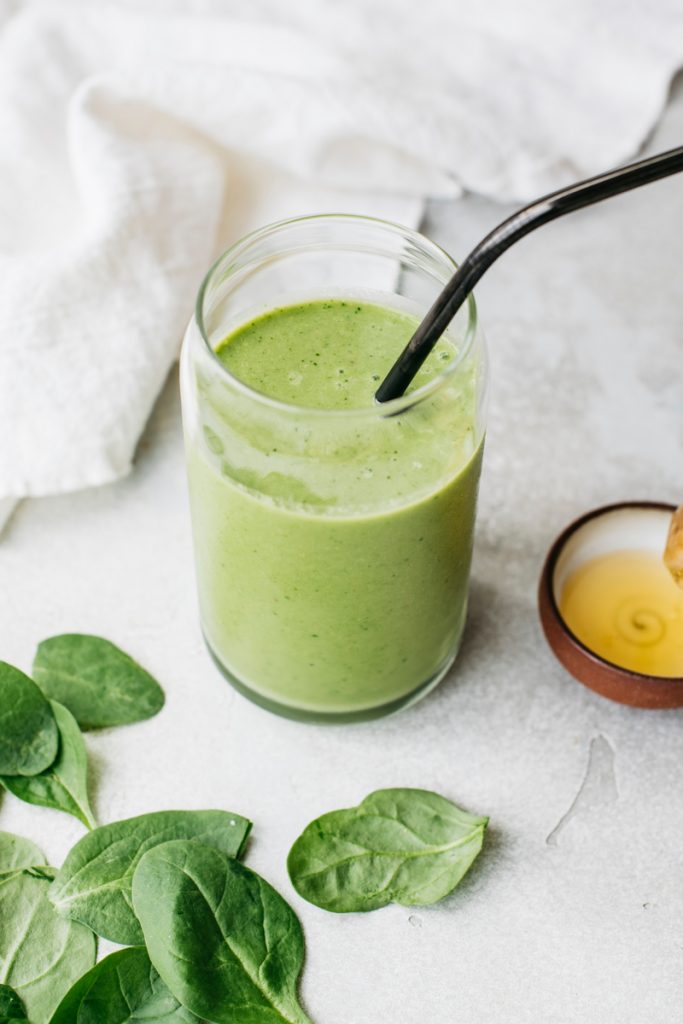 Why We Love It: This smoothie proves: it's good to be green. It's loaded with nutrients from banana, cauliflower, spinach, nut butter, and more. What's more, this smoothie is a great way to kick off your morning with balanced blood sugar. Plus, like most smoothies, it couldn't be easier to make. All it takes is throwing those ingredients in the blender, blending on high, and sipping your way through a blissful morning. Easy peasy.
Hero Ingredient: Since we're keeping things vegan, be sure to sub in a vegan-friendly sweetener or your choice for the honey. Or skip it altogether if that's your vibe—you're not compromising the smoothie's integrity.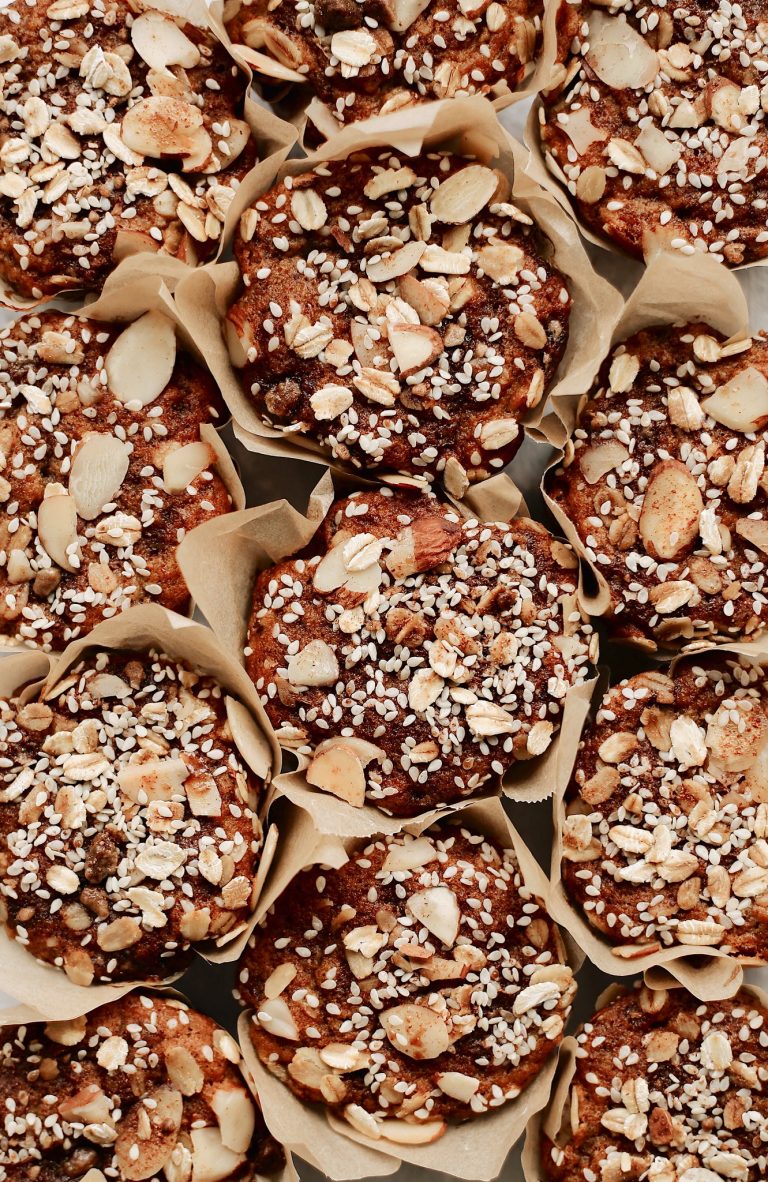 Why We Love It: This vegan take on banana nut muffins is gold. They're fluffy, moist, and easy to make. They really drive home the nutty flavor profile with tahini in the batter and a nut-fueled topping to finish it off. If the bananas you bought at the beginning of the week have been glaring at you from the counter (tell me I'm not the only one), this is your sign to use 'em up.
Hero Ingredient: The topping is truly wonderful. It's composed of sesame seeds, sliced almonds, and oats to give the muffin a little crunch and a whole 'lotta nuttiness.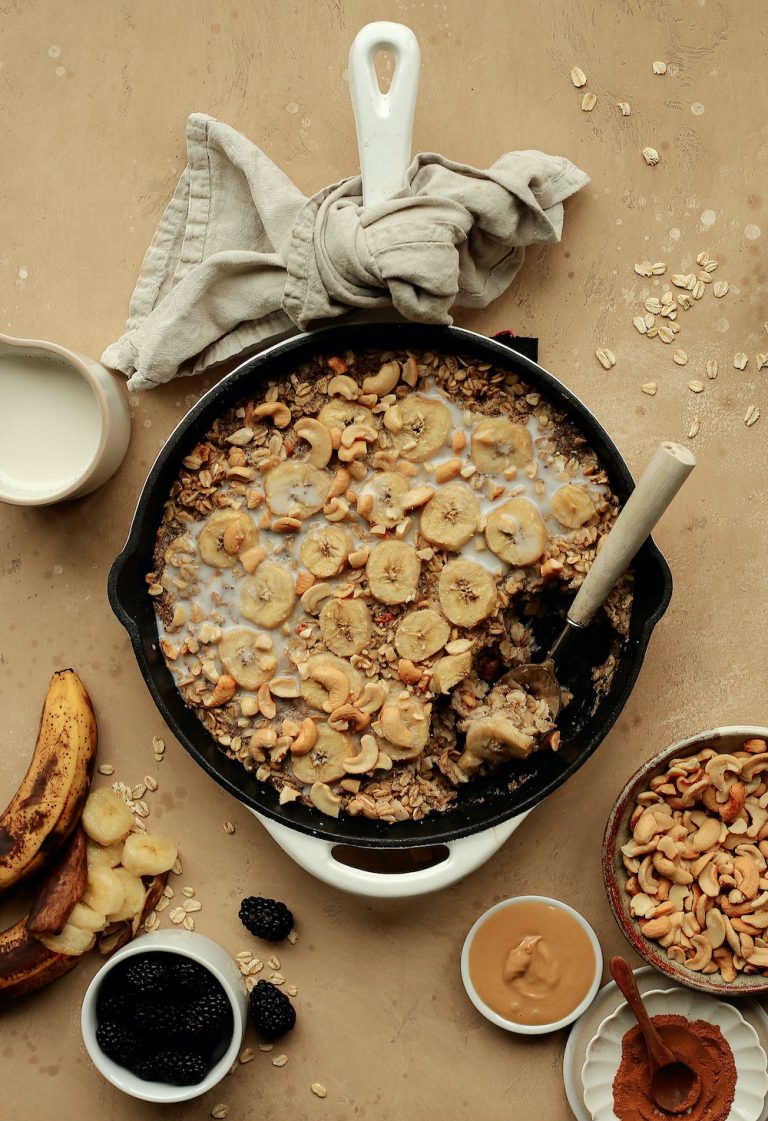 Why We Love It: Baked oatmeal makes for such a comforting breakfast that's both easy and healthy. This variety is studded with crunchy cashews and caramelized banana slices coupled with lots of warming spices. It's easy to make, keeps well in the fridge, and easy to transport. One of the best parts about this recipe is that you can prep it beforehand. Bake a big batch on Sunday and store it in the fridge for quick, satisfying breakfasts all week long.
Hero Ingredient: Be sure to sub in agave for the agave or another vegan-friendly sweetener.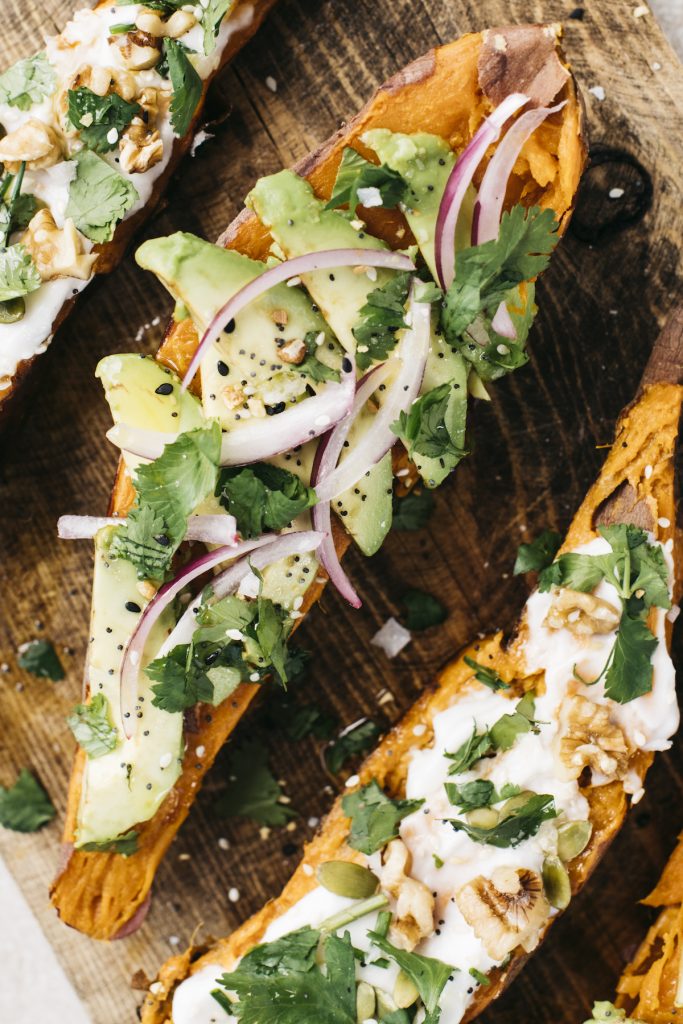 Why We Love It: Whole roasted sweet potatoes are an easy and healthy way to pack extra nutrients into your plant-based meals. In this recipe, the sweet potato is the star and is roasted to soft, sweet perfection—making it primed and ready for any toppings you can dream up. Vegan sour cream/yogurt, avocado, red onions, pumpkin seeds, everything seasoning… the possibilities are endless.
Hero Ingredient: The key is to wait until the potato has cooled before spooning on your creamy filling. If it's warm, the sour cream or yogurt will melt, (but go for it if that's no bother to you!). It's your potato after all.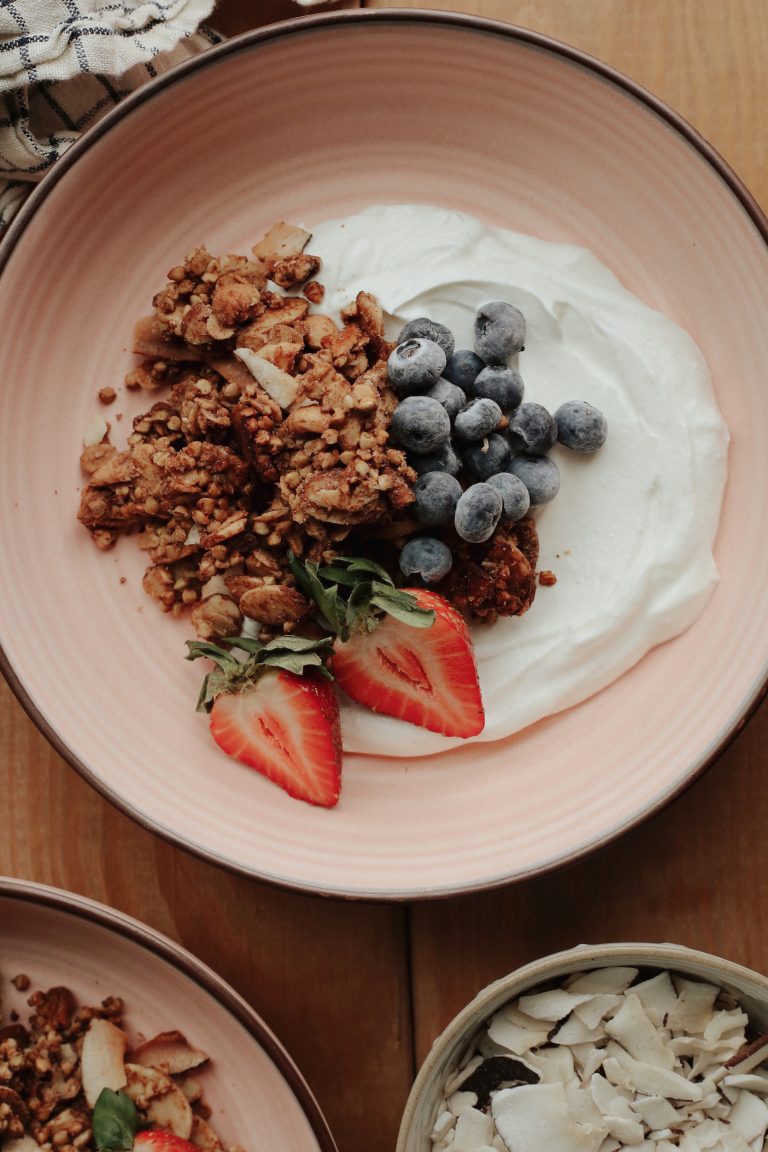 Why We Love It: Granola is about as easy and versatile as it gets, which is why it's perfect to include for lazy vegan recipes! This variety is all about the cozy spice blend that features cinnamon, ground ginger, cardamom, cloves, and a few turns of cracked black pepper. Enjoy it on its own, drowned in your favorite plant-based milk, or atop creamy plant-based yogurt with fresh fruit.
Hero Ingredient: Creamy almond butter introduces a nutty element to the mix that's totally delish.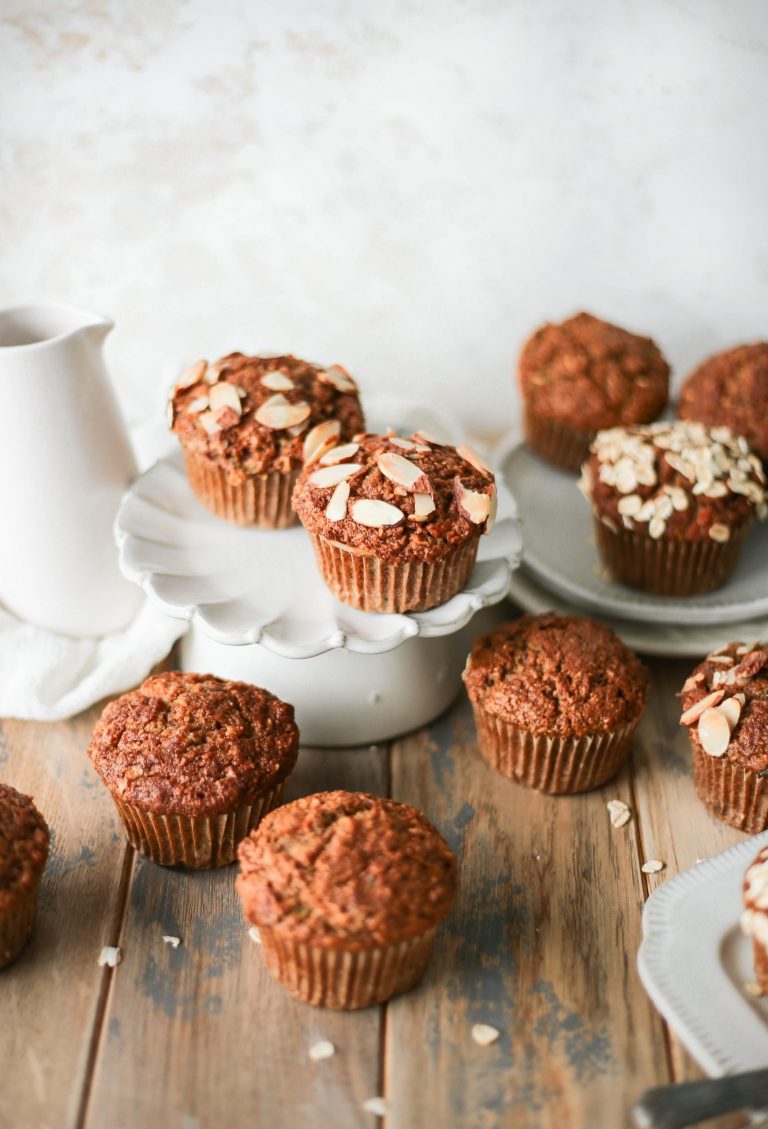 Why We Love It: Last muffin—I promise! This may seem like a lot, but who are we to deny the nutritious goodness of a fluffy muffin? It's like cake but good for you! And these morning glory muffins are made entirely in one bowl. Plus, they're packed with hearty and healthy veggies while still maintaining that sweet flavor profile we all love.
Hero Ingredient: A dash of freshly grated nutmeg amps up the spice.
Lazy Vegan Recipes For Lunch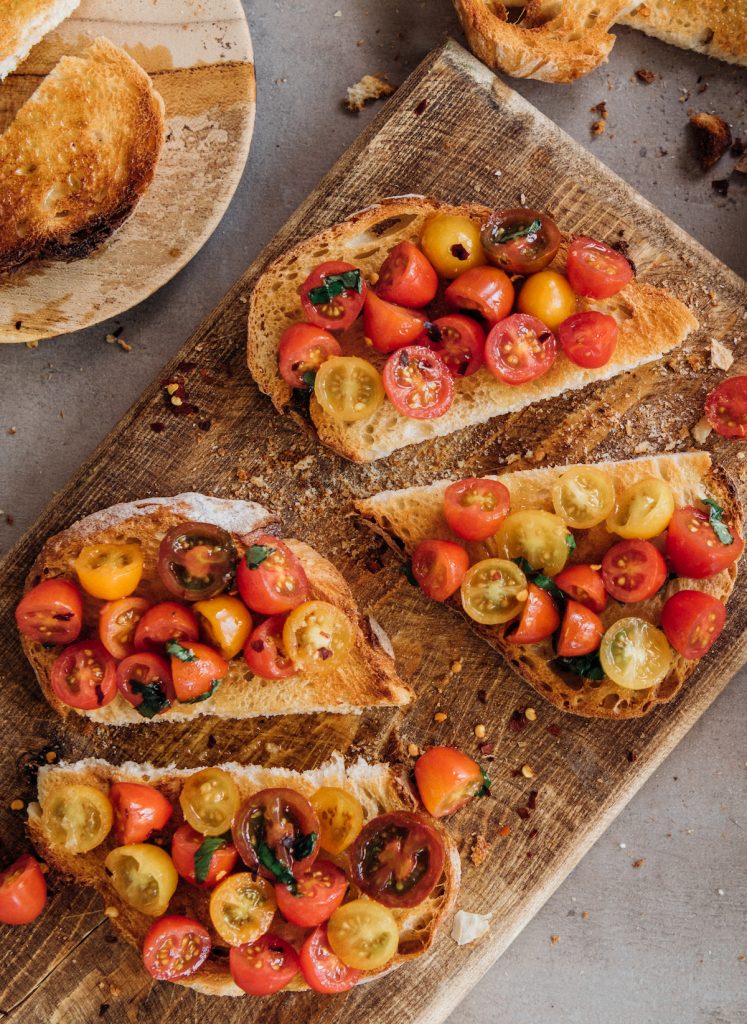 Why We Love It: Bruschetta might be the king of lazy vegan recipes largely because it couldn't be easier to make. Ripe cherry tomatoes get the royal treatment with EVOO, garlic, basil, and balsamic vinegar bringing peak flavor and freshness. It's simple, delicious, and healthy. Plus, it's totally enjoyable for snacking whenever the craving calls.
Hero Ingredient: The garlic oil that's brushed over sourdough is something to write home about.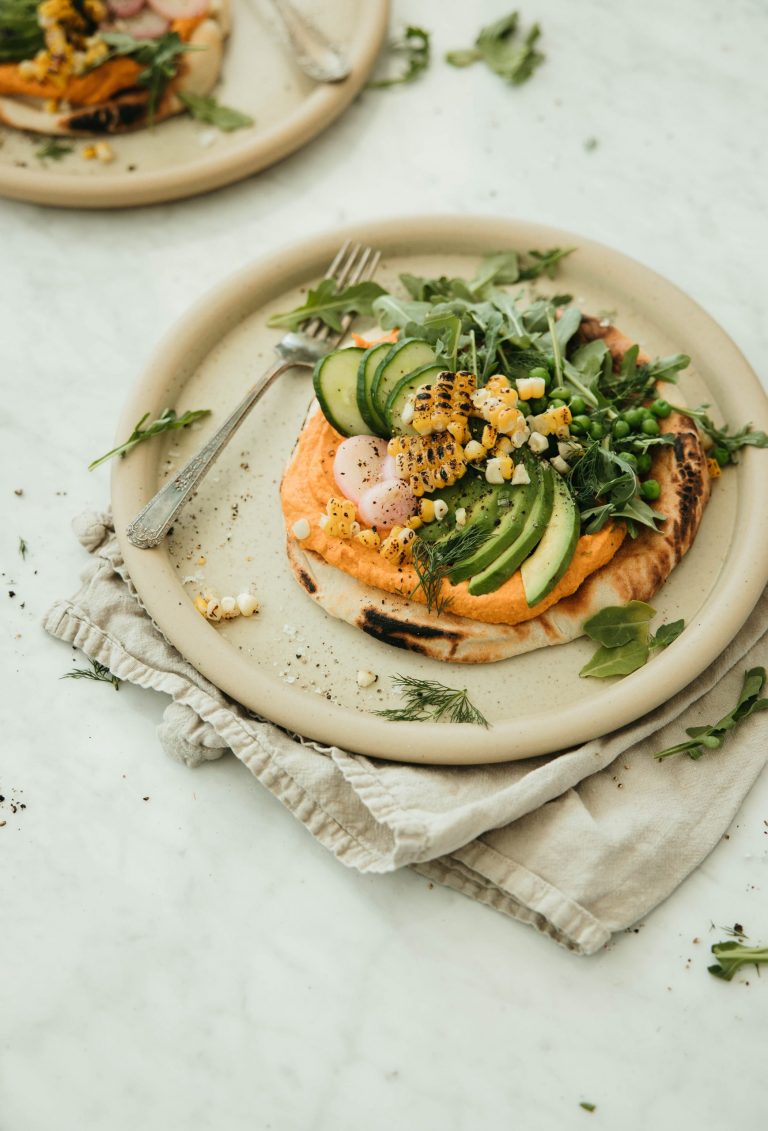 Why We Love It: Creamy, dreamy carrot hummus is lovingly smeared over toasty naan and topped with bursting veggies in this tasty recipe. It's quick and easy for lunch, a snack, or dinner, and even packs in extra veggies to help you meet your daily goals. Feel free to go off-book for the toppings and use up what you have. Empty those vegetable drawers, people!
Hero Ingredient: Buttery avocado stacked over hummus is what creamy dreams are made of.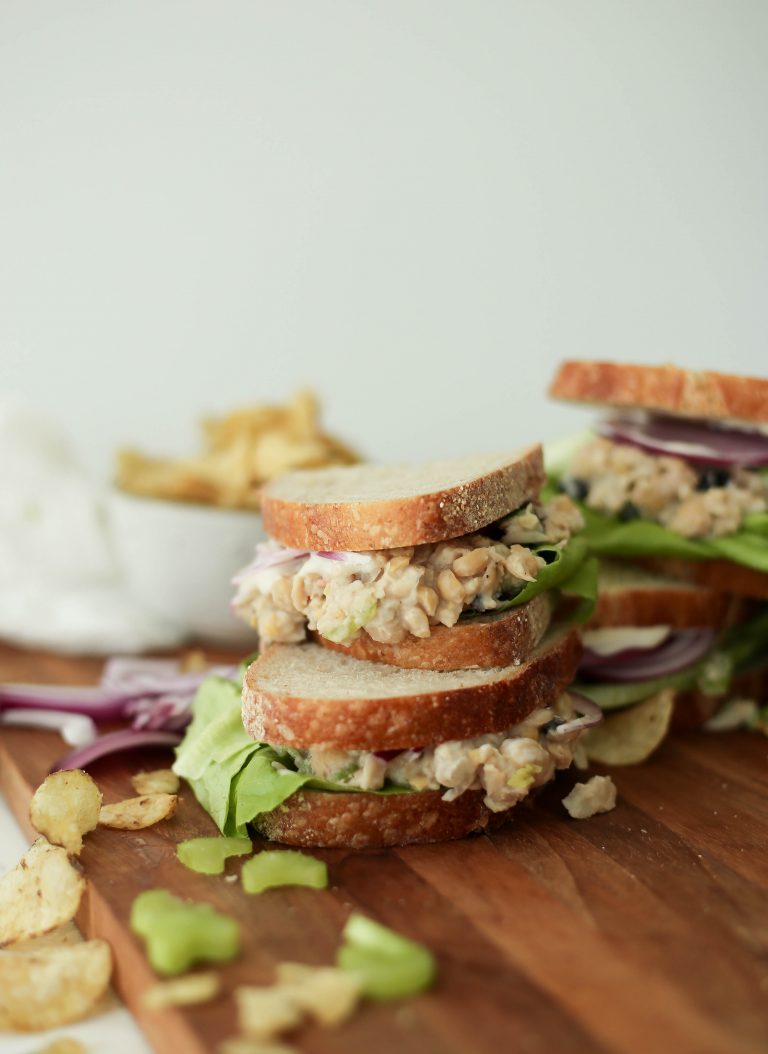 Why We Love It: Whether you work from home or in the office, the days of "sad desk lunch" are long over. It's important to pack whole, nutritious ingredients into your midday fuel—and this chickpea salad does just that. It's full of plant-based protein and fiber and can even be made at the beginning of the week for lunch on demand. When it comes to lazy vegan recipes, this one's a keeper.
Hero Ingredient: Again, be sure to swap in agave for honey to keep things vegan-friendly.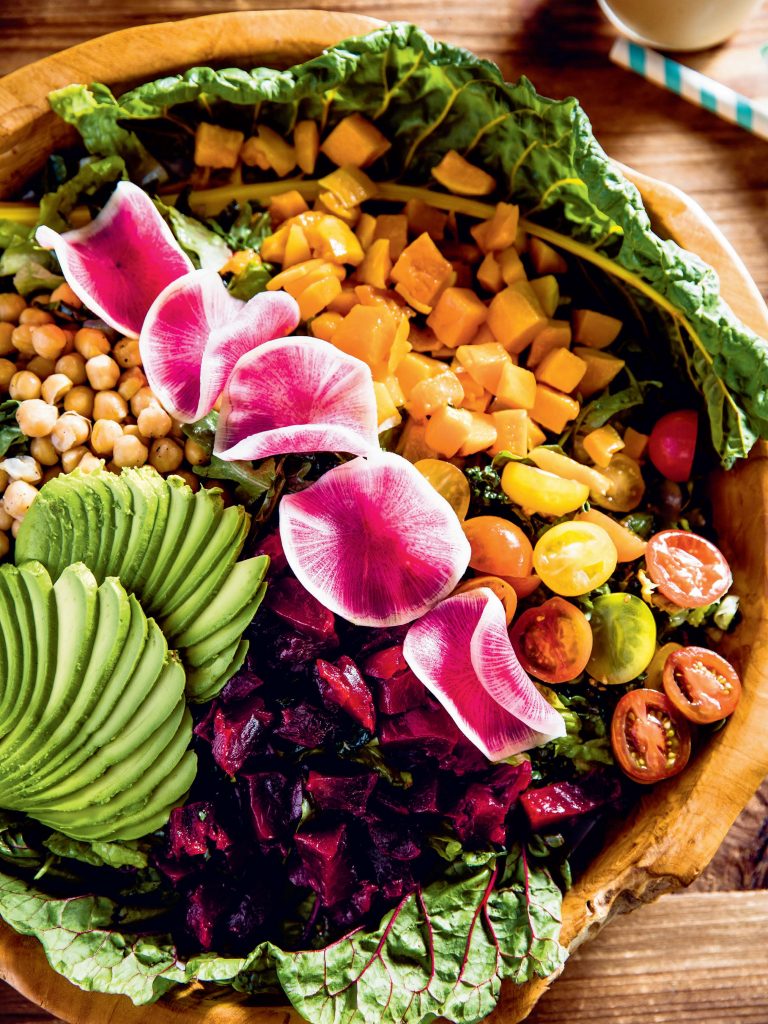 Why We Love It: Vibrant colors aren't the only thing going for this gorgeous rainbow salad. It's full of life and flavor with kale, roasted butternut squash, roasted beets, avocado, cherry tomatoes, and so much more building the base. From there, quinoa and chickpeas amp up the heartiness and bring in fiber and nutrients to keep your gut happy.
Hero Ingredient: The classic chop dressing is a can't-miss. Dijon, red wine vinegar, shallot, and olive oil strike the perfect balance between simple and flavorful while letting all those delicious veggies shine through.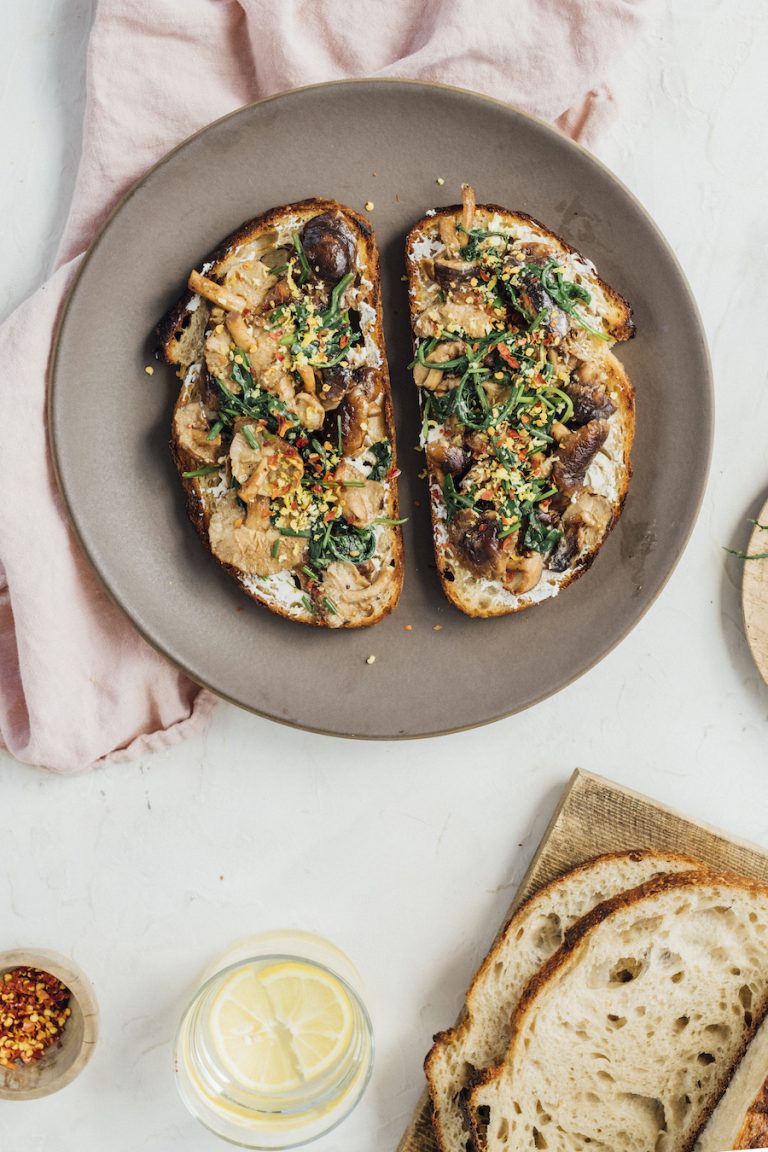 Why We Love It: As we know, mushrooms are absolutely chock full of vitamins, antioxidants, and more, which is why they're perfect for lazy vegan recipes! And in this toast, they're celebrated for the tiny-yet-mighty heroes they are. You'll start by smearing a large piece of toasty sourdough with vegan ricotta. From there, top with your cooked mushroom mixture, lemon zest, red pepper flakes, olive oil, and lemon juice!
Hero Ingredient: Arugula in the mushroom mixture takes things to the next level in terms of both flavor and nutrition.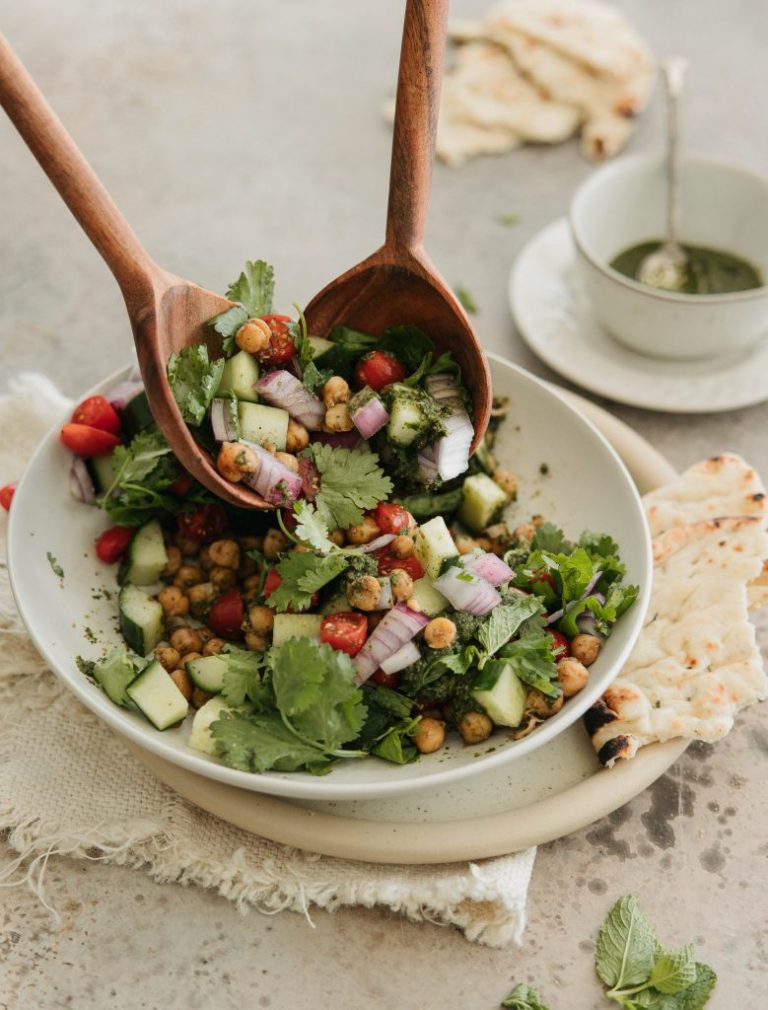 Why We Love It: Bursting with flavor and vegetative freshness, this Cumin Chickpea Salad with Mint Chutney is a lunchtime lifesaver. It features a mint chutney that's composed of mint (duh), cilantro, lime juice, shallot, serrano pepper, and a touch of sugar to round out those bold flavors. The best part? You can—and maybe even should—make this salad ahead of time. It's best when all the flavors can meld together.
Hero Ingredient: To make things even easier, you can pre-chop all your veggies ahead of time so all that's left to do is assemble!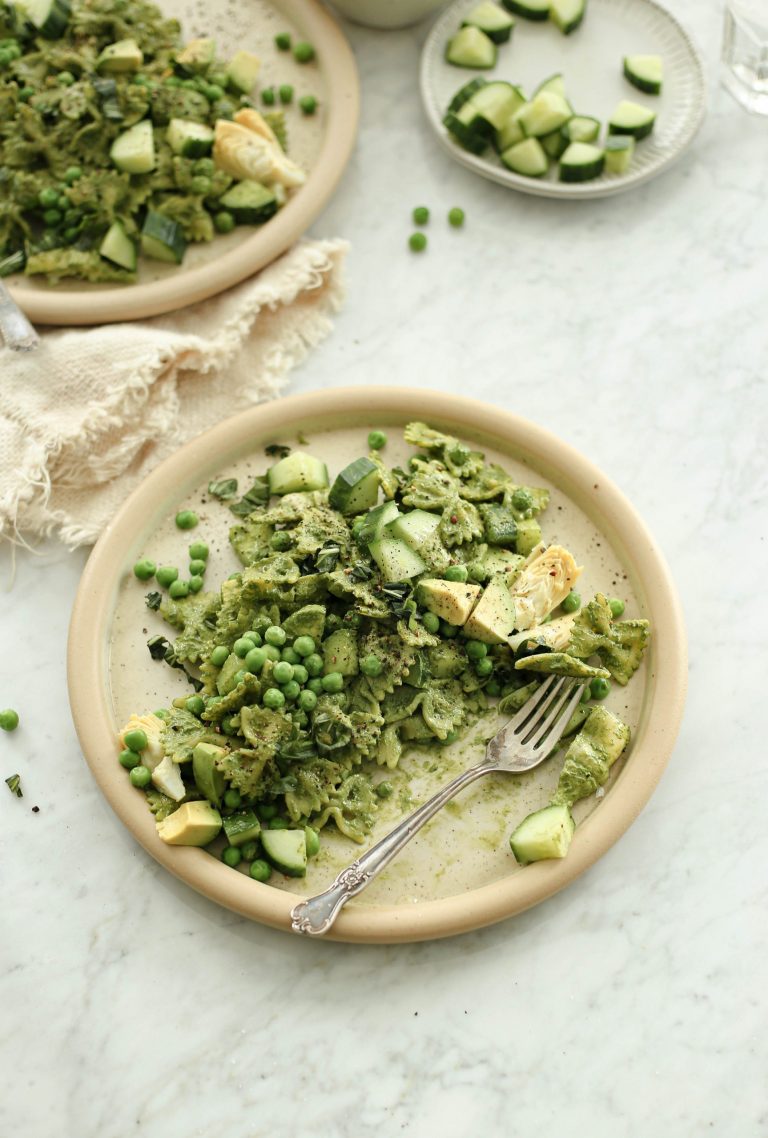 Why We Love It: This lean, green, healthy machine is ready to jazz up your weekday lunches. If you're not familiar with green goddess dressing, prepare to be hooked. It's like an entire day's worth of veggies in one delicious go. And in this case, it coats a vibrant pasta salad that's just what the doctor ordered for workday lunches or weekend meals. My favorite way to eat this is probably the standing-over-the-counter, fork-in-bowl (totally uncivilized) method. To each their own.
Hero Ingredient: This pasta salad can be totally customizable. The recipe calls upon avocado, artichokes, peas, cucumber, and celery to top it off, but don't be afraid to get creative!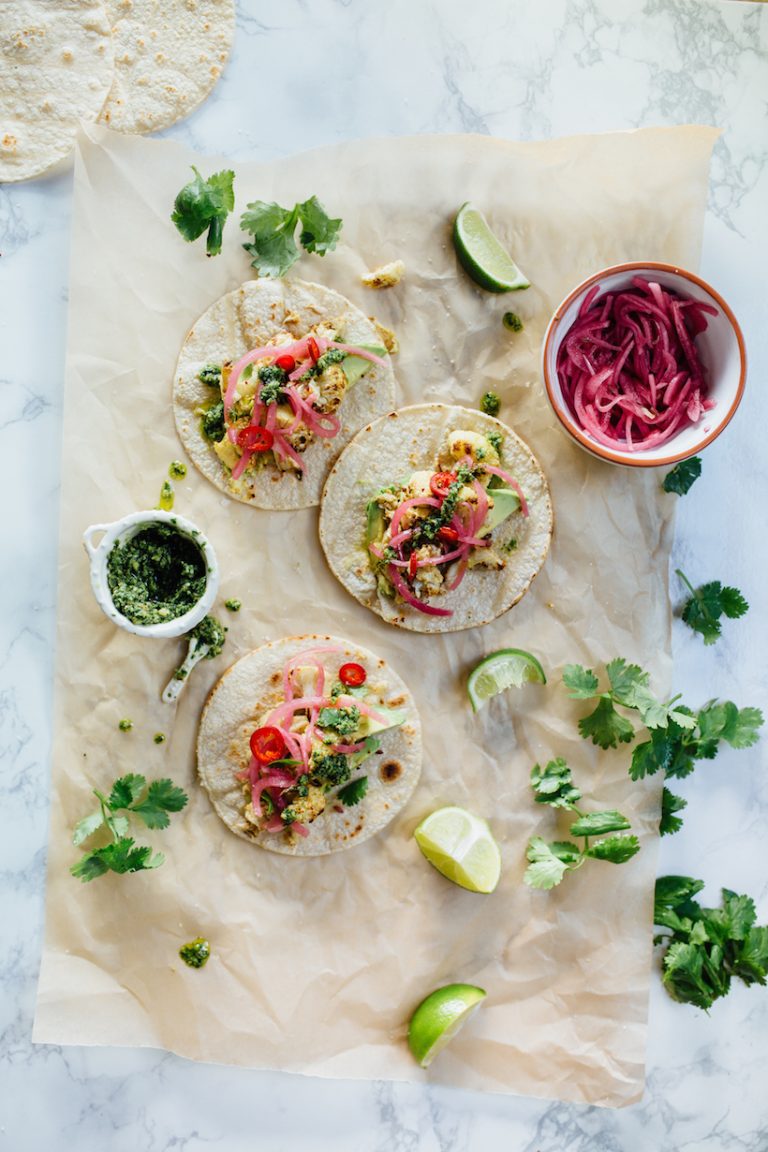 Why We Love It: Taco Tuesday, meet Meatless Monday. These tacos are your answer for the dreaded "what should I eat for lunch?" question that often clouds our weekday jam. They're easy to make, full of flavor, and even leave you with a little something for the next few days. To make things even easier, you can whip up that cilantro pesto at the beginning of the week so all you have to do is a little cauliflower cooking and assembly.
Hero Ingredient: I highly encourage making some extra pesto. Keep it in your fridge to drizzle over taco bowls, use as a veggie dip, or serve alongside a grazing board to impress your guests.
Lazy Vegan Recipes For Dinner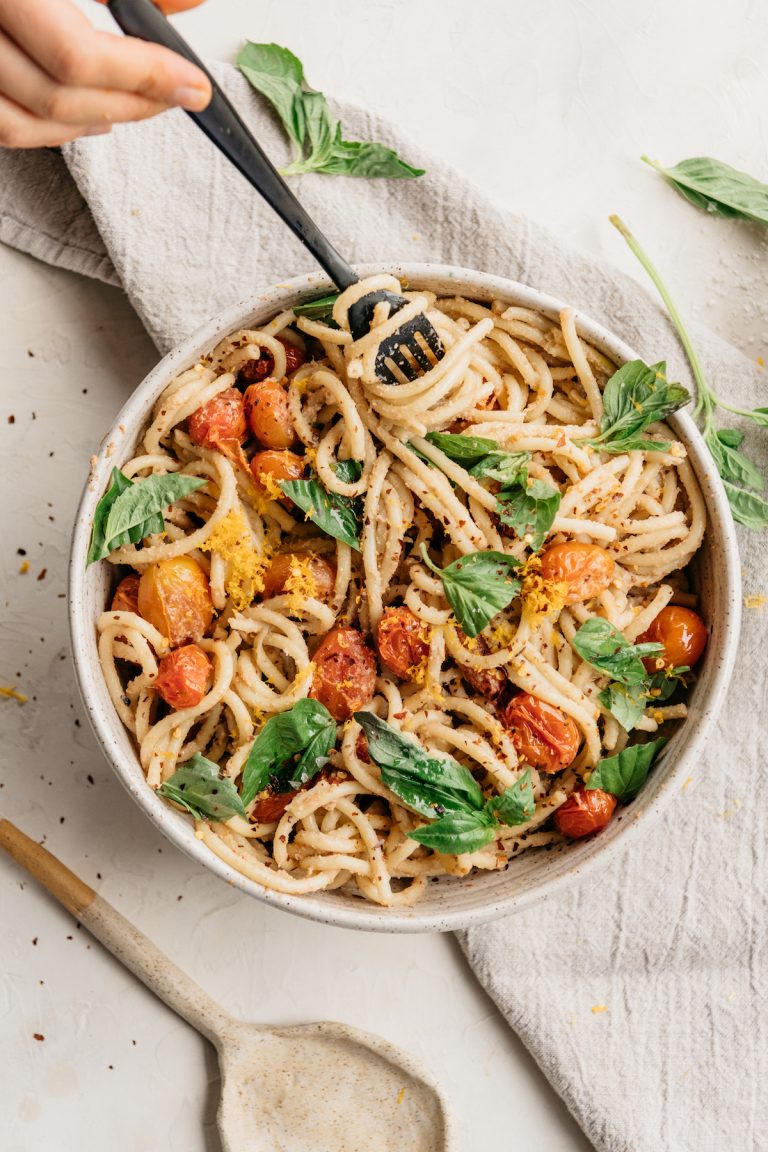 Why We Love It: This pasta is genuinely next level. First of all, your choice of noodle is bucatini, which has a satisfyingly slurpable hole in the middle that soaks up every bit of sauce. On top of that, juicy, just-burst tomatoes seep over the entire bowl for a taste of freshness and vibrancy in each bite. And to finish it off, creamy walnut sauce brings all the warmth and indulgence you could dream in a cozy bowl of pasta.
Hero Ingredient: The finishing touches get the award. Lots of lemon zest, red pepper flakes, and fresh basil take things to the top.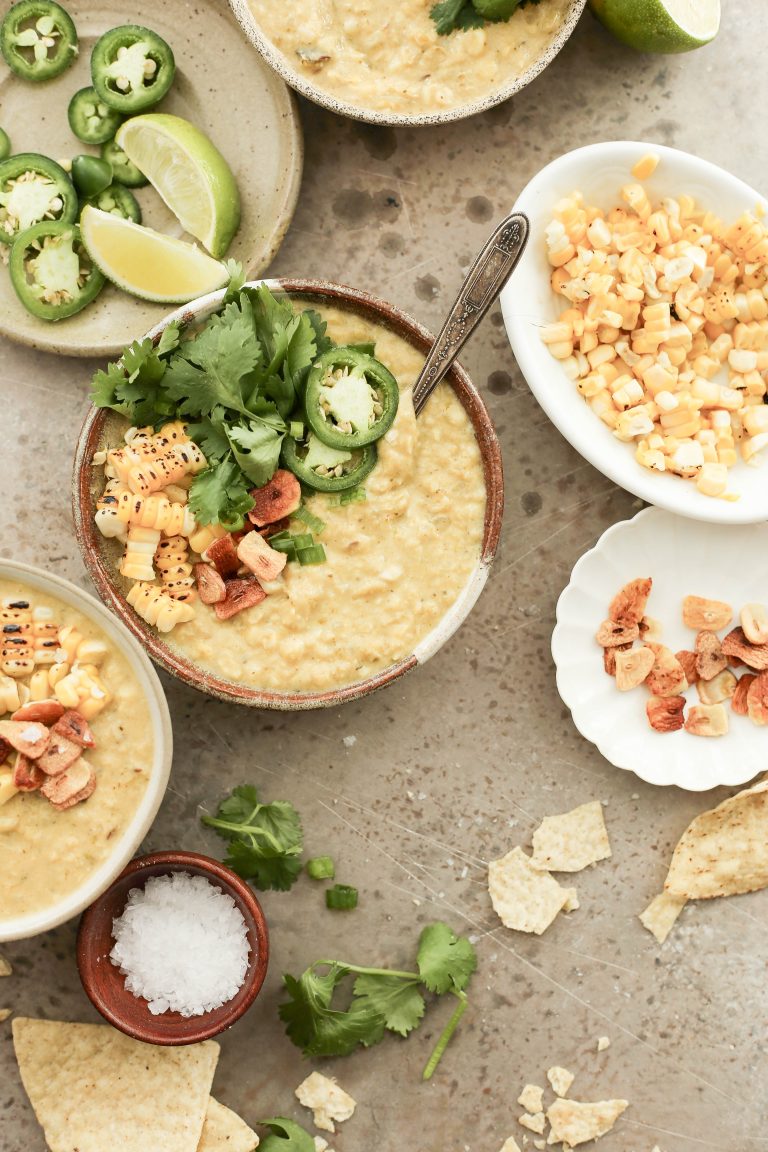 Why We Love It: 30 minutes and just a handful of ingredients are all that stand between you and a comforting weeknight soup. This recipe uses frozen corn (hallelujah!) so you don't have to attempt the dreaded cut-off-the-cob disaster that no hack can seem to solve. It's quick, healthy, hearty, and full of flavors to savor.
Hero Ingredient: …Scratch that, hero method. Choose your own adventure with the texture. If you're team cream, pulse away! For a little more bite, blend a little at a time until you've reached your own texture heaven.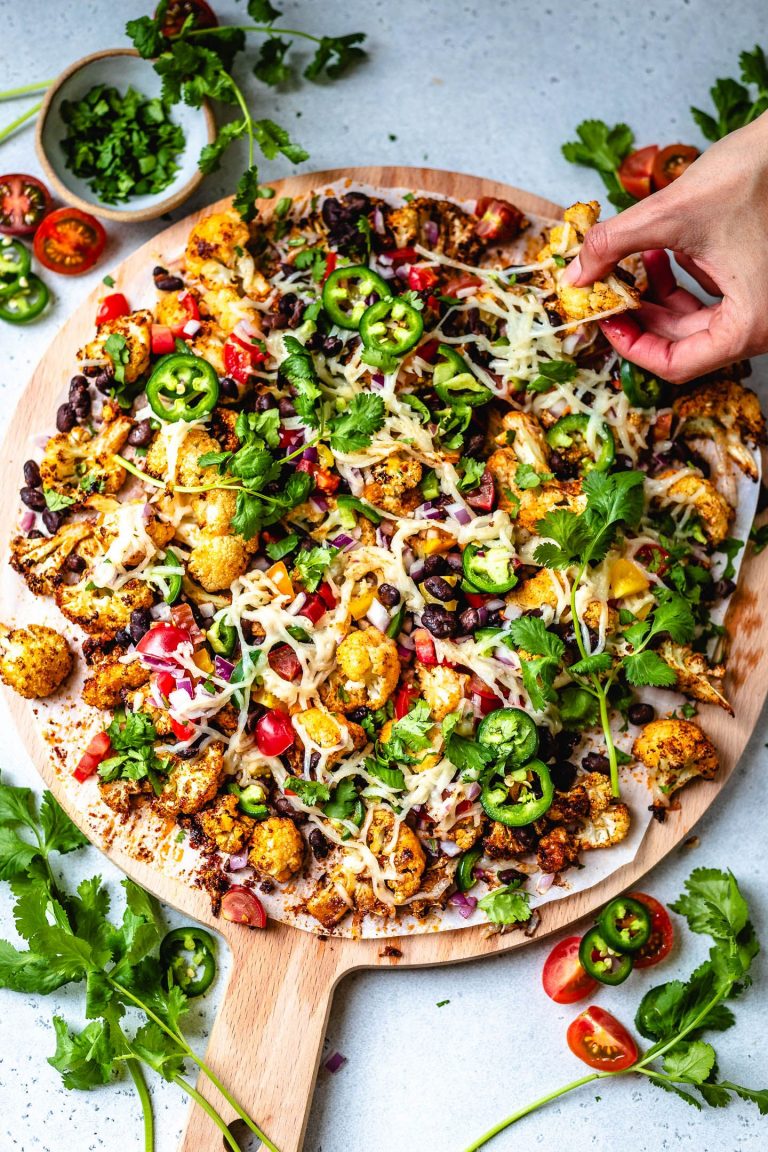 Why We Love It: Low-carb and loaded with veggies, this no-recipe recipe is ready to spice up your weeknights. Roasting the cauliflower is the most involved step as you'll break down the head, toss in a mix of seasonings, and bake until golden brown. Then, all that's left to do is load up with your favorite toppings, warm everything through, and enjoy. And like any respectable nacho tray, it's gonna get messy—but that's kinda the best part.
Hero Ingredient: Go crazy with the toppings and feel free to get creative! Black beans, corn, tomatoes, jalapeños, and red onion are encouraged, but there's nothing stopping you from going off-book.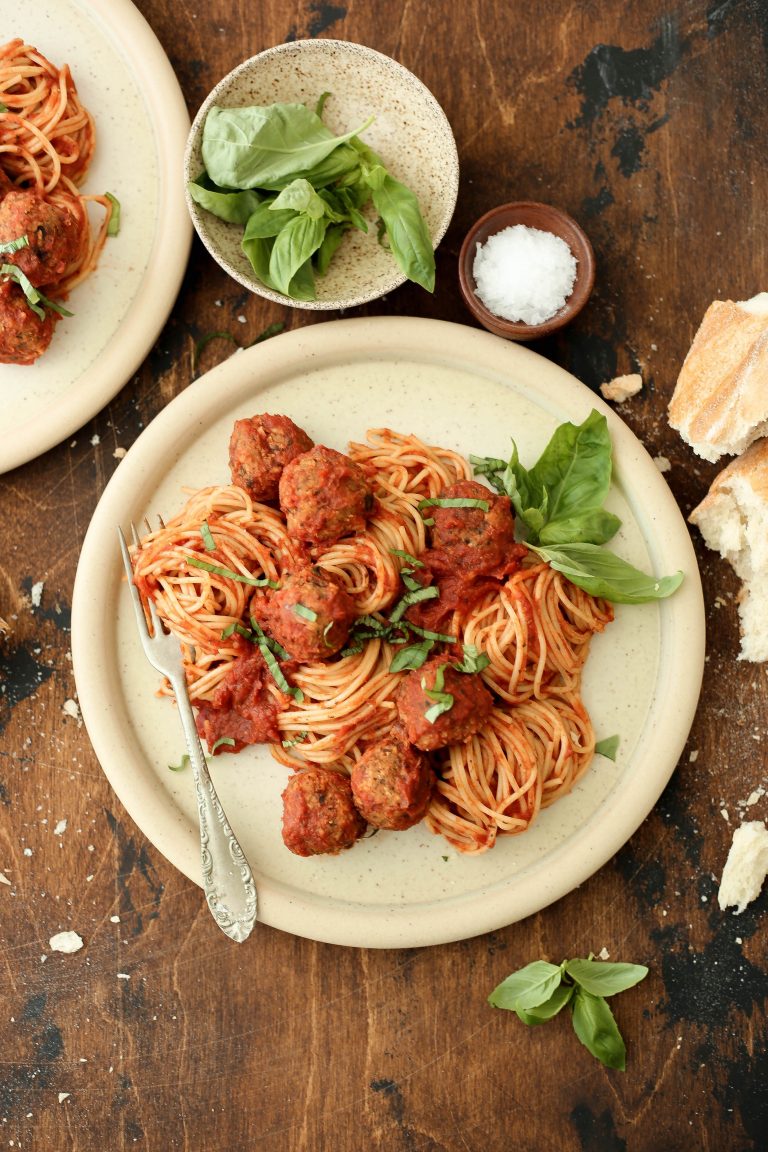 Why We Love It: Vegan meatballs are certainly tricky to perfect. If you're familiar with the craft, you've probably seen varieties that use breadcrumbs, grains, or ingredients you can't pronounce in the mix. And while they might be great, they don't always use what's best for our bodies or our culinary workload. The solution? These Mushroom and White Bean Meatballs. They're simple to make, use straightforward ingredients, and truly master the texture territory. Let your vegan meatball woes come to an end.
Hero Ingredient: Enjoy these tasty vegan meatballs over spaghetti or on their own, and kick your feet up while you enjoy them. It's the little things.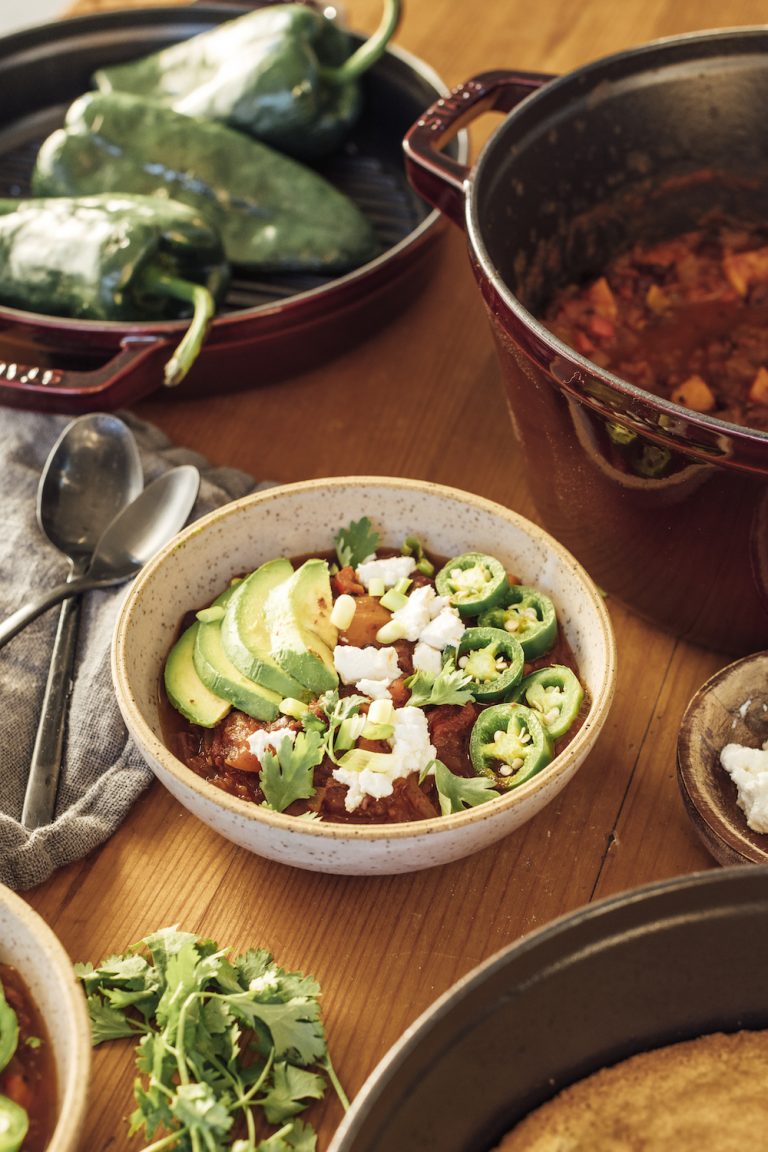 Why We Love It: With just a few minor tweaks, this vegetarian chili goes from vegetarian to vegan, and turns your lazy days into a lazy daze. It features sweet potatoes, bell peppers, black beans, and lots of flavor elements that keep it satiating and satisfying. It's comforting, easy to make, and ideal for meal prep and enjoying those tasty leftovers. For those tweaks, simply sub in agave for the honey and opt for dairy-free cheese. And, as always, cheers to soup season!
Hero Ingredient: This recipe calls for a healthy dose of chili powder, which packs a punch in that beautiful bowl of yours.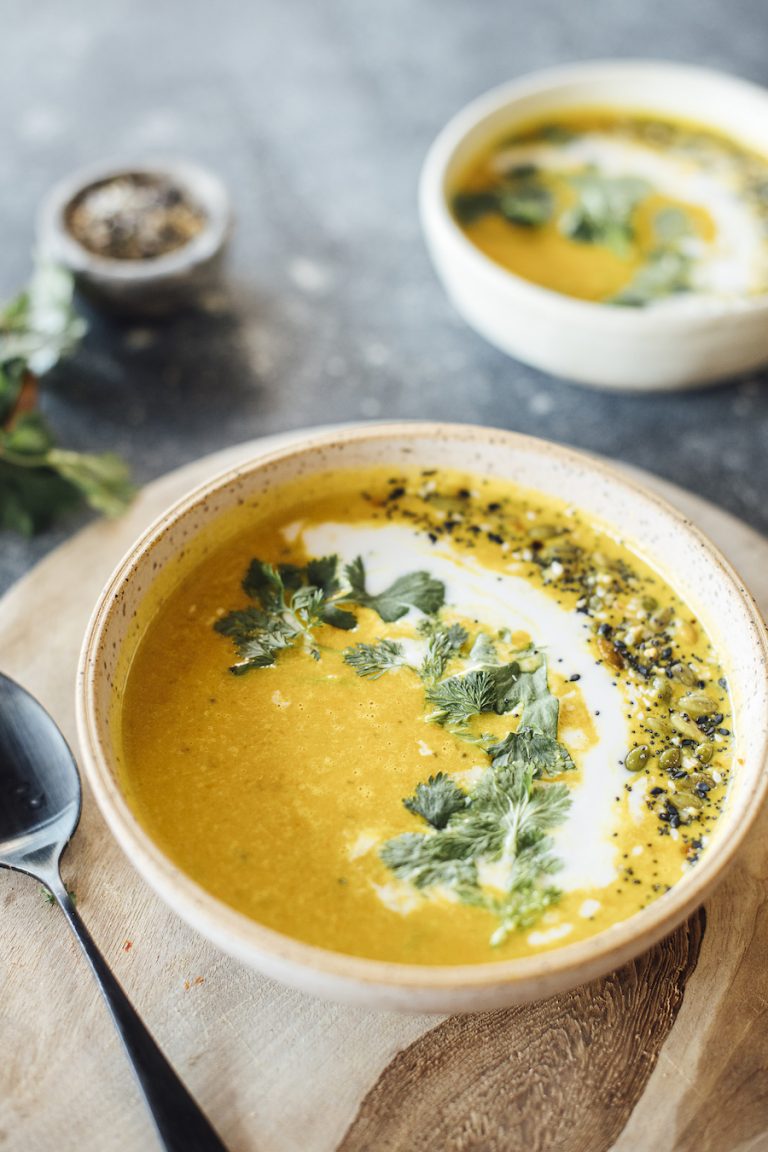 Why We Love It: As we're nearing the season of holiday indulgence, this recipe is great to keep on hand for combatting rich food fatigue. It's loaded with anti-inflammatory ingredients like ginger and turmeric to keep you glowing from the inside out. Plus, it takes less than an hour of hands-on time, so there's really nothing holding you back from lazy vegan bliss.
Hero Ingredient: To get that picturesque presentation, drizzle a spoonful of coconut milk over the soup and sprinkle with toasted pumpkin seeds and cilantro. Then you're set with food that looks good and feels good.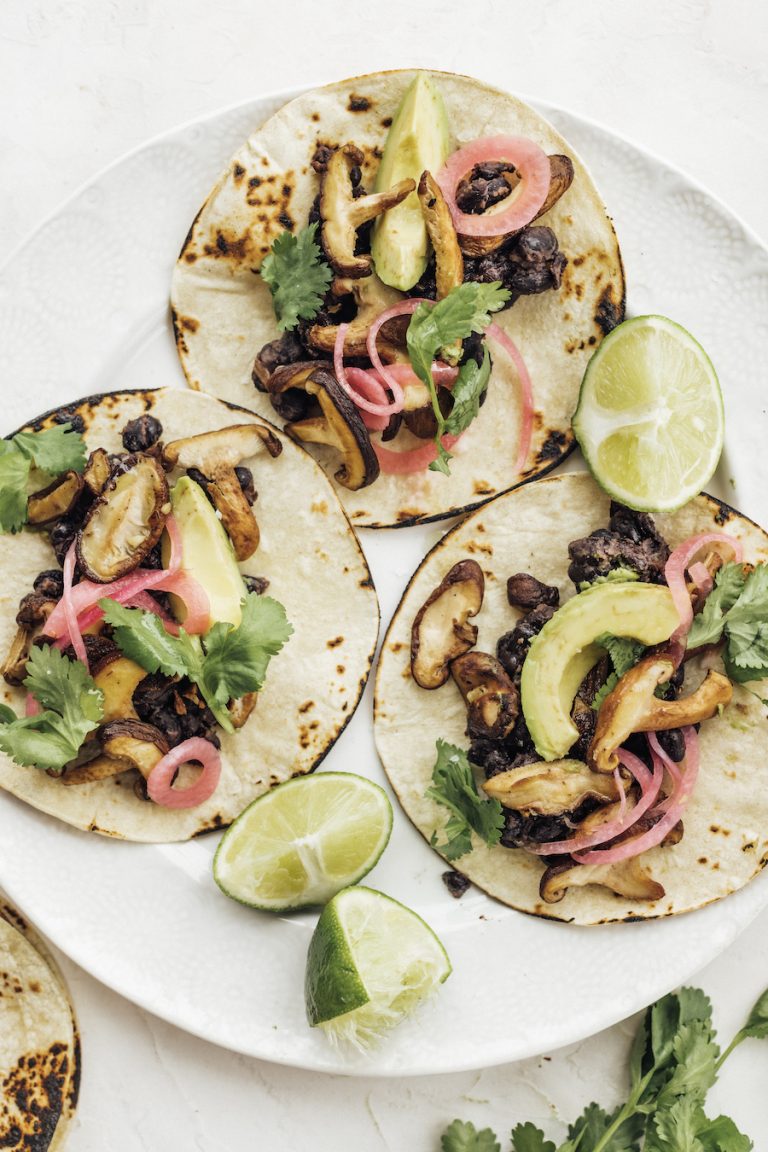 Why We Love It: It doesn't get much better than whole, nourishing ingredients wrapped in a warm tortilla blanket. In these tacos, glorious mushrooms team up with black beans to deliver delicious tacos you'll want on repeat. Couple that with a little mashed avocado, lime juice, and pickled red onions and you've got lunch in a snap.
Hero Ingredient: The quick-pickled red onions are a gem. You can make extra to use in just about anything—they're a great way to bring some brininess to a dish.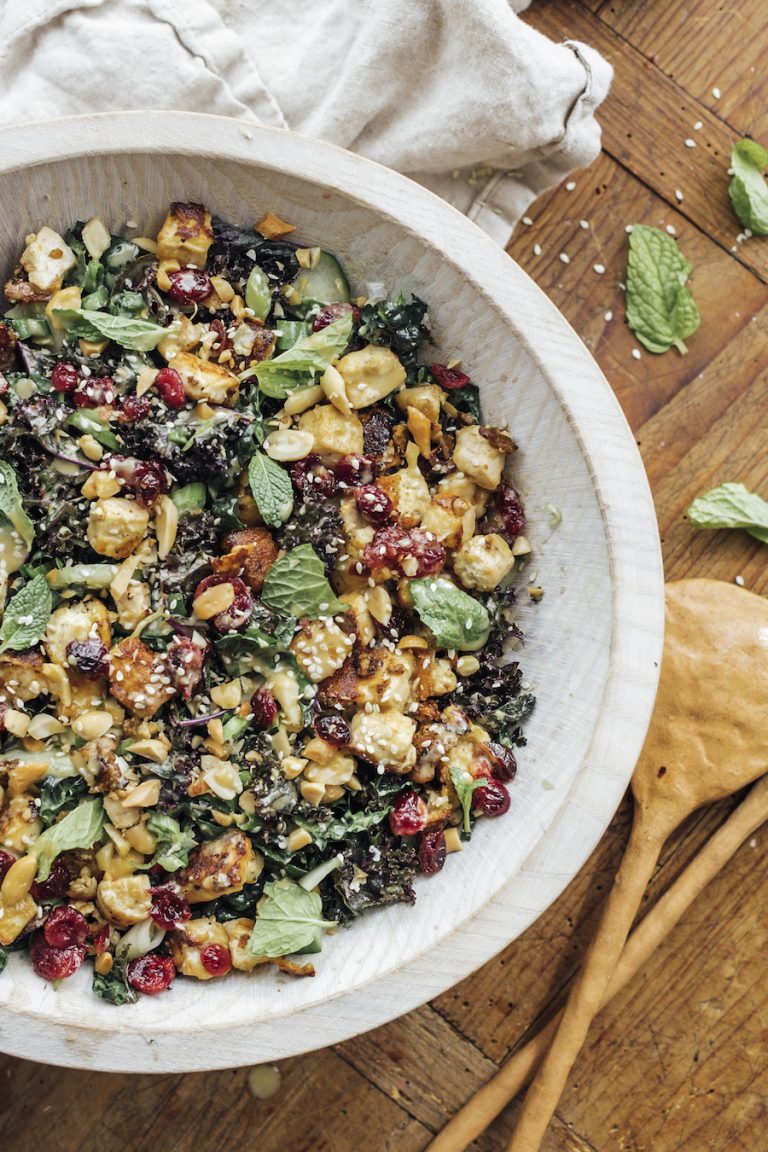 Why We Love It: Peanuts, cranberries, mixed herbs, and cucumbers come together over a bed of kale in this addictive winter salad. It celebrates the autumnal flavors that are on brand for the season and serves as a healthy dinner for lazy fall nights. Each flavor is married by the citrus-ginger dressing that lovingly coats each element and finishes off this salad to perfection.
Hero Ingredient: The crispy tofu is key. Not only does it make this dish a whole meal, but it's equipped with lots of extra protein.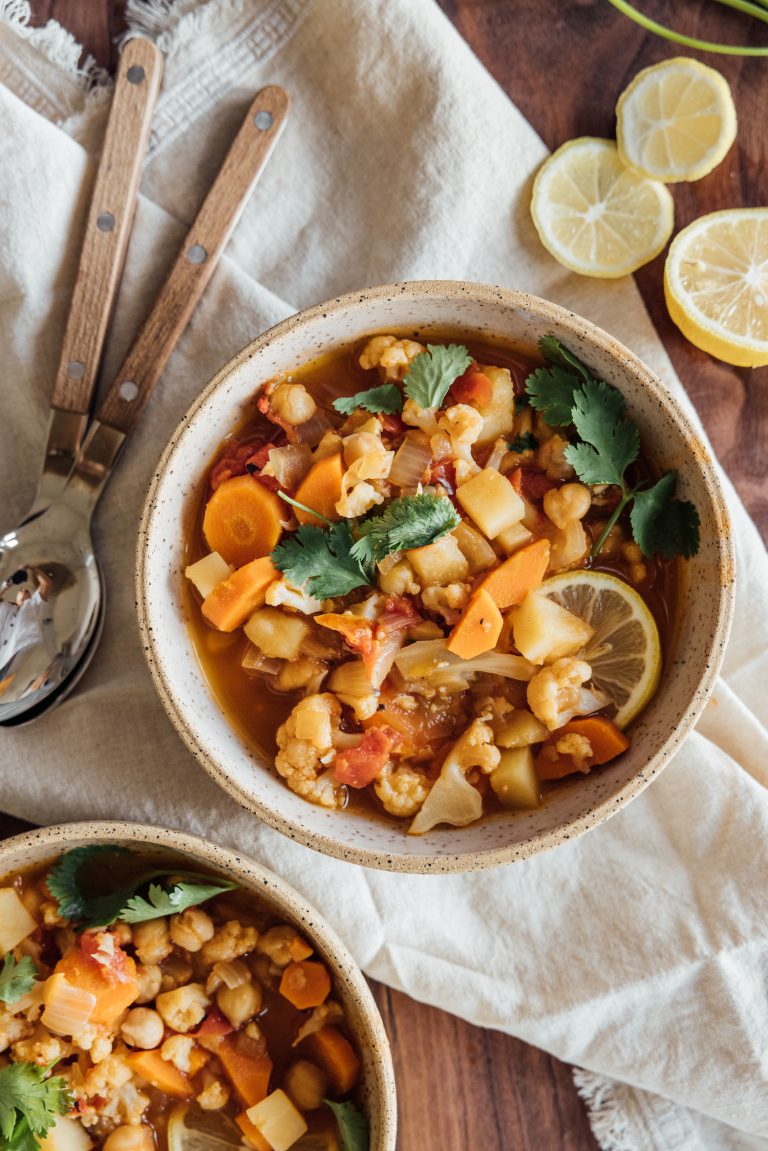 Why We Love It: This one-pot stew is a meatless main that shines. First, it's made entirely in one pot (score!). Plus, it's jam-packed with stick-to-your ribs veggies that celebrate everything cozy there is to love about this season. Cauliflower, chickpeas, carrots, and potatoes simmer in a flavorful broth until each flavor has melded and prepared itself for comfort. Hint: this one keeps well so it's great for meal prep!
Hero Ingredient: This soup also boasts a few anti-inflammatory ingredients like ginger and turmeric.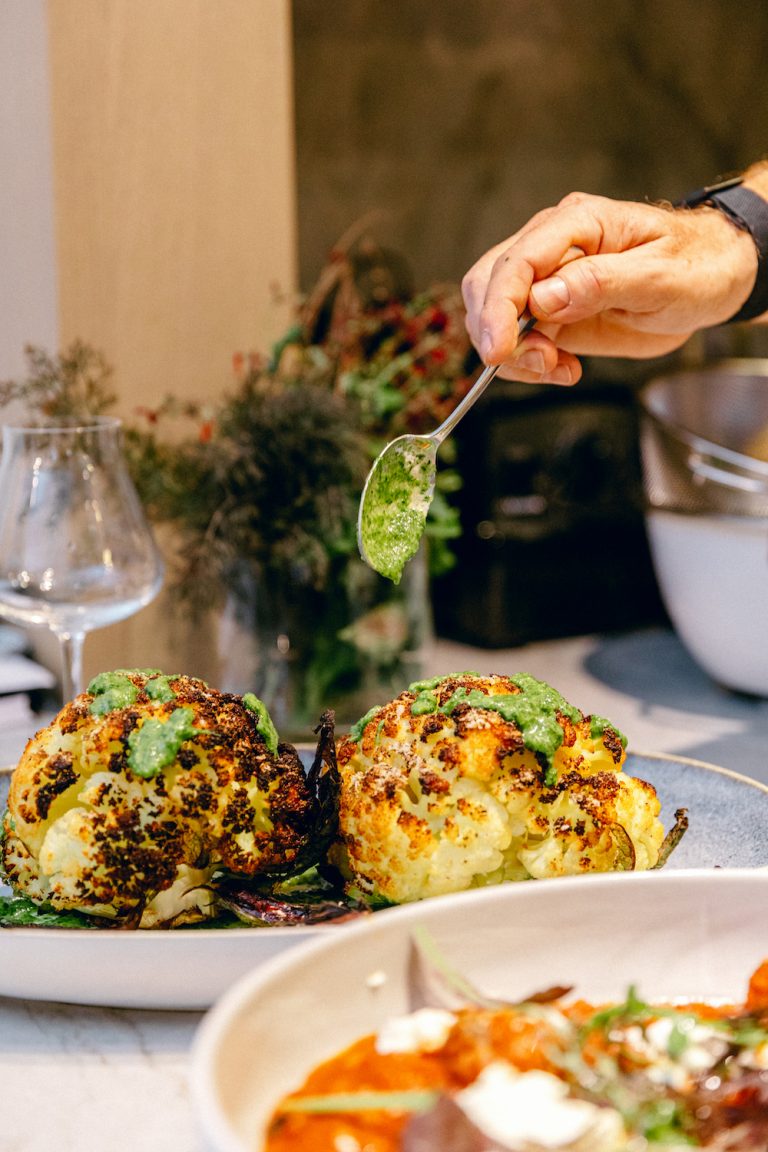 Why We Love It: I know what you might be thinking: cauliflower as a dinner main? But the answer is yes, and here's why. Gone are the days of bland cauliflower. Like other once-scorned veggies (Brussels sprouts, broccoli, the list goes on…), cauliflower has undergone a serious makeover. Now, it's transformed into something delicious, lovable, and sought after by many. In this recipe, it gets roasted until charred and drizzled with a salsa verde you'll want on hand. I rest my case.
Hero Ingredient: Hero method here: you've gotta roast that baby until the tips are caramelized and crispy. It goes through some serious magic in the oven.
Bonus! Lazy Vegan Sides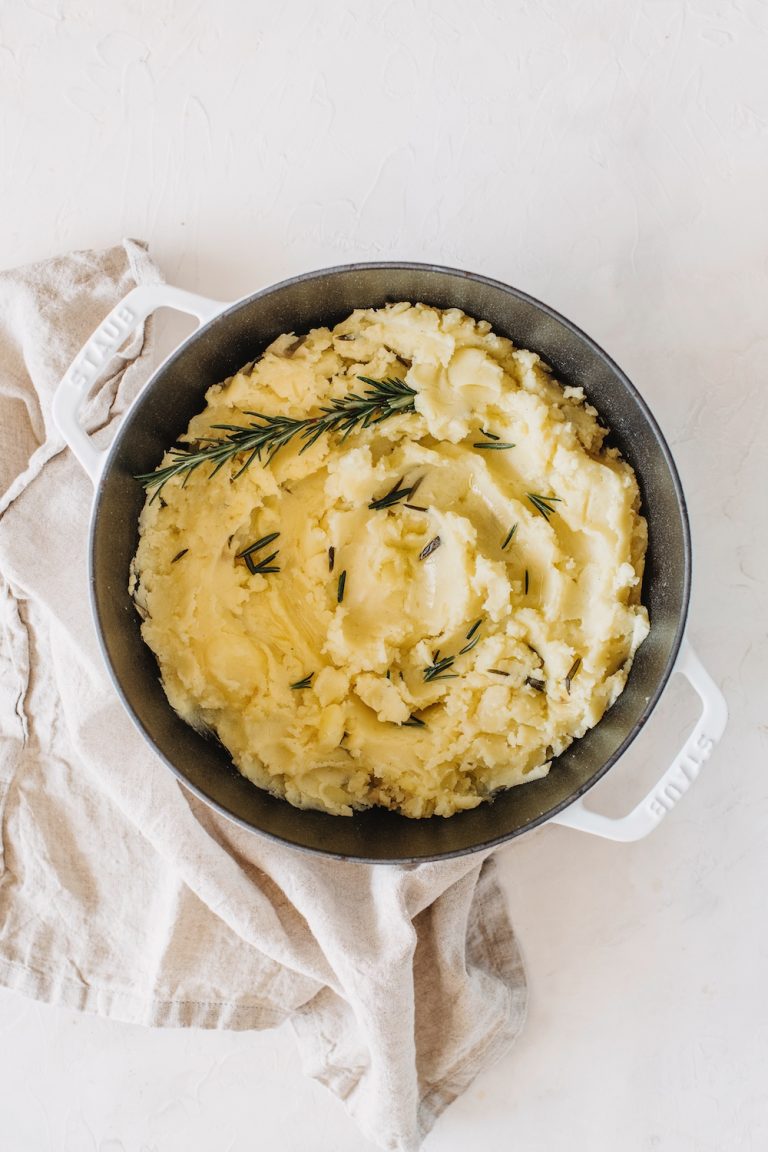 Why We Love It: In the world of lazy vegan recipes, make-ahead sides are a huge win. This vegan mashed potato recipe is creamy, dreamy, and full of flavor. And because it's vegan, it uses olive oil in place of butter. The olive oil leaves room for the potato flavor to shine through, which can be lost in traditional mashed potatoes. Serve these at Thanksgiving and everyone will be obsessed! They're guaranteed to be a hit.
Hero Ingredient: A touch of rosemary brings the best floral taste to the mix.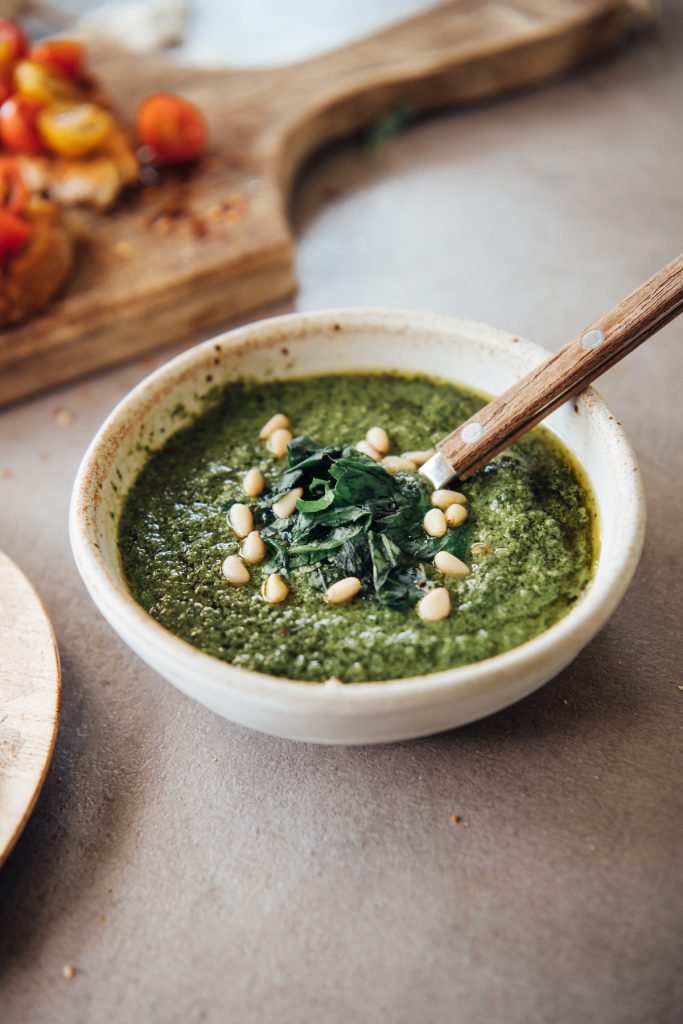 Why We Love It: This pesto is loaded with flavor and freshness. It uses basil, spinach, hemp seeds, and pine nuts to build the base. Then, nutritional yeast, apple cider vinegar, lemon, red pepper flakes, and salt finish off the flavors beautifully. Keep this pesto on hand to use on anything you can dream up.
Hero Ingredient: Start slowly with the red pepper flakes. Continue adding until you've reached your desired spice level but know that a little goes a long way!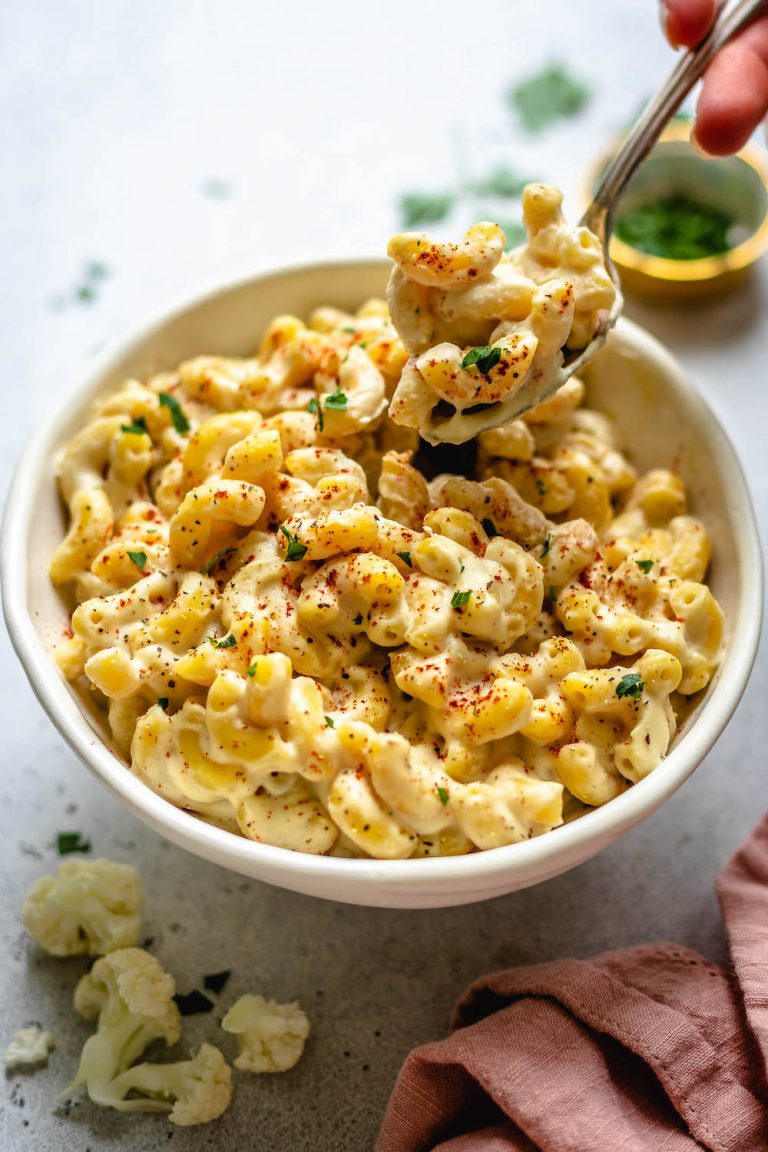 Why We Love It: Talk about comfort food, this Vegan Cauliflower Mac and Cheese is your next lazy night project. It's easy, wholesome, filling, and totally nostalgic in a grown-up way. Instead of heavy cream and butter, it uses a creamy cauliflower sauce to usher in that cheesy element. So not only are you nourishing your body, but you're doing it in a way that's comforting, enjoyable, and tailor-made for relaxation.
Hero Ingredient: Dijon mustard in the sauce brings the perfect amount of tang to the party.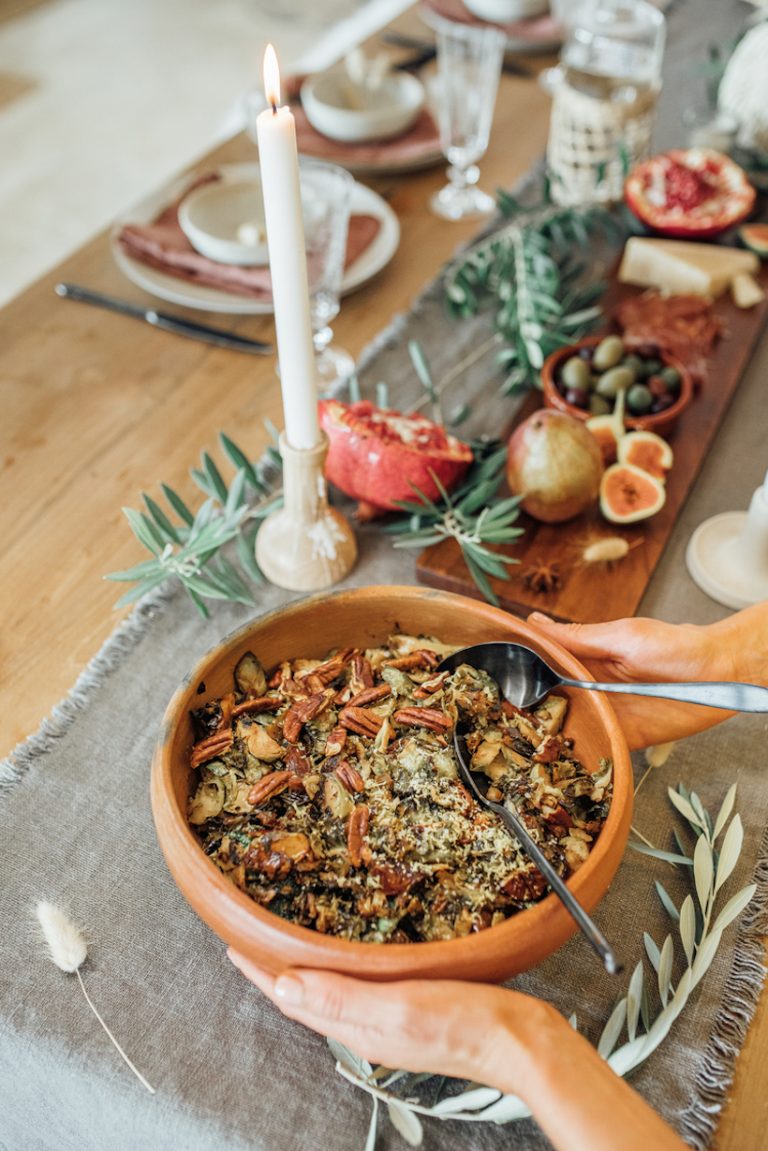 Why We Love It: Like cauliflower, these Brussels sprouts have strayed far from their bland, boiled, and borderline-inedible days. In this recipe, you'll give them a hard sear to perk up those crispy leaves before simmering them with dates, apple cider, ACV, and maple syrup. They're sweet, sour, and just a little bit spicy. Plus, they're easy to make and even easier to enjoy.
Hero Ingredient: Toasted pecans sprinkled over top are the finishing touch of our dreams.
Are you into lazy vegan recipes? Share your favorites with us in the comments!