Ah, Saturday night. It can take on so many different forms. Maybe your Saturday nights are occupied with get-togethers, movie marathons, spending time with your kids, or a mixture of all three. But no matter how your weekend evenings are enjoyed, there's something I find consistent about Saturday nights. Regardless of how much I've planned during the week, I find myself stumped over what to put on the dinner table when I'm not in the mood to go full-on chef mode. For those of you in the same boat, allow me to share my favorite festive yet simple Saturday night dinner ideas that always reignite my culinary fire.
Featured image by Michelle Nash.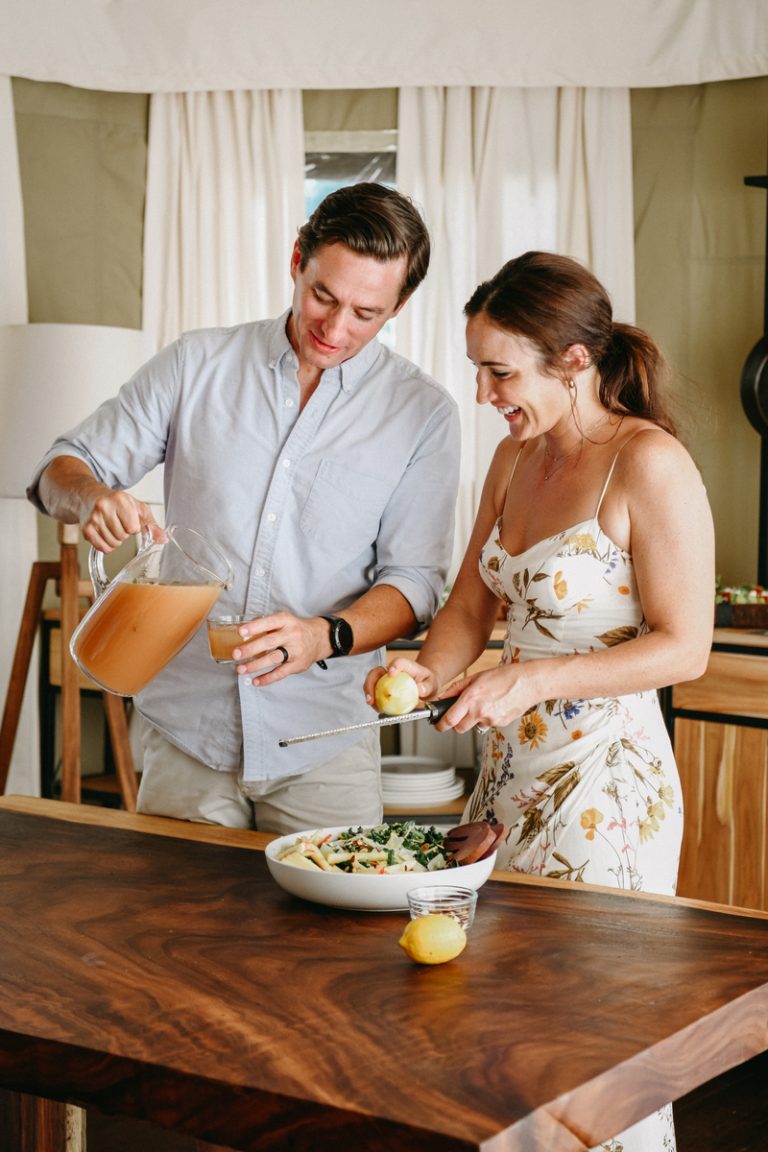 Subscribe
Our Top 10 Recipes
Sign up to receive a FREE E-BOOK of my top 10 most popular recipes of all time!
Thanks for Signing Up!
Oops!
Looks like you're already signed up or your email address is invalid.
Oops!
Looks like you unsubscribed before click here to resubscribe.
In this list, you'll find Saturday night dinner ideas for the family, vegetarian showstoppers, recipes for two, and quick and easy dishes for those lazy weekend evenings. And regardless of your typical weekend mood, I think we can all agree that less is more when it comes to our time off.
After working hard all week, the weekend is reserved for relaxation. The recipes below embrace the beauty in low effort/maximum reward offerings. Digging it? Keep reading for our picks of Saturday night dinner ideas that help you kick your feet up and savor the weekend.
Saturday Night Dinner Ideas For the Family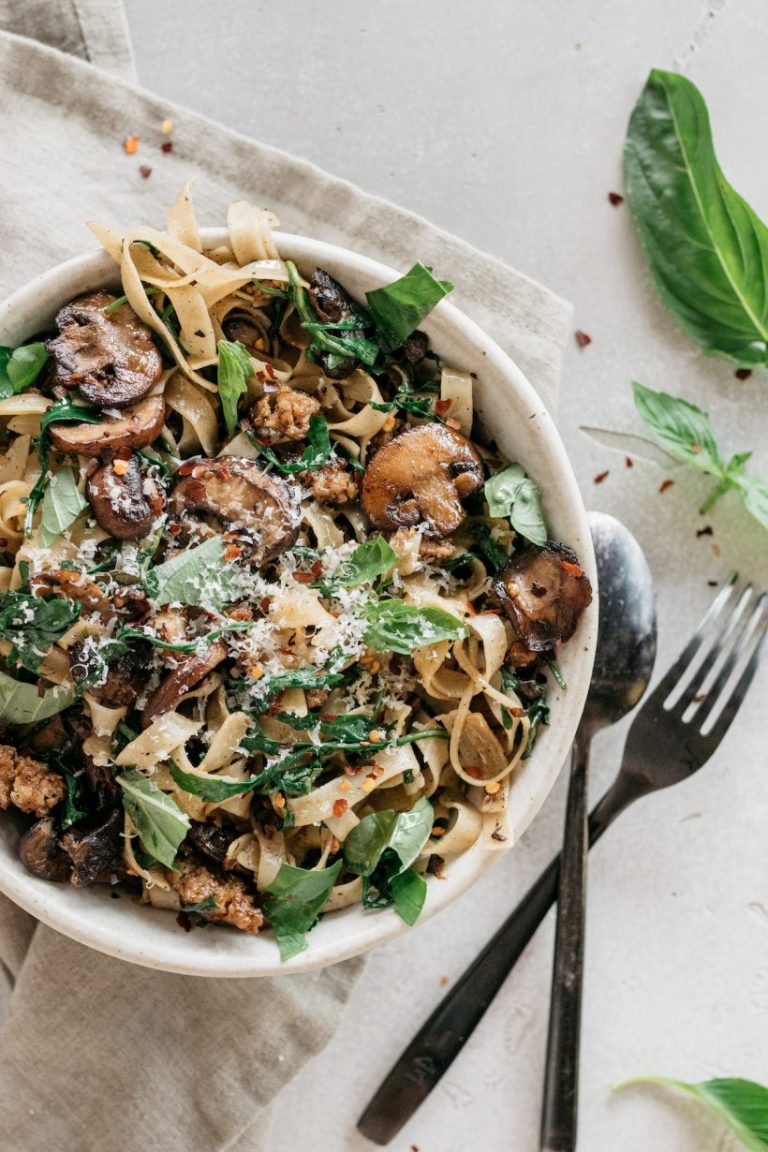 Why We Love It: This one-pot sausage pasta is downright delicious. With a short ingredient list, each component shines through to complement one another beautifully. Arugula, baby portabella mushrooms, Italian sausage, and lots of lemon juice are the stars of the show with craveable textures and flavors. And even though this pasta features rich Italian sausage, it's surprisingly light and not meat-centric like most pasta recipes with meat.
Hero Ingredient: Don't be shy with the red pepper flakes.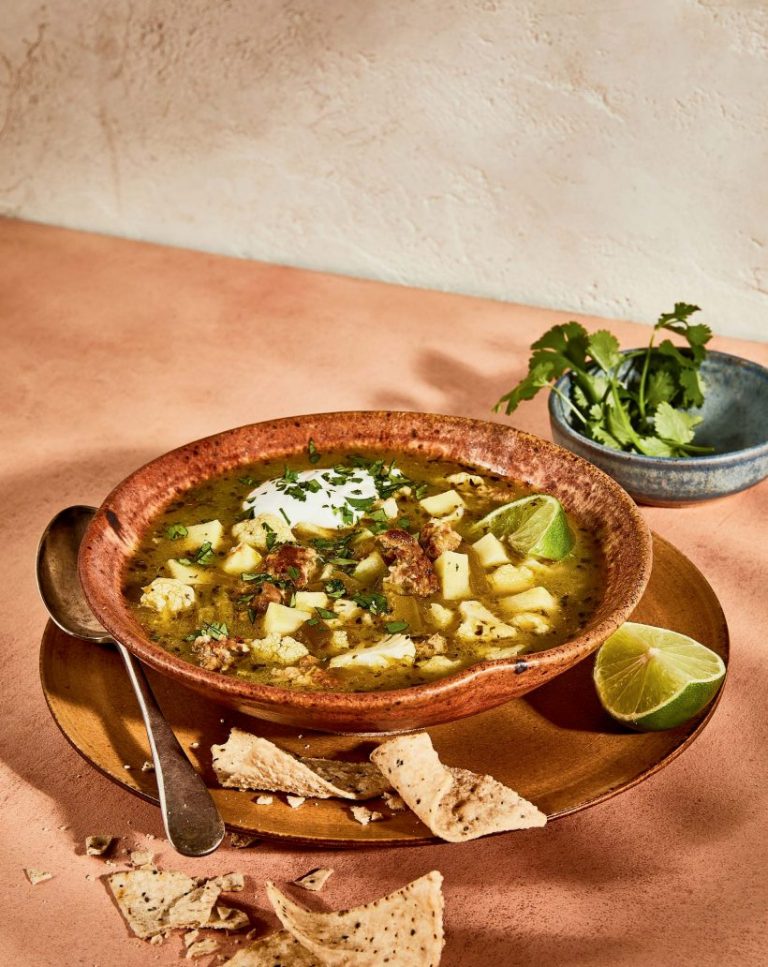 Why We Love It: Danielle Walker shared this cozy Turkey Chili Verde recipe with us and we couldn't be more thrilled to share it with you all. It's dairy-free, gluten-free, nut-free, and paleo-friendly, which means it's a nutritious and enjoyable by all—even your pickiest eaters. The best part? This entire chili comes together in less than 30 minutes. It also freezes and reheats well, so you can make a big batch in advance and slowly reap the fruits of your labor.
Hero Ingredient: Since a paleo diet excludes legumes, it can be tricky to get a chili to thicken properly. The solution? Simmering white potatoes in the base with little bits of cauliflower sprinkled throughout. The starch helps the chili transform from brothy to silky.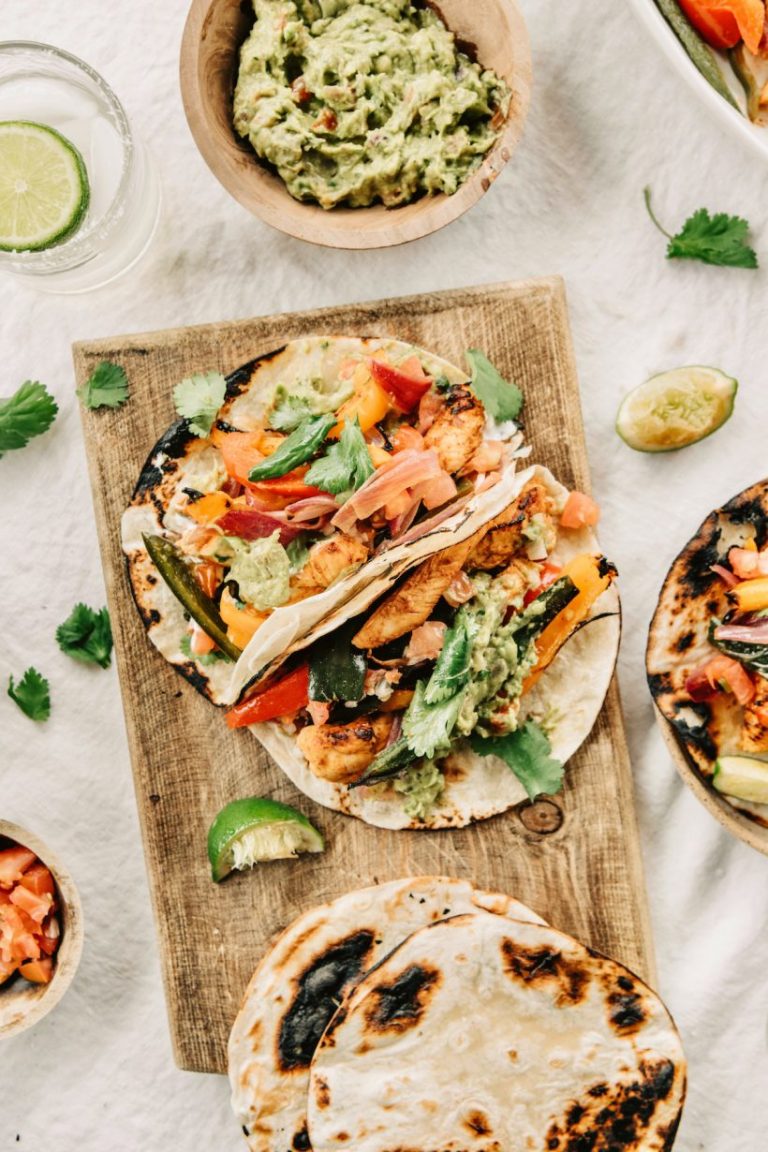 Why We Love It: The most flavorful, nourishing, and low-effort/high-reward sheet pan recipe you'll ever find, these fajitas deserve a spot in your weekly lineup. Marinated chicken, bell peppers, onions, and poblano peppers roast together until slightly charred and caramelized. Then, everything is wrapped up in a warm corn tortilla and finished with as many toppings as your heart desires. Make your Tex-Mex dreams come true at home!
Hero Ingredient: A lot of lime is the secret to success. You might think you're going overboard, but you're not. It's the acidity in the citrus that works behind the scenes to tenderize the chicken without you having to lift a finger.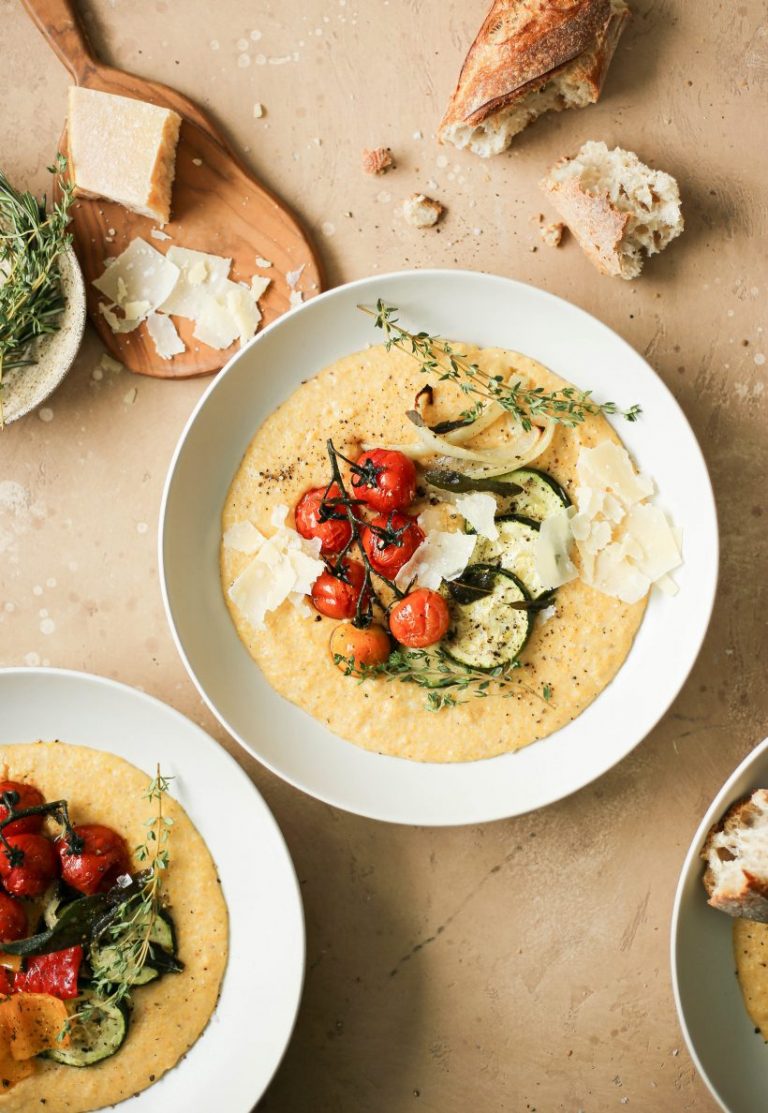 Why We Love It: Chilly fall nights call for comforting meals, and this recipe provides just that. Since it uses ingredients you probably have on hand, there's nothing standing between you and total coziness on a Saturday night. Choose your own adventure with the veggies and don't be afraid to try something unexpected! With a base as delicious as this creamy polenta, you can't go wrong.
Hero Ingredient: Roasting a head of garlic alongside the veggies gives it that nutty, almost-sweet flavor and spreadable texture. Be sure to save some for baguette spreading.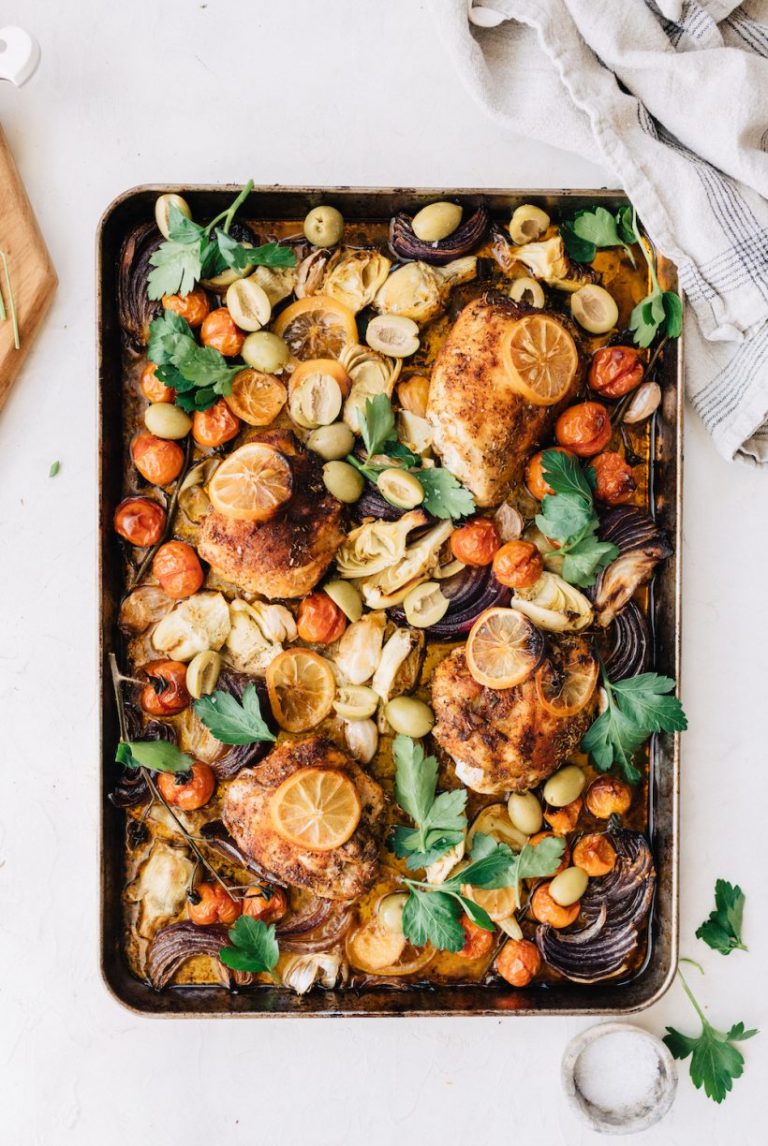 Why We Love It: In the world of lazy Saturday night dinner recipes, sheet pan recipes are king. This chicken version with artichokes, cherry tomatoes, garlic, red onion, and green olives is just divine. It's Mediterranean-inspired and full of bursting flavors you'll want to sop up every bit of.
Hero Ingredient: Herbs de provence drive home that savory chicken flavor that you won't want to miss.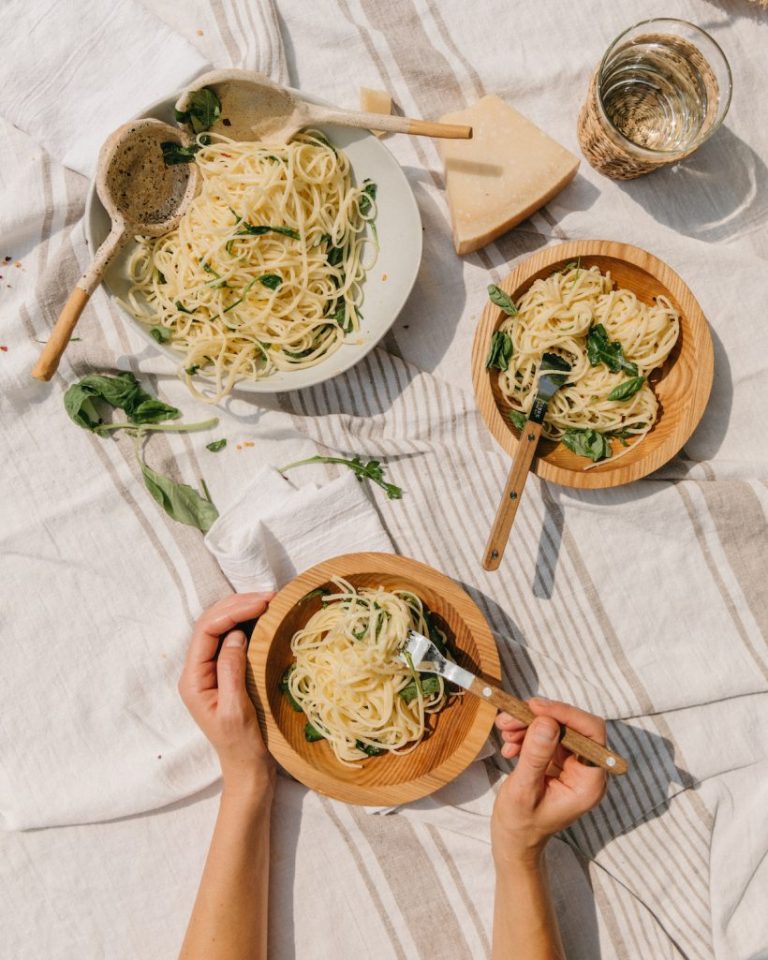 Why We Love It: Pasta al Limone is a lovable classic that never goes out of style. It's basically a "pantry pasta," which means you don't have to look far for the ingredients. All it takes is a little lemon juice, noodles, heavy cream, butter, parmesan, and fresh herbs to take this one from pot to plate. Once you've had a forkful, you'll come back craving more.
Hero Ingredient: Any herbs you have on hand go well in this pasta. Basil? Yes. Chives? Absolutely. Invasive mint that's taking over your flower bed? Yes, please.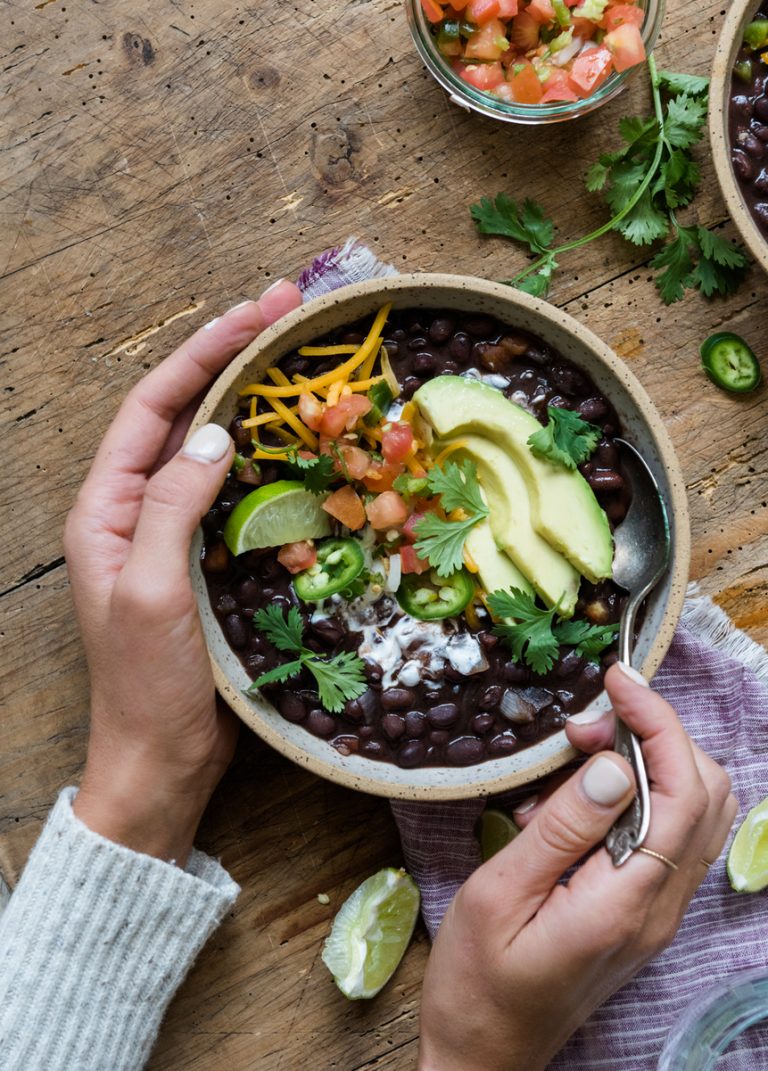 Why We Love It: When it comes to Saturday night dinner recipes for the family, this one's a real winner. It couldn't be easier to make and kids love it with a cheese quesadilla on the side to soak up all that broth. The best part? This soup uses the entire can of black beans—juice and all—to form the base. It's seriously that easy and is completely cozy for chilly fall nights.
Hero Ingredient: If you prefer a thicker soup, blend up the mix with an immersion blender or in batches in a stand blender. Silky smooth soup is calling your name.
Saturday Night Dinner Ideas For Two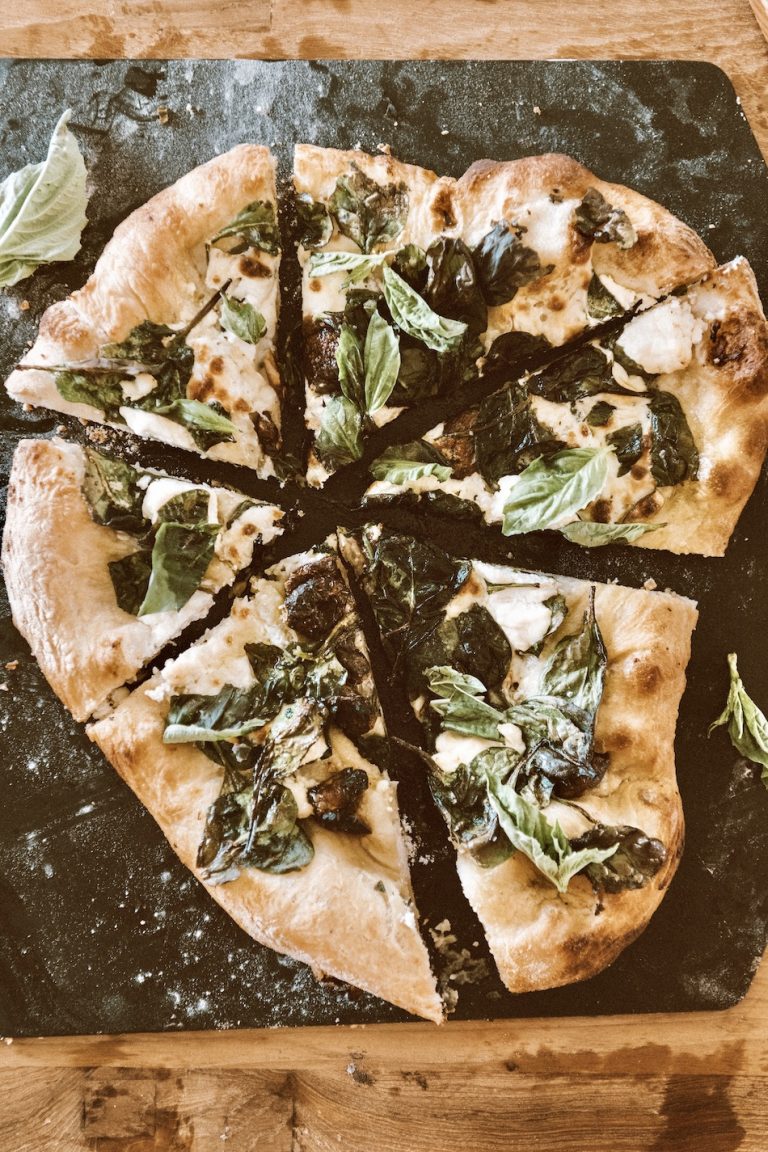 Why We Love It: Try your hand at homemade pizza dough and prepare to be amazed. The flavors are impeccable—with spinach, creamy ricotta, garlic confit, red pepper flakes, and fresh basil coming together in harmony. It's dynamic, comforting, filling, and so easy to throw together on a busy weeknight. This pizza is the perfect size for two to enjoy so you don't have to worry about storing leftovers, either.
Hero Ingredient: The garlic confit definitely wins the prize. It's baked low and slow until caramelized and beautifully spreadable. Pro tip: Make a little extra for sandwiches, wraps, toasts, salad dressings, or good old fashioned bread spreading.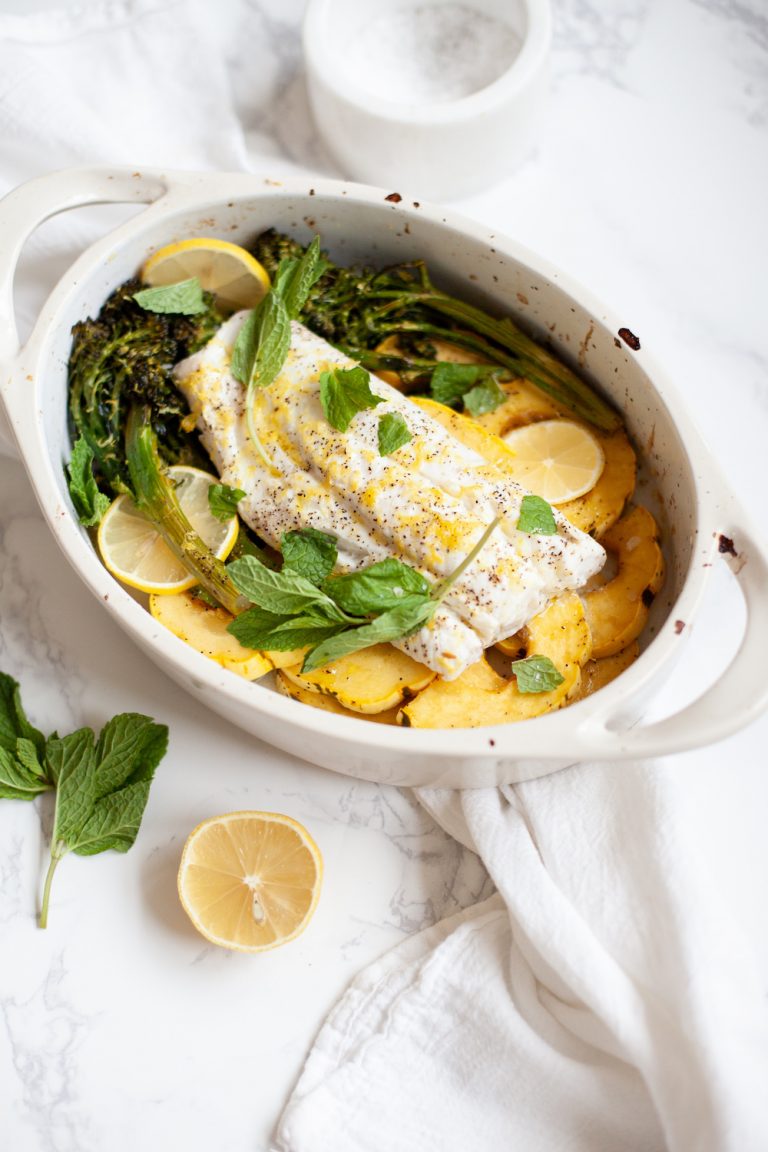 Why We Love It: Perfect for date night, easy weeknight dinner, and quick pan-to-plate offerings, this Slow Roasted Cod with Broccolini, Winter Squash, and Mint is effortlessly romantic. Your oven does all the work to transform seasonal ingredients into a nourishing meal you'll want to bookmark. Flaky cod, delicata squash, broccolini, and lots of herbs/flavors meld together to create a healthy dinner you and your meal partner will love.
Hero Ingredient: Don't be shy with the lemon juice. All that roasted goodness is made even better with a little citrus.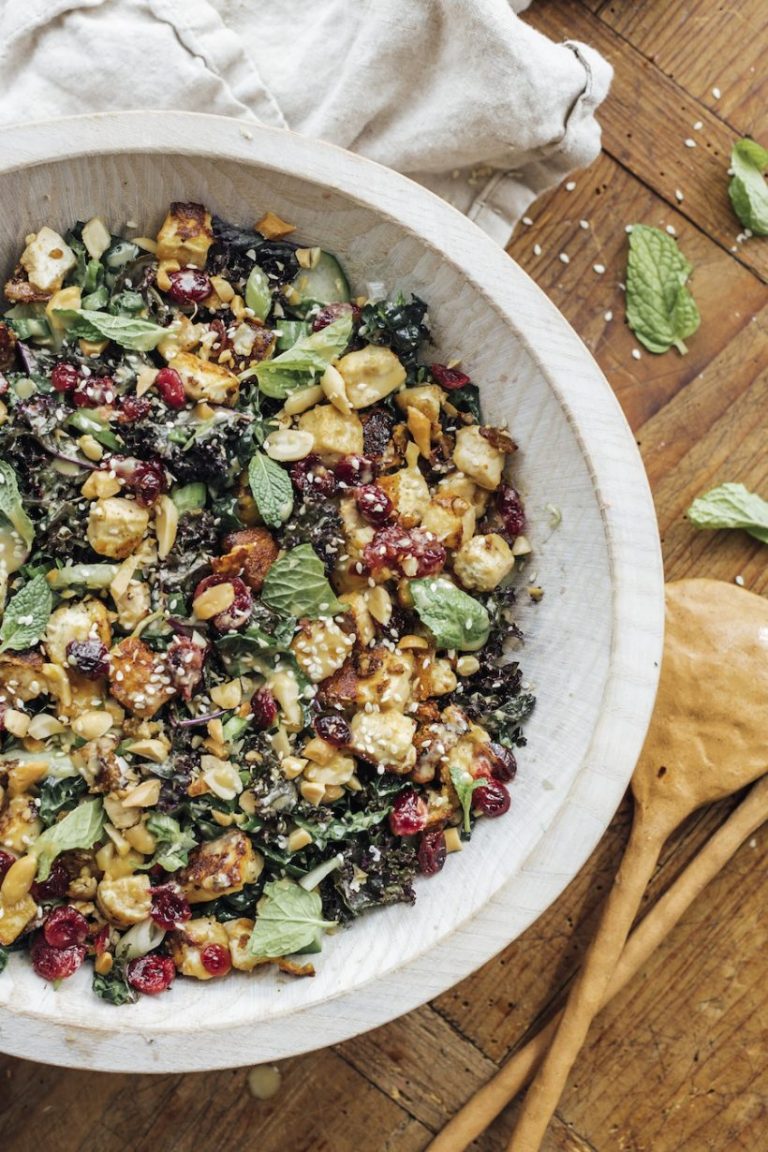 Why We Love It: Sweet, savory, tangy, fresh, and all-around delicious, this kale salad has got it going on. The kale base is loaded with dried cranberries, salted peanuts, refreshing cucumber, and sautéed tofu that's so much better than you (probably) think it is. To top it all off, a citrus-ginger dressing brightens up everything underneath it in a way that's simple yet dynamic. Help yourself to a big serving of this nutrient-dense salad for a dinner that will have you glowing from the inside out.
Hero Ingredient: Thoroughly massaging your kale is key. It breaks down all that toughness and gives you tender leaves to munch on with each tasty bite.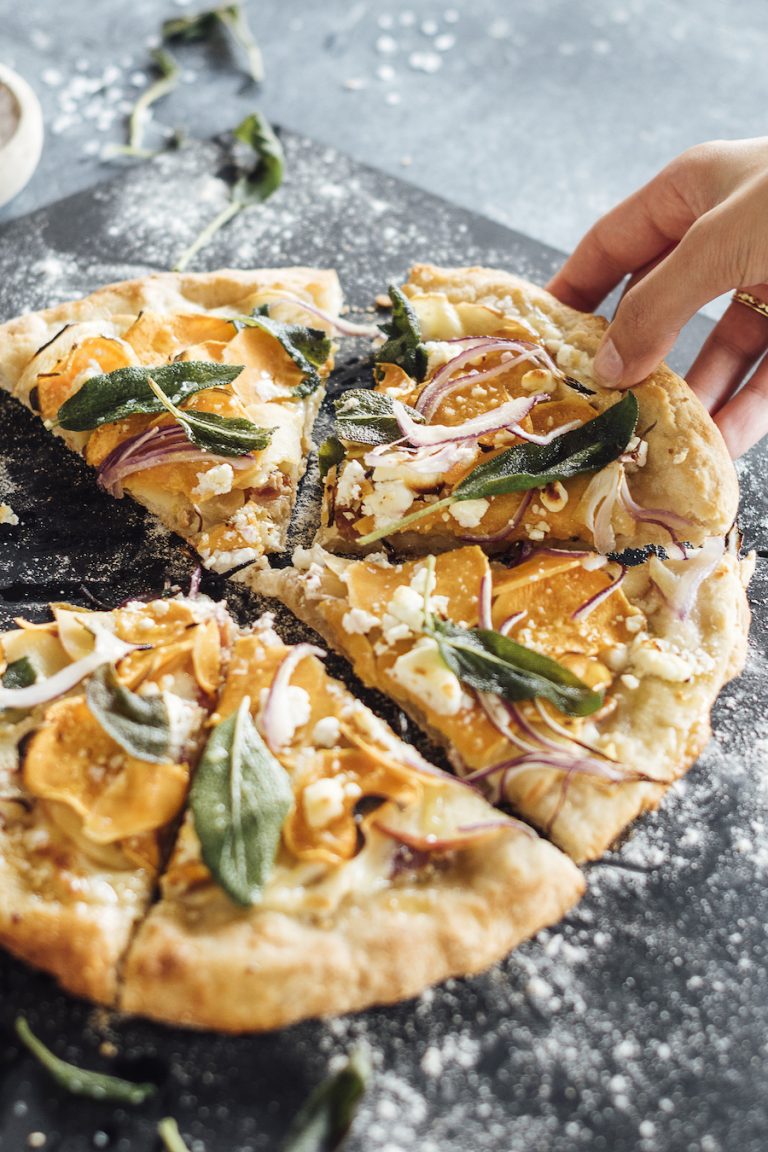 Why We Love It: Bacon, apples, and sweet potatoes might not be your first thoughts for pizza topping, but they might surprise you. First of all, these ingredients are picture-perfect for fall. And second, the flavors they bring together are nothing short of magical. Smoky bacon meets sweet apple and cozy sweet potato, all working together over a crispy pizza crust. Then, crispy fried sage brings an herbal tone to the mix that's just divine. Don't knock it until you try it.
Hero Ingredient: Did I forget to mention the goat cheese? Those flavors are only enhanced by the tanginess of creamy goat cheese that brings things to new heights.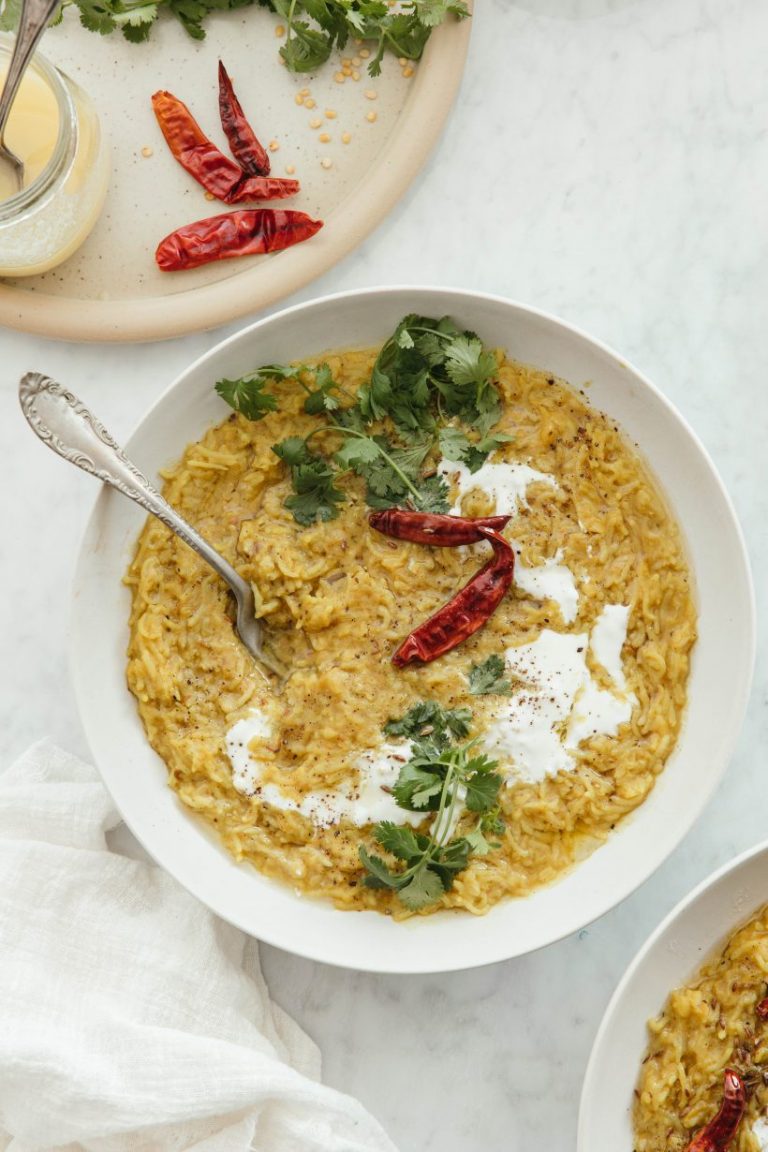 Why We Love It: Kitchari is a combination of lentils (or split mung beans), rice, spices, and ghee that's pretty much a hug in a bowl. It's perfect for lazy Saturday nights when you need a little comfort and couldn't be easier to make. It's composed entirely in one bowl! With ten minutes of hands-on time, you can go from pot to plate in no time.
Hero Ingredient: Garam masala, red chili powder, turmeric, hing, cumin seeds, and ajwain seeds constitute the spices for your kitchari.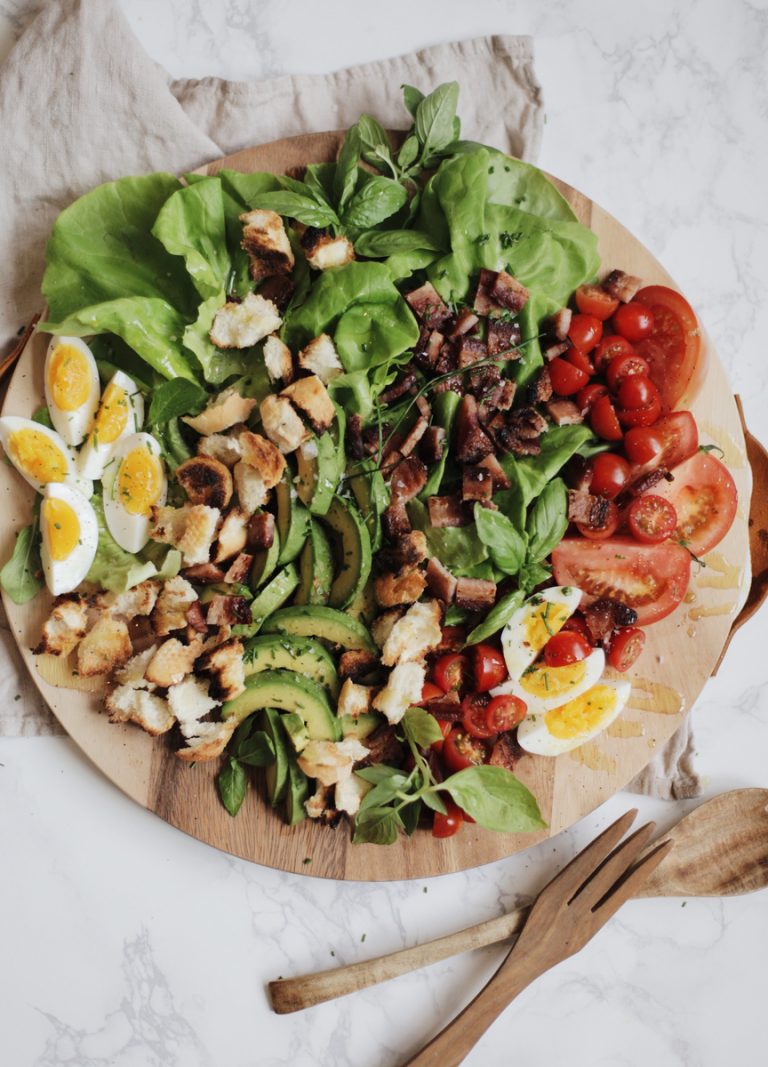 Why We Love It: Get your BLT fix in salad form with this craveable BLT (BLEAT?) salad. Crunchy bread, crispy bacon, juicy tomatoes, jammy eggs, creamy avocado, and buttery lettuce come together under a simple vinaigrette in a way that's almost addicting. You've got all kinds of flavors and textures complementing each other here in one harmonious salad. I don't know about you, but my mouth is watering.
Hero Ingredient: The eight-minute egg is not to be overlooked. It's the jammy yolk that makes each forkful pure perfection.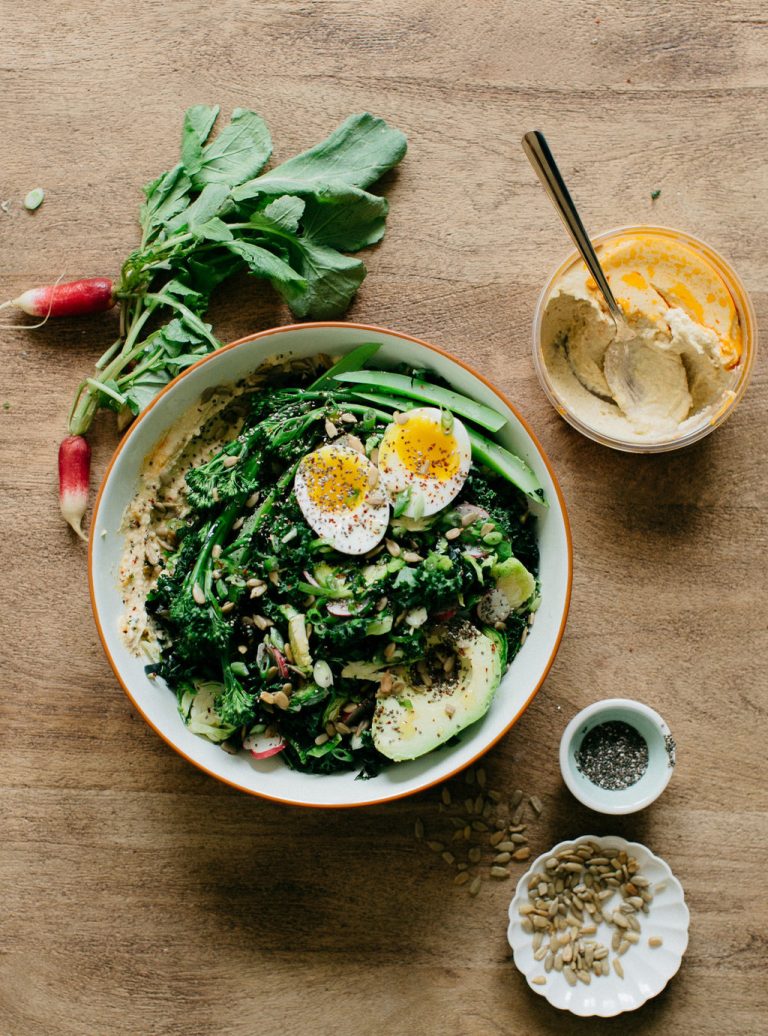 Why We Love It: This bowl might just be the definition of nourishment. You've got fiber-rich kale, protein-packed eggs, fatty avocado, and more coming together to work for your body from the inside out. Plus, it's just as delicious as it is nutrient-dense! Savory hummus and charred broccolini bring serious flavor that's only enhanced by the salty sunflower seeds sprinkled over top. It's a dynamic bowl that gives you that extra boost of goodness on a Saturday night.
Hero Ingredient: Again, the egg is unbeatable on top of this bowl. By soft-boiling it, you're left with just the right amount of yolk to spread over your greens.
Vegetarian Saturday Night Dinner Ideas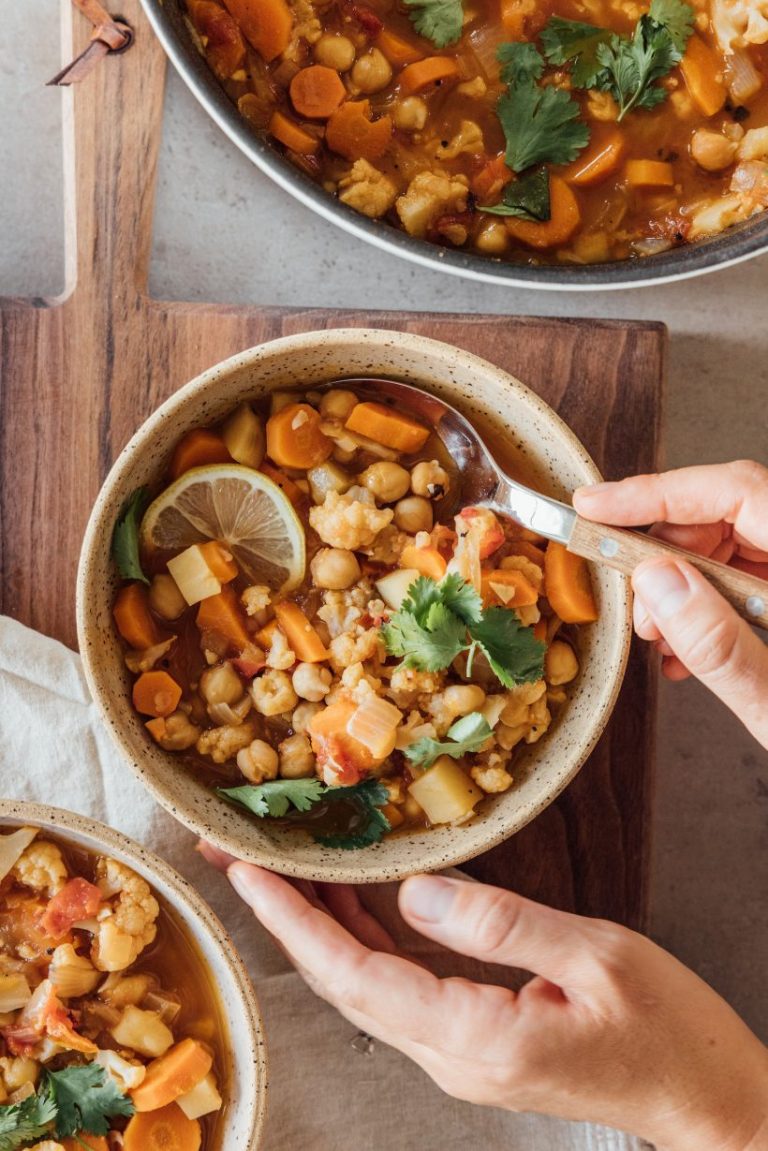 Why We Love It: If fall weather is giving you a case of the blues, the sniffles, or the shivers, this stew is your calling card. It's a meatless main that's packed with nutrient-rich veggies and warming flavors that are perfect for this time of year. It's a one-pot recipe that's gluten-free, vegan, and full of fiber. And don't think the lack of meat means lack of flavor—garlic, lemon, lots of spices and herbs hold it down in the flavor department. Trust me, even the most dedicated meat lovers won't miss it.
Hero Ingredient: The variety of veggies in this stew also brings valuable flavor. You've got cauliflower, carrots, potatoes, and onions working together to flavor that broth to perfection.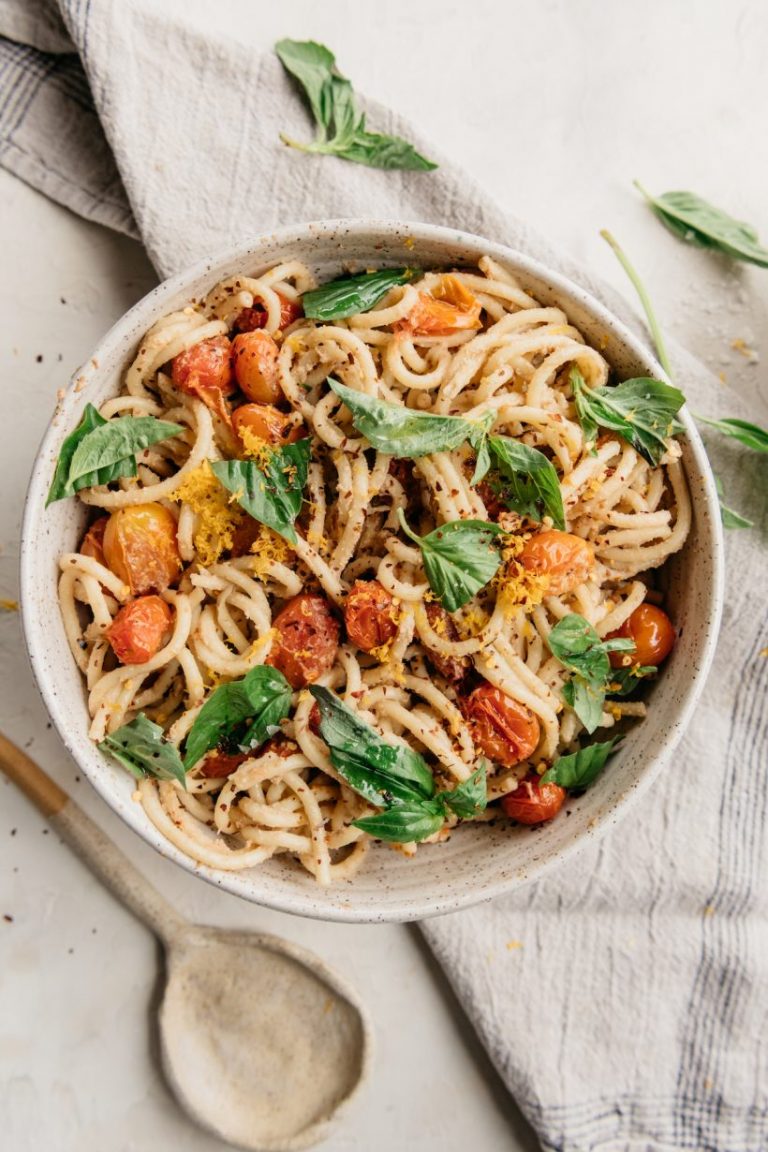 Why We Love It: If you think "creamy" and "vegan" are mutually exclusive, think again. This pasta with tomatoes and basil is coated in a walnut sauce that's so much more than the sum of its parts. Garlic and onions are sautéed until caramelized then blended with walnuts, lemon juice/zest, and a splash of water until smooth. Then, the sauce is poured over the pasta and lovingly coated over each al dente noodle. Combine that with just-burst tomatoes and lots of herbs, and you've got a decadent pasta for Saturday night dinner. Yum.
Hero Ingredient: The finishing touch is a shower of lemon zest, chopped basil, and red pepper flakes. Don't be shy—these edible accessories finish this dish off beautifully.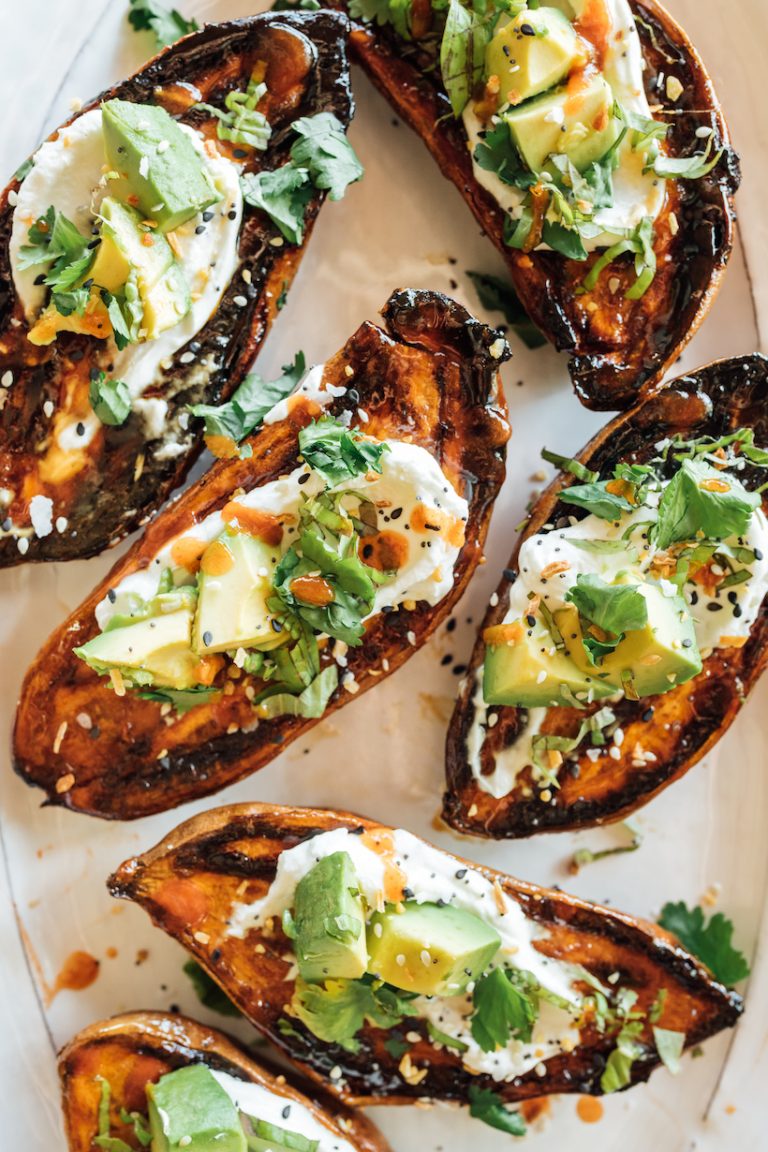 Why We Love It: Gone are the days of bland sweet potato mush. These crispy roasted sweet potatoes are roasted in the oven until tender, but the crowning glory is their pan finish. In a big cast iron skillet, you'll warm a little butter and honey before placing the potatoes face-down in the mixture. The flesh crisps up on top and even gets a little charred in the best way. Then, you can top with Greek yogurt, avocado, sriracha, everything bagel seasoning, fresh herbs, or anything else you can conjure up. Each bite is simply blissful.
Hero Ingredient: While the recipe calls for honey, hot honey would be absolutely amazing. The subtle heat and sweetness would complement that charred sweet potato so well.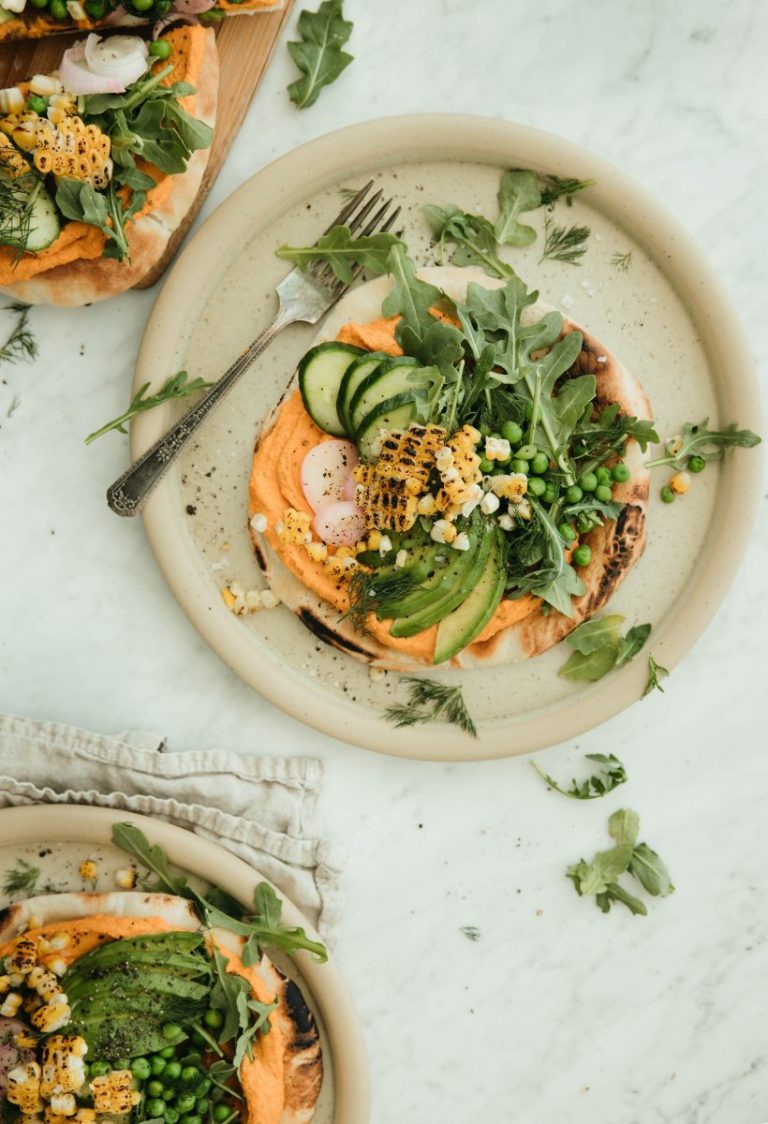 Why We Love It: Switch up your dinner offerings with a veggie-forward flatbread that's equally healthy and delicious. Each flatbread is topped with a red pepper hummus that you'll want to make extra of (trust me) and veggie galore. The hummus is made with roasted carrots, red bell pepper, roasted garlic, and several spices that tie it all together before it's layered with fresh veg and herbs. Crunchy vegetables fare really well here, so think cucumber, snap peas, radishes, green onions, etc.
Hero Ingredient: For the hummus, all the vegetables are roasted together on a sheet pan, which couldn't be easier. Hero method, anybody?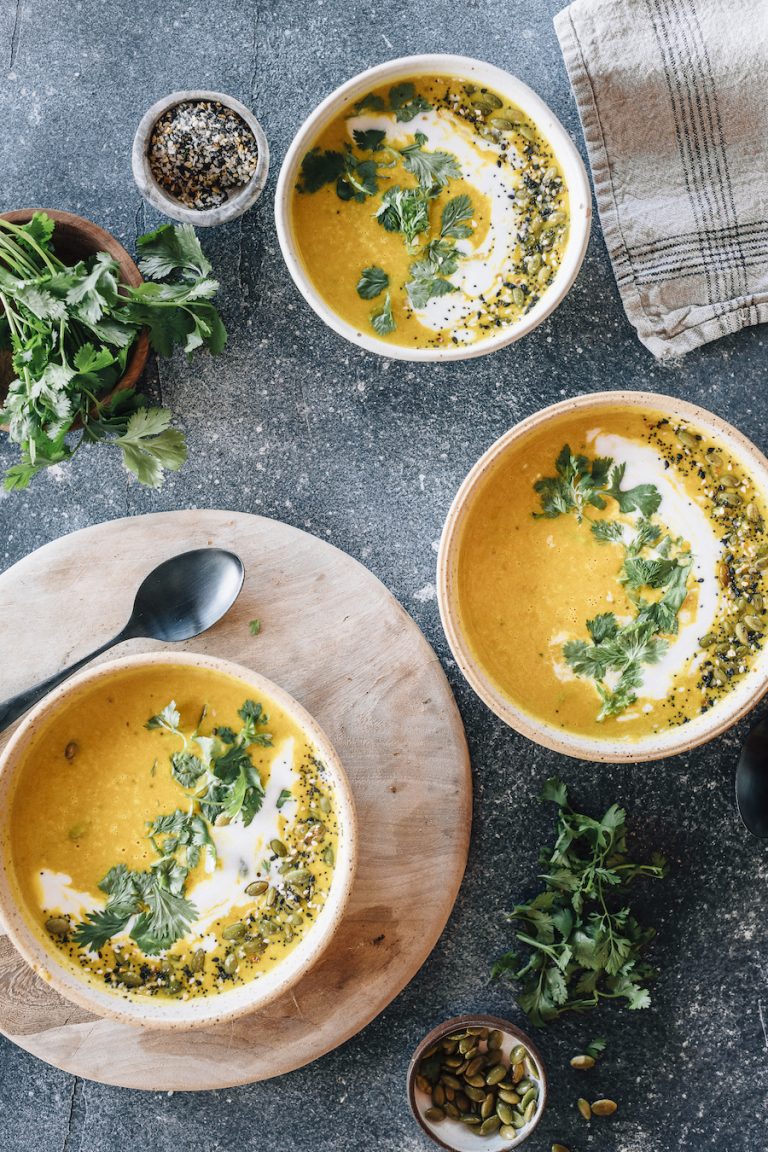 Why We Love It: This recipe is all about creamy pureed soup, minus the cream. It uses coconut milk and warming spices to give it that satisfying richness without the extra heaviness that comes from cream. Combine that with cozy butternut squash and carrots, sharp ginger, and sweet honey and you've got a simple, delicious soup.
Hero Ingredient: Fresh orange juice brings a vibrant zing to the party that will wake up all the senses.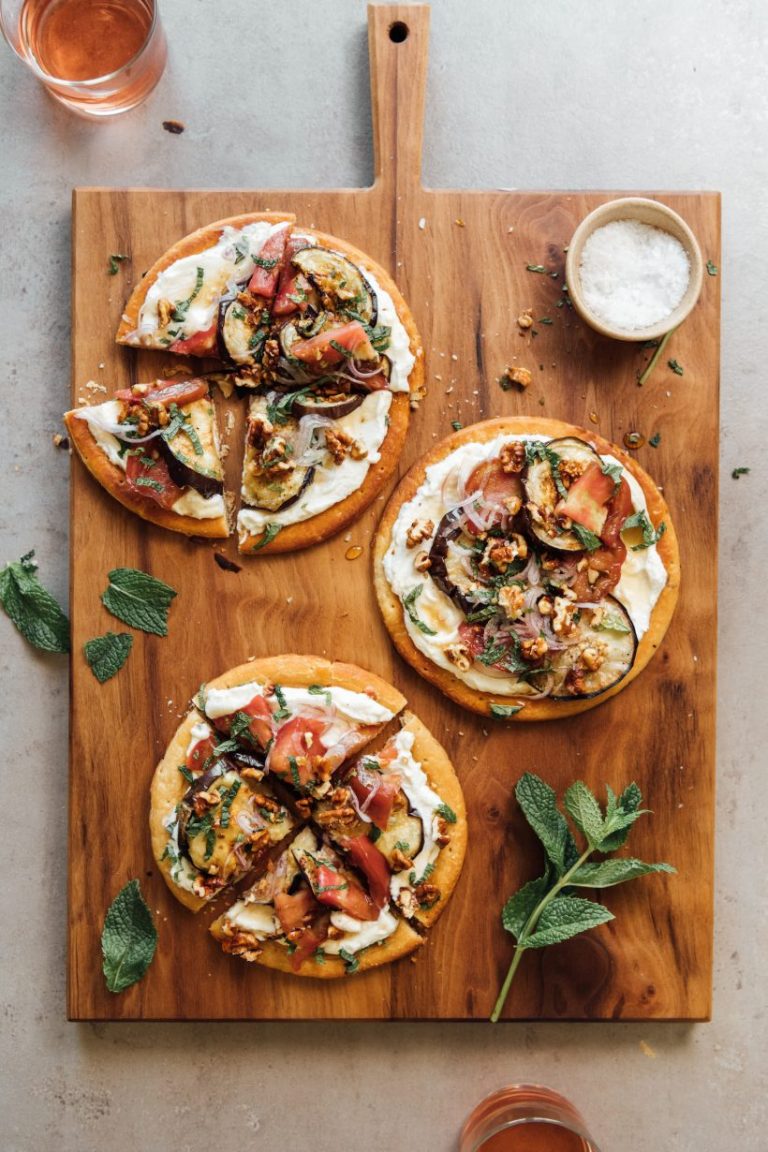 Why We Love It: Another unexpected twist on pizza, this flatbread with eggplant and ricotta is the minimal-cook dinner you've been looking for. It's a miracle recipe that takes very little time to assemble and rewards you with a decadent dinner. It uses eggplant, ricotta, garlic, heirloom tomatoes, and more to create something so much greater than the sum of its parts.
Hero Ingredient: If the extra effort involved in eggplant scares you, don't fear! There's no salting or drying involved here—just a simple broil that keeps the outside crispy and the inside tender and free of bitterness.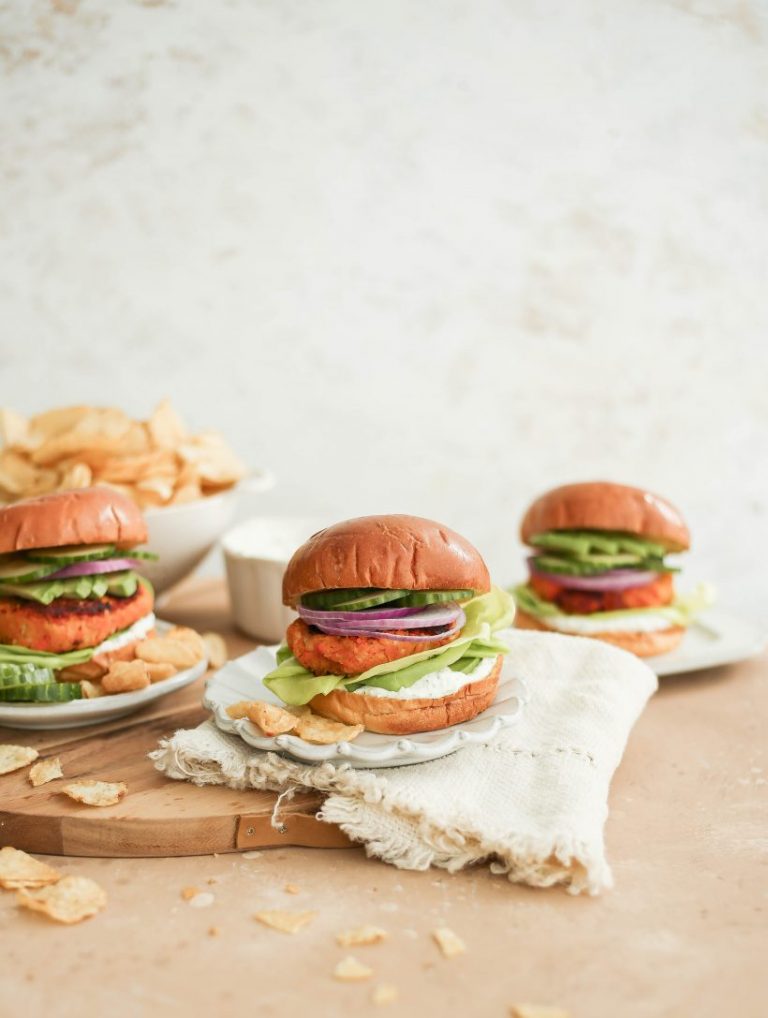 Why We Love It: Bland veggie burgers, be gone. This sweet potato veggie burger brings the flavor and texture to a cult classic dish: the humble burger. It all starts with chickpeas, sweet potato, panko breadcrumbs, and lots of spices, which constitute the patty. Then, smear a little feta yogurt dressing on your buns and top with red onions, charred veggies, tomatoes, fresh cucumber, or anything else that strikes your fancy.
Hero Ingredient: Ground cumin, coriander, and red chili powder bring the flavor to each tasty patty.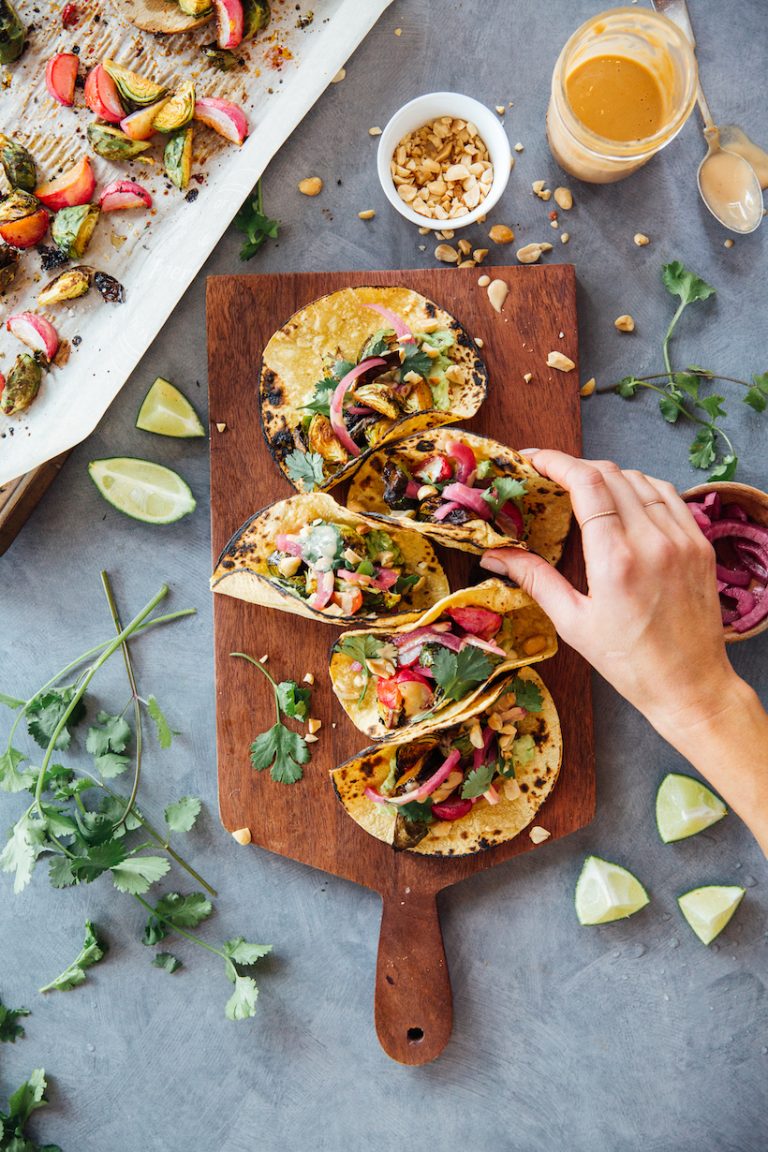 Why We Love It: It can be tricky to find a vegetarian taco recipe that's actually filling, but this recipe proves it is possible and enjoyable. Brussels sprouts, radish, and onion build the foundation here for lots of goodness to follow. They're roasted until slightly crispy, layered with mashed avocado plus a spicy peanut sauce, then wrapped up in a warm corn tortilla blanket. Then, they're topped with as many edible accessories your heart desires and savored by all.
Hero Ingredient: Should you choose to double the sauce (although you'll likely have some leftover anyway), keep it on hand for stir-fry, spring rolls, crudités, and salad dressings all week long.
Quick and Easy Saturday Night Dinner Ideas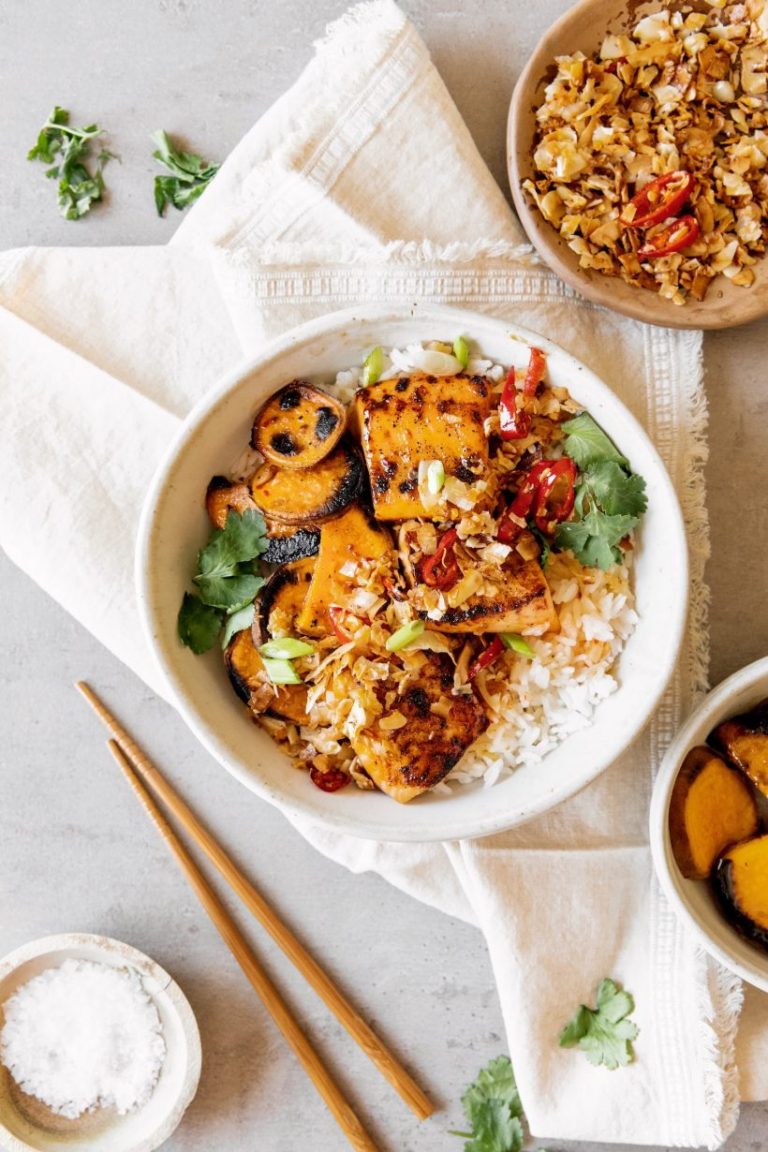 Why We Love It: Interesting doesn't always mean complicated, which rings true in this Hot Honey Glazed Salmon recipe. The salmon is caramelized under the broiler for a brisk four minutes before being brushed with a vibrant honey glaze that wakes up each and every taste bud. Couple that with roasted sweet potatoes, fluffy rice, and a coconut crunch that's so addicting you can eat it straight out of the pan. Pure bliss.
Hero Ingredient: That coconut crunch is seriously phenomenal. All you have to do is sauté a little garlic, sliced chili, and coconut flakes until everything becomes sweet, nutty, and fragrant, and voilà! Your life might just be changed forever.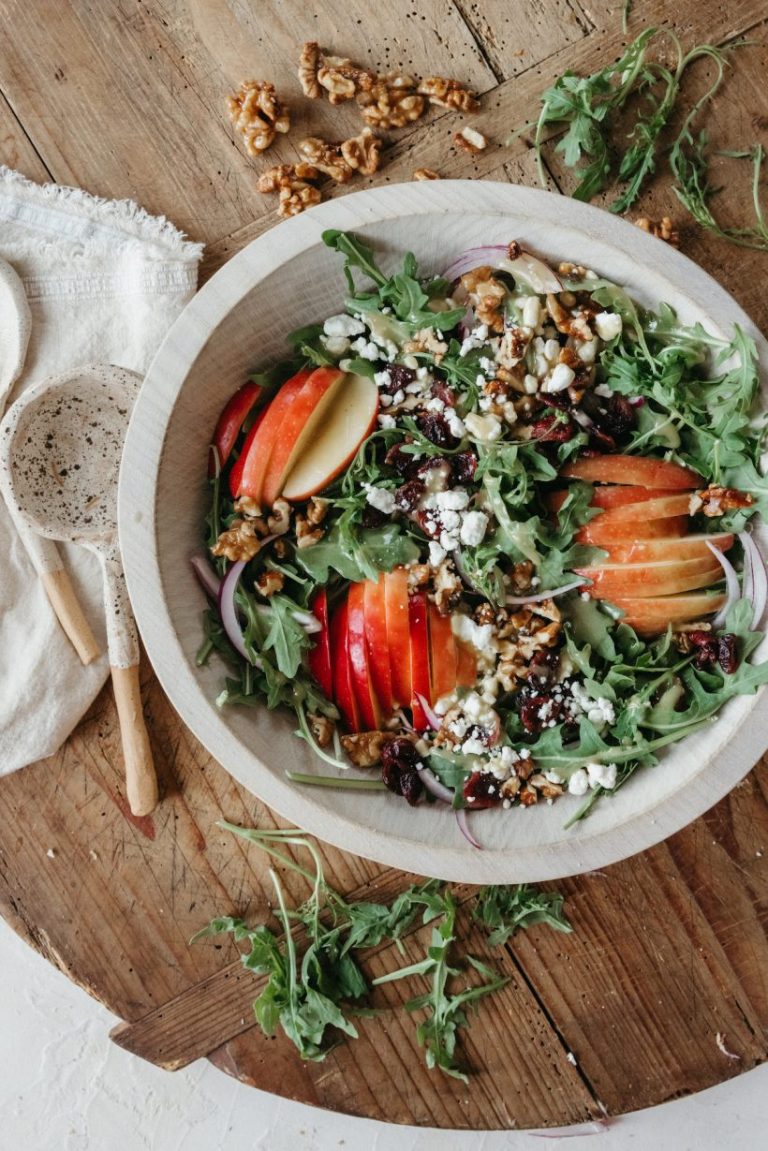 Why We Love It: Bitter arugula is layered with sweet apple slices, sharp red onion, toasty walnuts, creamy goat cheese, and more in this addictive salad. It's perfect for the fall as it celebrates some of the season's best produce. Coming together in 15 minutes or less, this salad is great to keep in mind for Saturday night dinner ideas, fall gatherings, or make-ahead lunches/dinners throughout the week.
Hero Ingredient: The sweet/salty flavor combo in salad form is unmatched. Here, you're getting lots of that with the tart cranberries, toasted nuts, creamy cheese, and spicy red onion working together in harmony. It's a flavor dynamic to behold.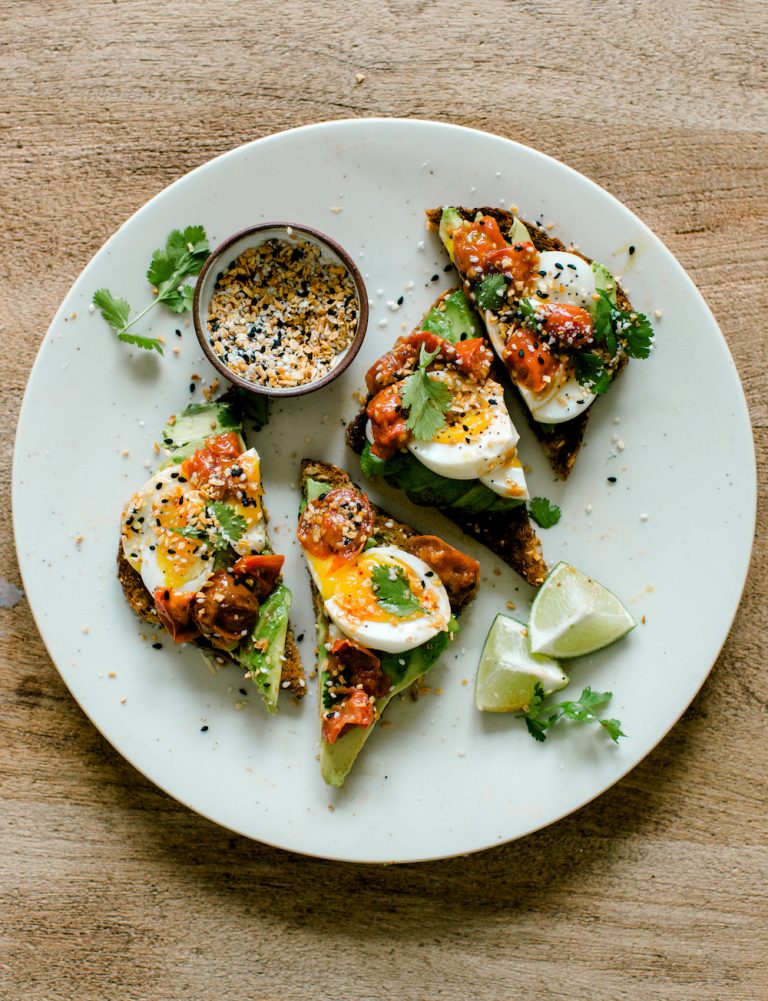 Why We Love It: Toast for dinner? You betcha. This Sunday Saturday Night Avocado Toast checks all the boxes on flavor, texture, and comfort. It takes less than 15 minutes to go from bread to dinner (a miracle in and of itself!). With creamy avocado, salty everything seasoning, just-burst tomatoes, and jammy yolk running over top, there's so much to love.
Hero Ingredient: The jammy egg is not to be taken lightly. It's like a warm blanket coating all that goodness underneath.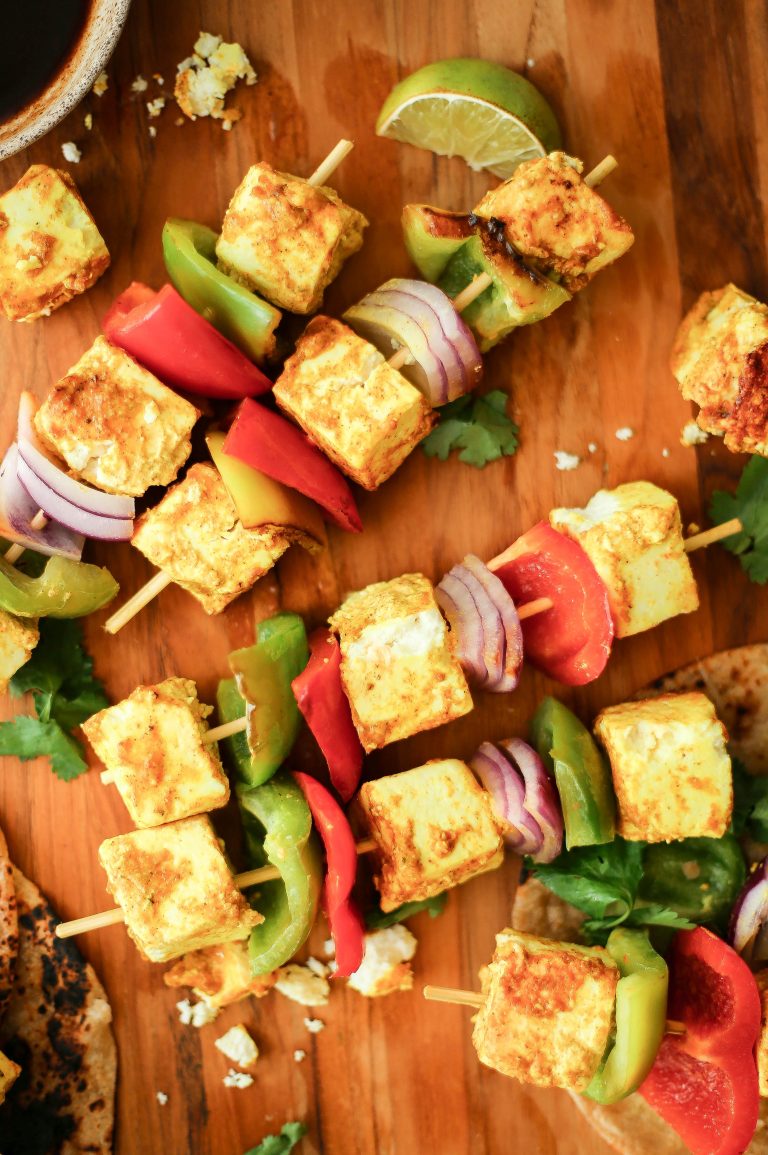 Why We Love It: Cheese kebabs sound like a dream, no? These paneer kebabs are stacked with salty, melty cheese, caramelized bell pepper, and charred red onions for a quick dinner that's sure to satisfy. The paneer is marinated overnight in a mixture of yogurt and spices that gives it a punchy flavor you won't want to miss. Ergo, don't skimp on the spices.
Hero Ingredient: A squeeze of fresh lime juice over each kebob ties all those flavors together perfectly. I'd call it magical, but you'll have to see for yourself.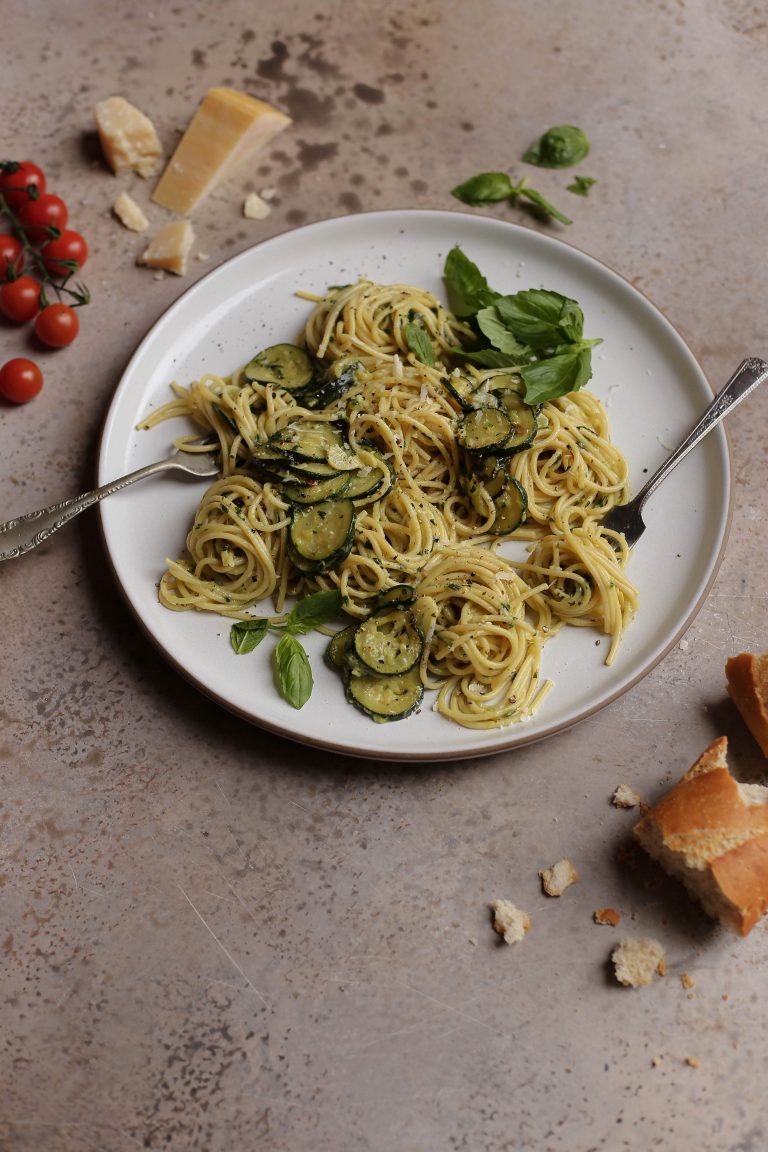 Why We Love It: This simple vegetarian pasta is basically a "pantry pasta," meaning you don't have to look too far for the ingredients. All it takes is a little garlic, shallot, zucchini, spaghetti, and parmesan cheese to make your pasta dreams come true. The key to success is the technique, though this recipe deviates from the original to keep things short and sweet. The zucchini is pan-fried with olive oil until gold and shimmery, and about a third gets blended with pasta water and basil for the sauce. It's blissfully simple and equally satisfying.
Hero Ingredient: A pat of butter and lots of grated parm finishes this dish off to perfection. Swirl it in at the end and enjoy the effortless elevation.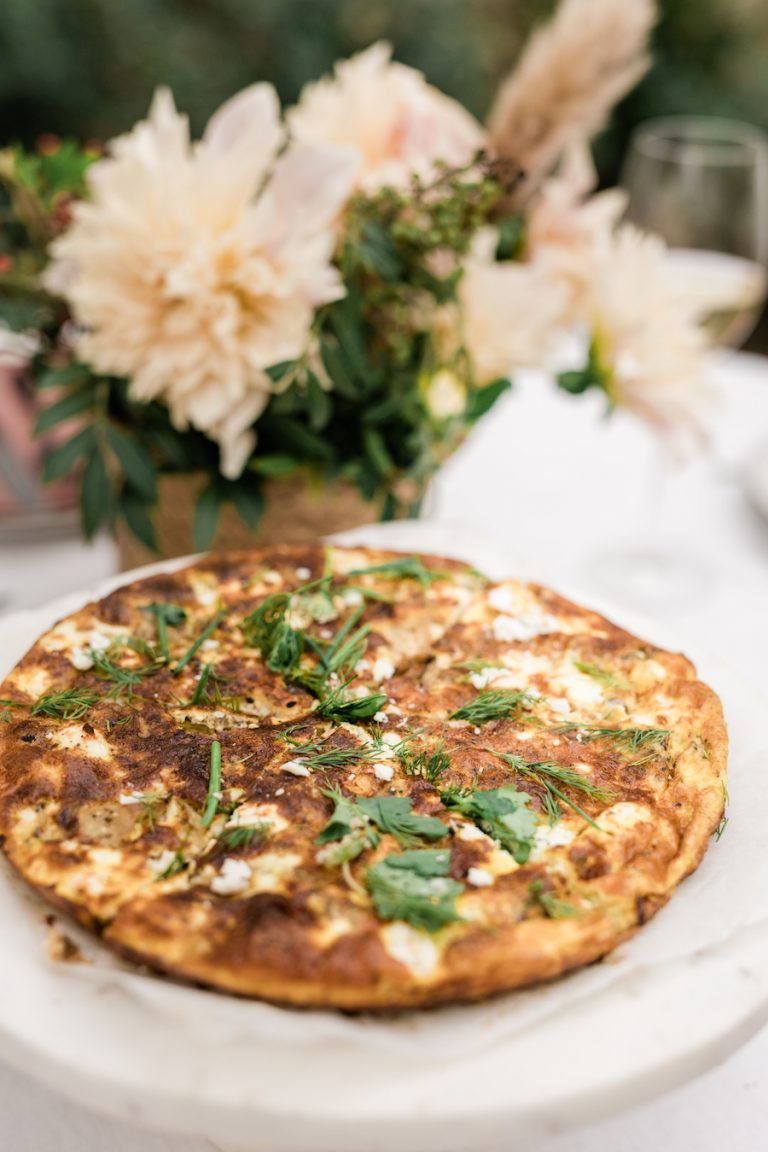 Why We Love It: If you need an excuse to empty your vegetable drawer, look no further. This Mushroom, Spinach, and Goat Cheese Fritatta comes together in under 30 minutes, which is perfect for lazy Saturday nights. It's simple to make, full of vegetables, and is composed entirely of ingredients you (probably) already have.
Hero Ingredient: A heavy sprinkle of fresh herbs over top really polishes off the dish. Use whatever you have on hand—you can't go wrong here!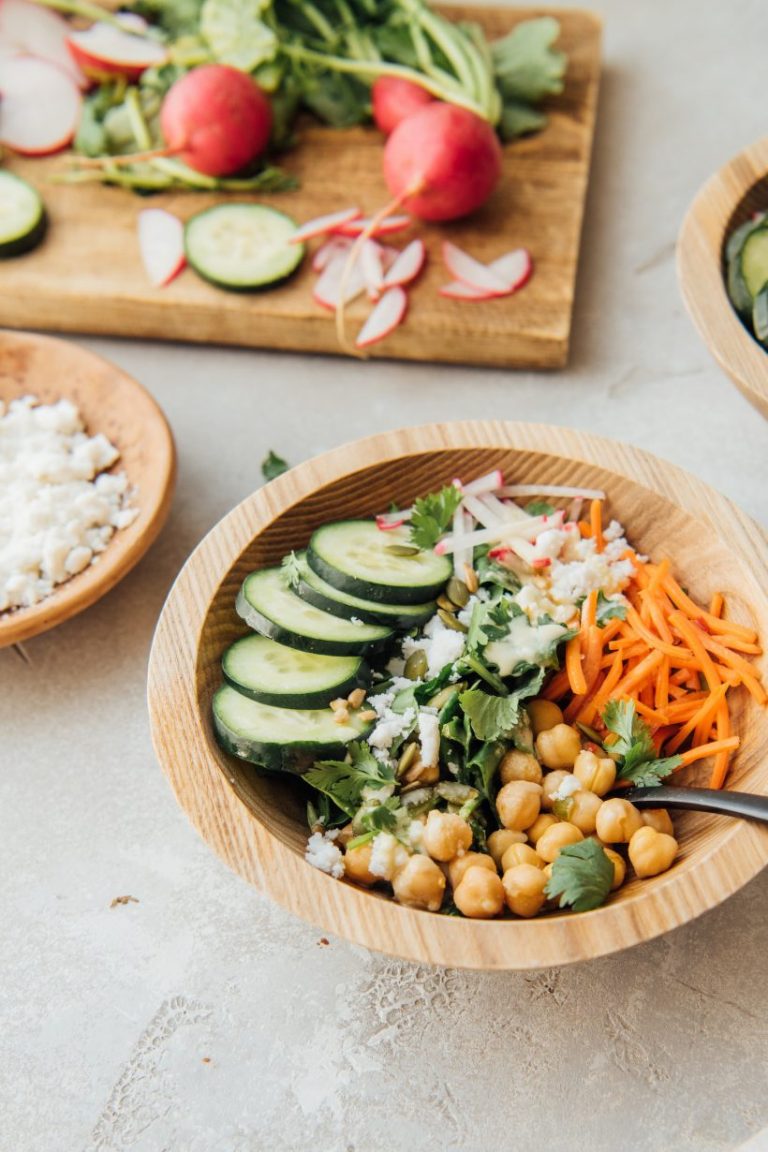 Why We Love It: Fresh greens, spicy marinated chickpeas/carrots, cucumber, pumpkin seeds, queso fresco, and more come together in salad matrimony. It's a chopped salad, which means each forkful is loaded with a little bit of everything. Toss it all together in that luscious honey-shallot vinaigrette for a dynamic salad that goes well by itself, topped with protein, or as a side to Taco… Saturday?
Hero Ingredient: Toasted sunflower and pumpkin seeds on top bring the crunch factor.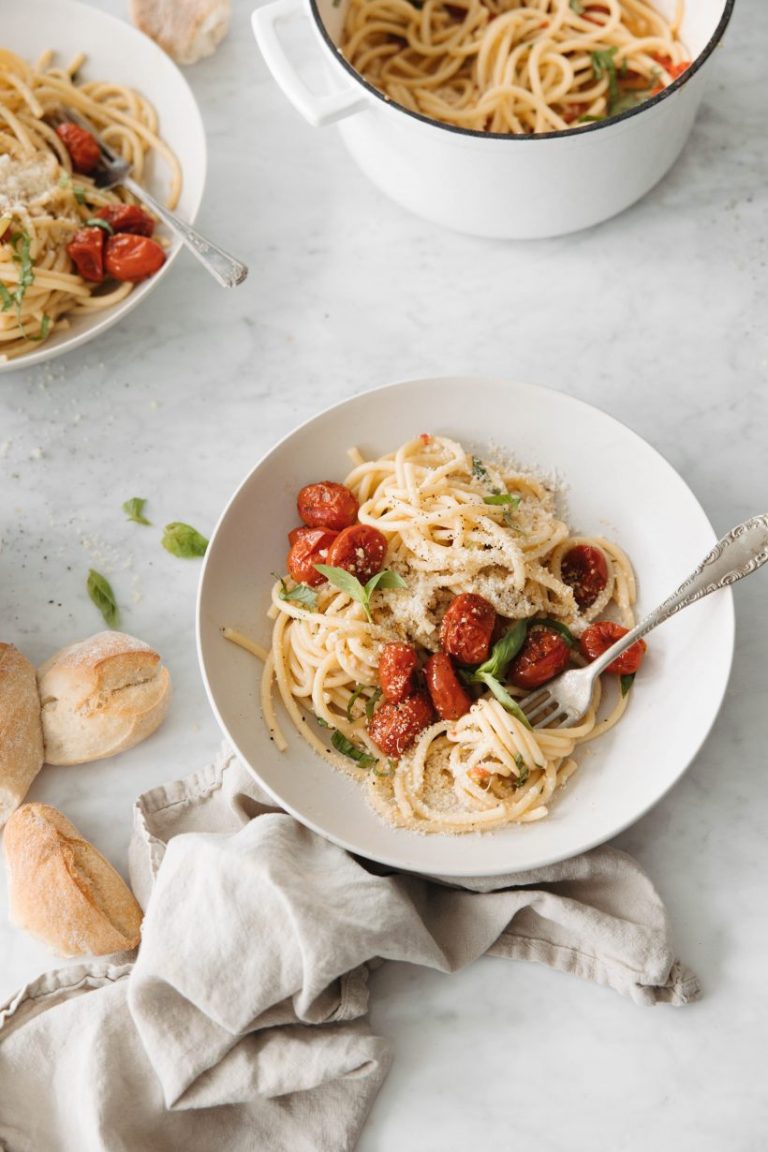 Why We Love It: Five ingredients and one pot are all that stand between you and this low-effort/maximum-reward pasta. It uses simple ingredients to create something more flavorful than you might think possible. The trick is to roast your tomatoes and garlic low and slow with lots of olive oil. Miso in the sauce brings a lovely umami flavor, which is complemented by that caramelized garlic, salty parmesan cheese, and a little pasta water to bind it all together. Simple perfection.
Hero Ingredient: In terms of noodle selection, a bucatini noodle is ideal. The little hole through the middle of each nood gives you ample opportunity to slurp. Let loose and enjoy, people!
Bonus: Dessert!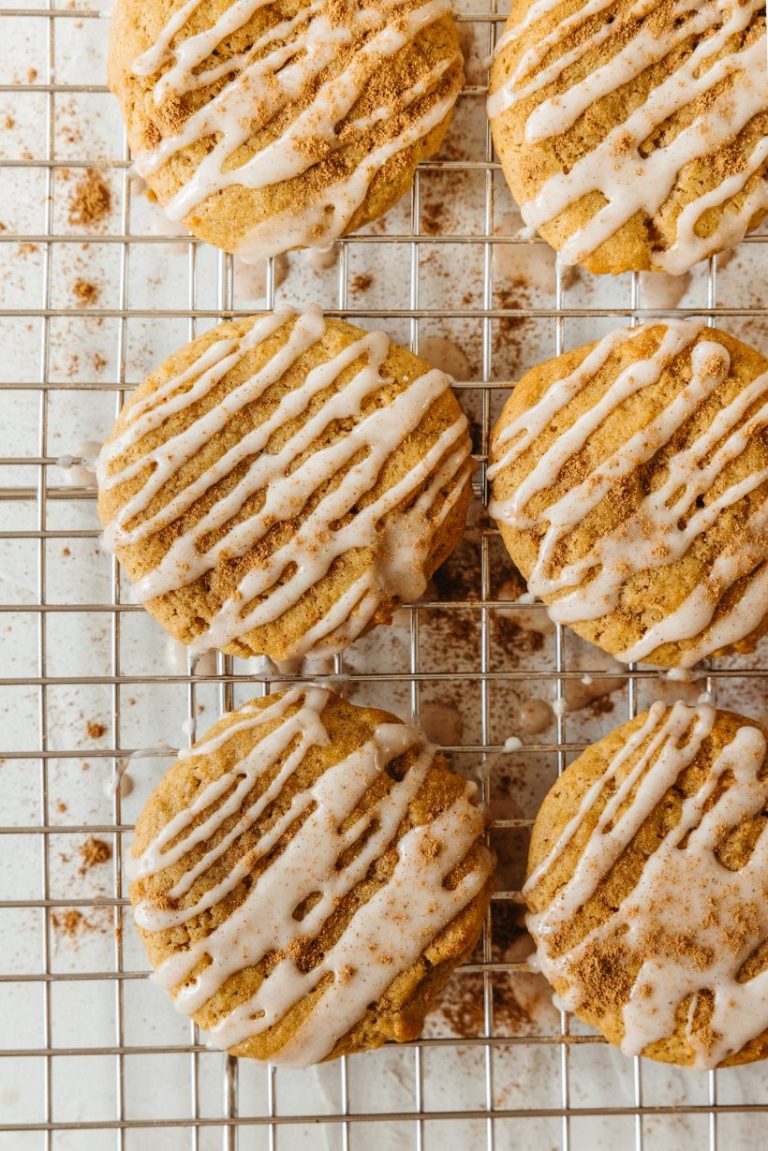 Why We Love It: Who would we be if we flaunted Saturday night dinner ideas and didn't include a dessert? That's just criminal, so here's a recipe for Chewy Pumpkin Spice Cookies with Cinnamon Glaze that's simply to-die-for. Get yourself and those around you in the fall spirit fast with these tasty treats—you won't regret it.
Hero Ingredient: The glaze is devilishly sweet, cozy, and everything you could ever want drizzled over a pumpkin spice cookie. Go ahead, take a spoonful (or two) out of the bowl like no one's watching… we won't judge.