Whether you're dairy-free or not, incorporating dairy-free recipes into your diet can be beneficial to your skin, gut health, and overall wellness. But sometimes, even in our best efforts, sacrificing dairy can mean sacrificing some of your favorite foods or dishes—no fun. To those of you with and without dairy allergies, I present you with a list of dairy-free dinner recipes that ditch all of the dairy, but none of the delish.
Featured image by Michelle Nash.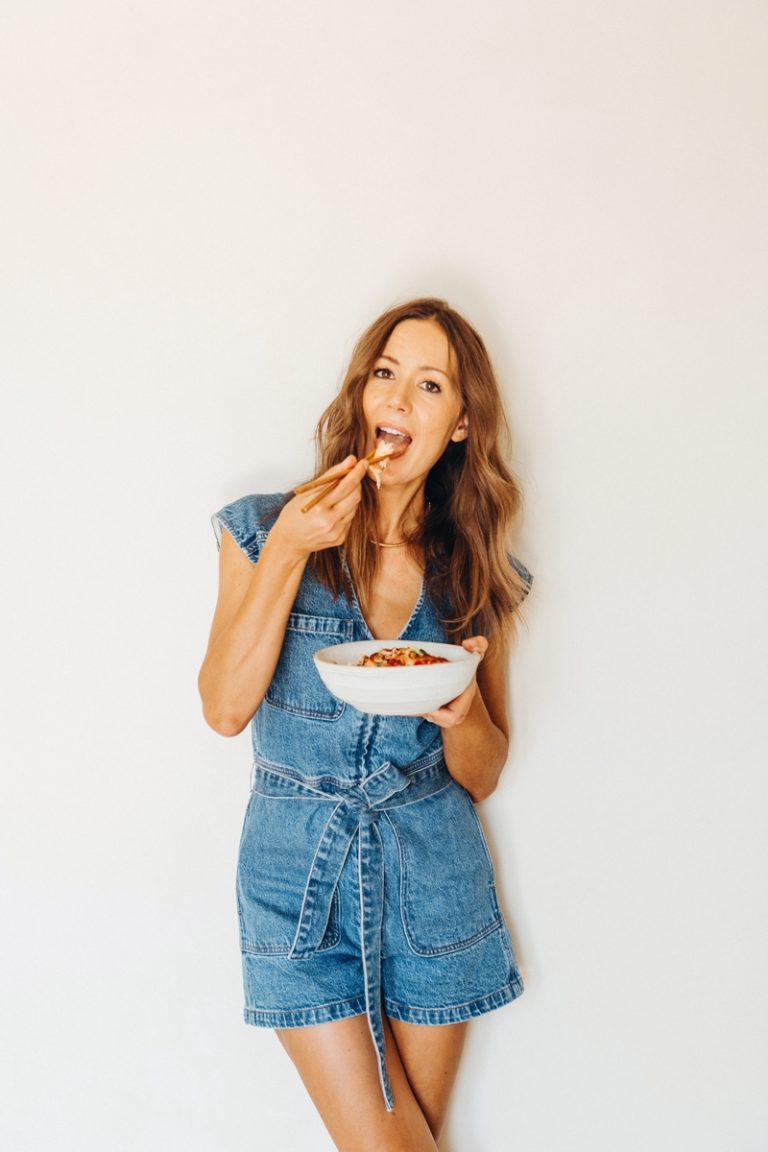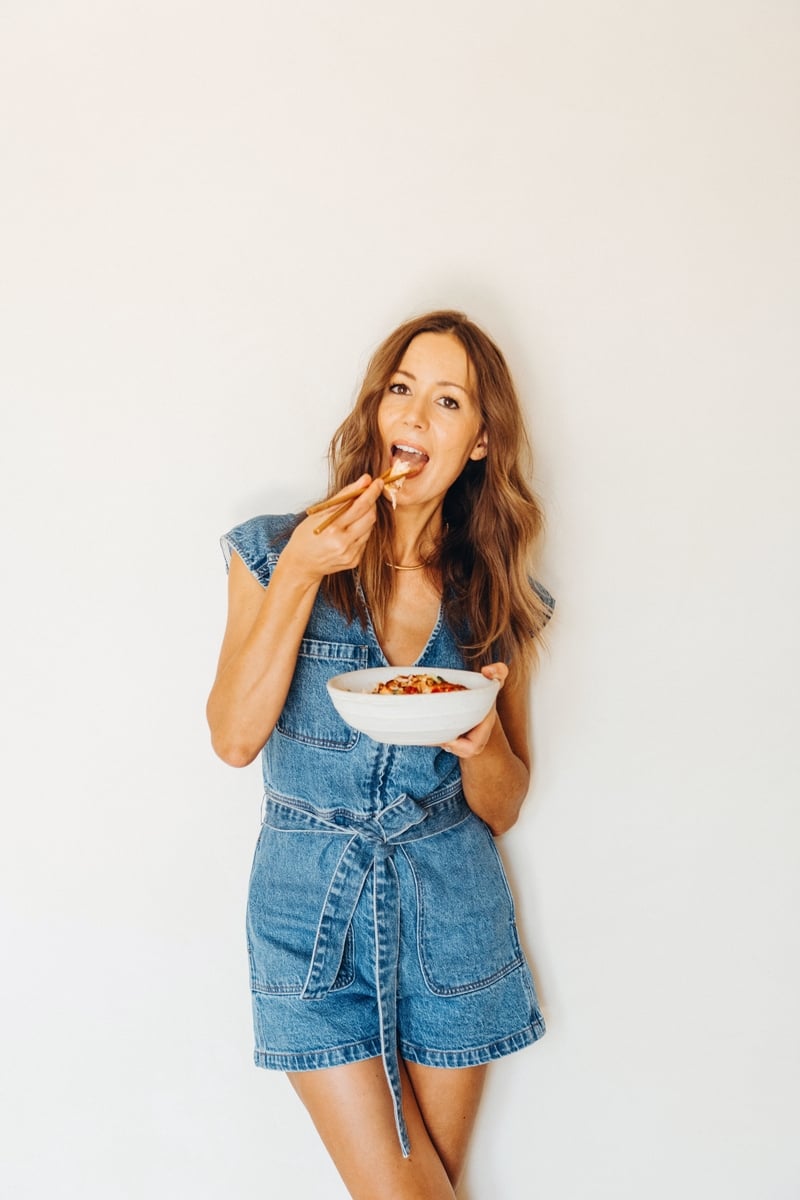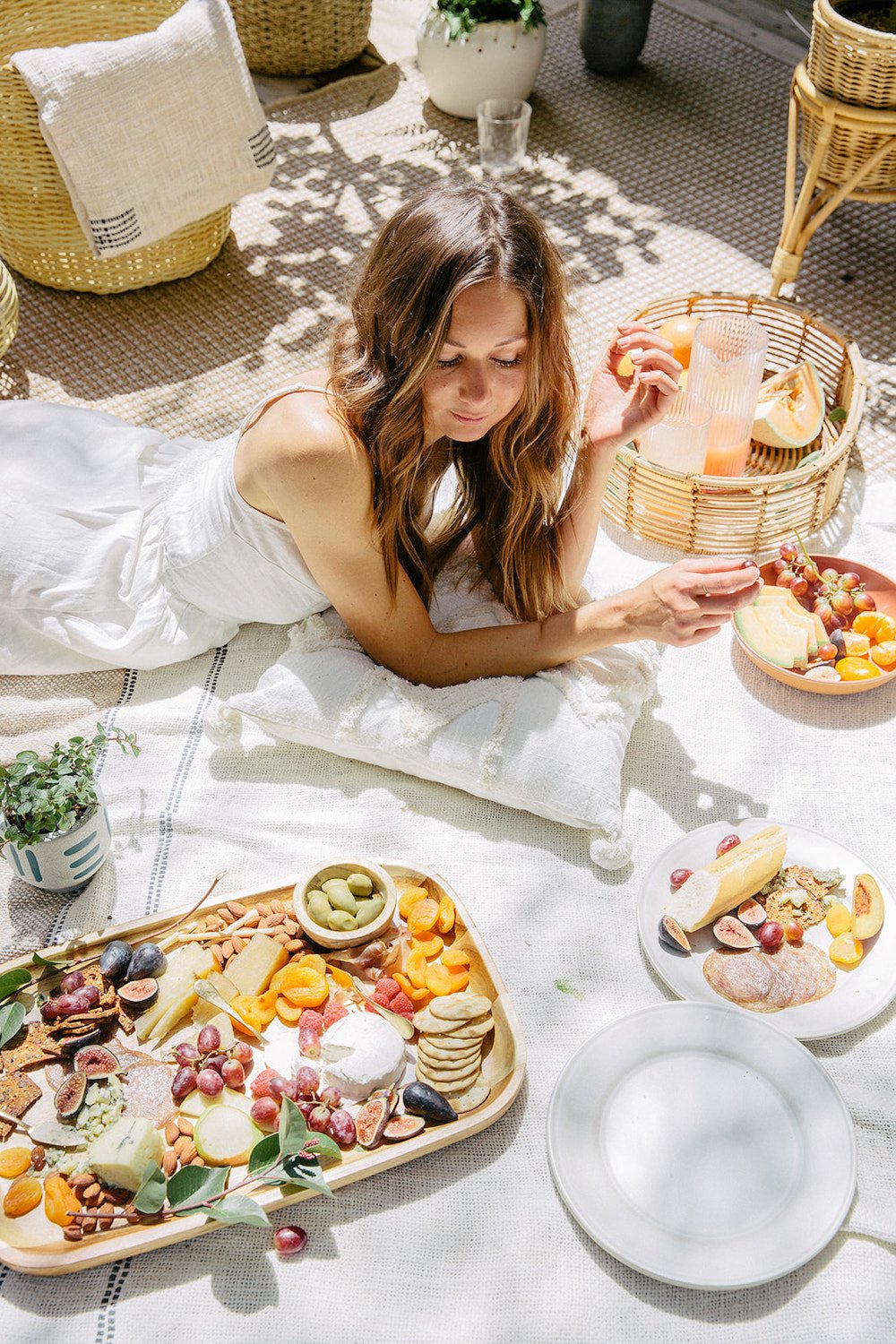 Subscribe
Get the goods.
Gatherings, food, design, wellness, and more—it's the newsletter you'll actually want to read.
Thanks for Signing Up!
Oops!
Looks like you're already signed up or your email address is invalid.
Oops!
Looks like you unsubscribed before click here to resubscribe.
There's a lot of beauty in these dairy-free dinner recipes. Not only are they easy enough for busy weeknights when you don't feel like cooking, but they're elegant enough to serve for date night or any gathering you have in the books. And even the non-dairy-free among us can reap the benefits of healthy skin, a healthy gut, and happy taste buds. Wherever you lie on the dairy-free equator, try giving a few of these dairy-free dinner recipes a try. You might just be surprised by what you find!
25 Dairy-Free Dinner Recipes to Try This Week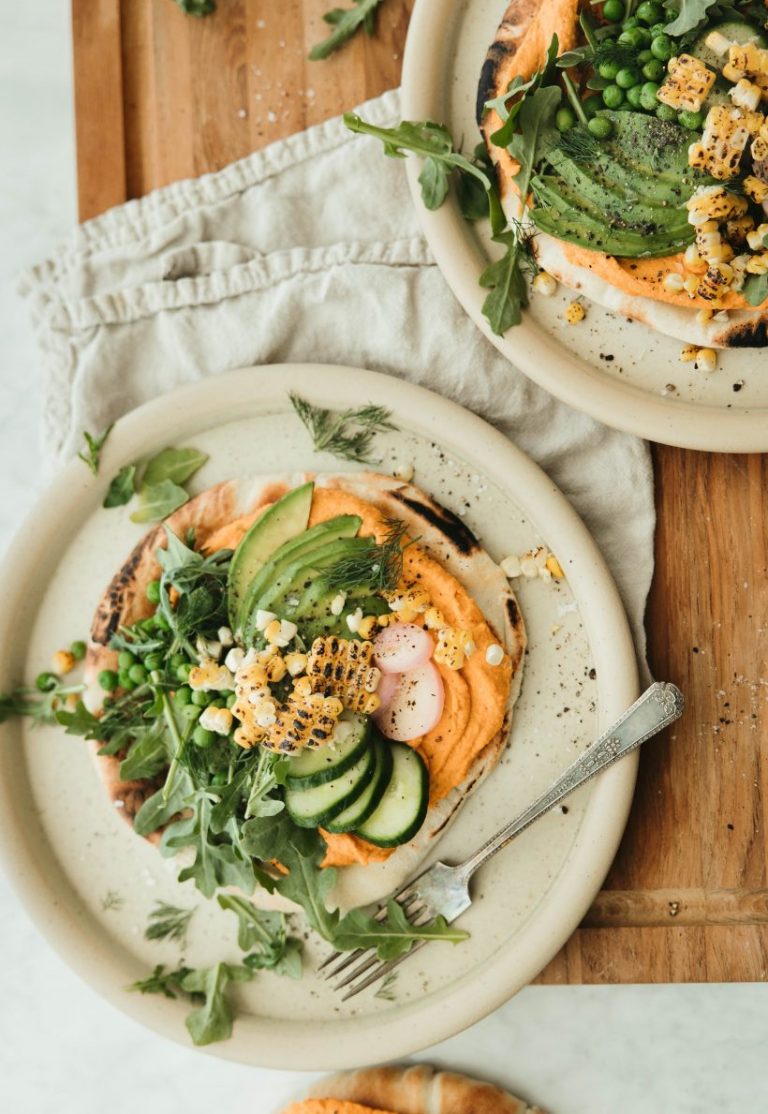 Why We Love It: This roasted carrot and red pepper hummus flatbread is a no-recipe recipe for the books. Our food editor, Suruchi Avasthi, created this masterpiece while emptying her fridge and we couldn't be more pleased that she did. Warm naan bread is spread with creamy hummus and loaded up with all of the fresh veggies. We're talking roasted corn, peas, cucumbers, avocado, and any fresh herbs you have on hand. The possibilities are endless.
Hero Ingredient: The hummus alone is delicious enough to warrant its own post. It uses roasted (and caramelized!) carrots, garlic, red bell pepper, paprika, coriander, and cumin to create a sweet, smoky spread just bursting with flavor. Store leftovers in an airtight container in the fridge for sandwiches, wraps, and veggie dipping all week long.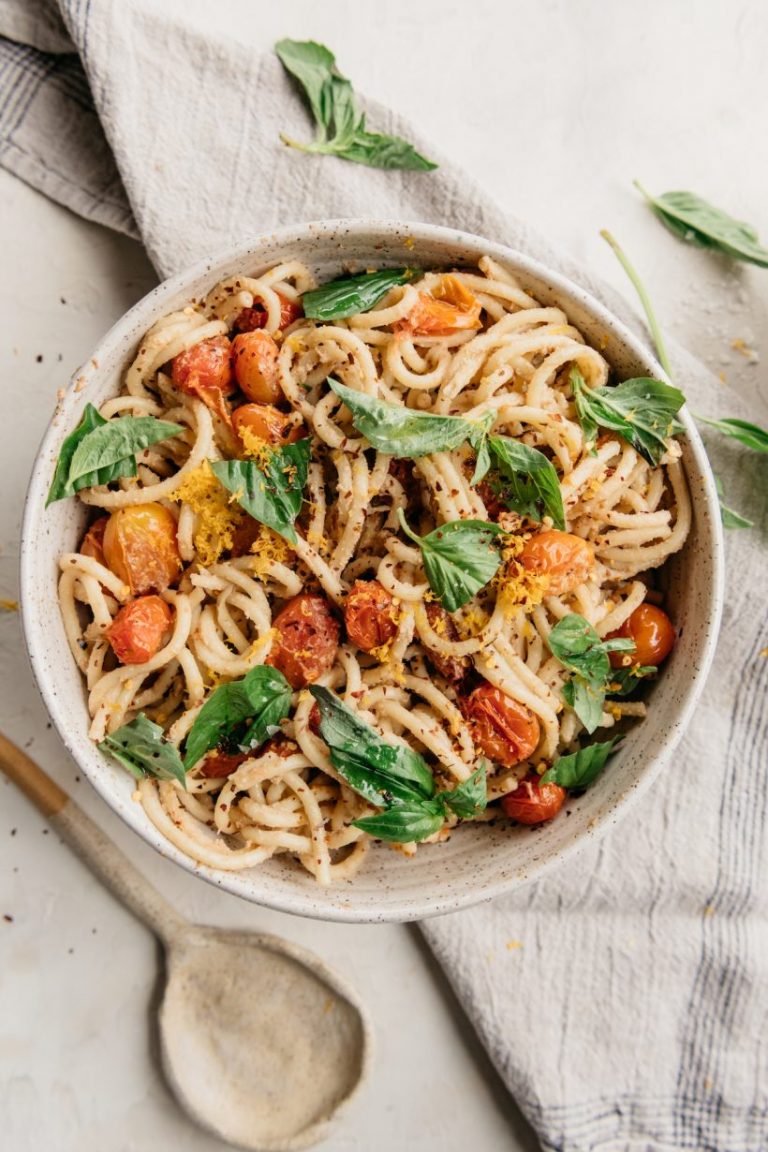 Why We Love It: Creamy vegan pasta with tomatoes and basil is essentially a healthy, nutrient-dense alternative to a lovable alfredo pasta. The creamy walnut sauce coats each noodle to perfection. If you make your sauce ahead of time, you're on track for a delicious dinner that's ready to go in the time it takes the water to boil.
Hero Ingredient: Al dente bucatini noodles are perfectly chewy with a satisfyingly slurpable hole in the middle. Let loose and enjoy a Lady and the Tramp-style bite!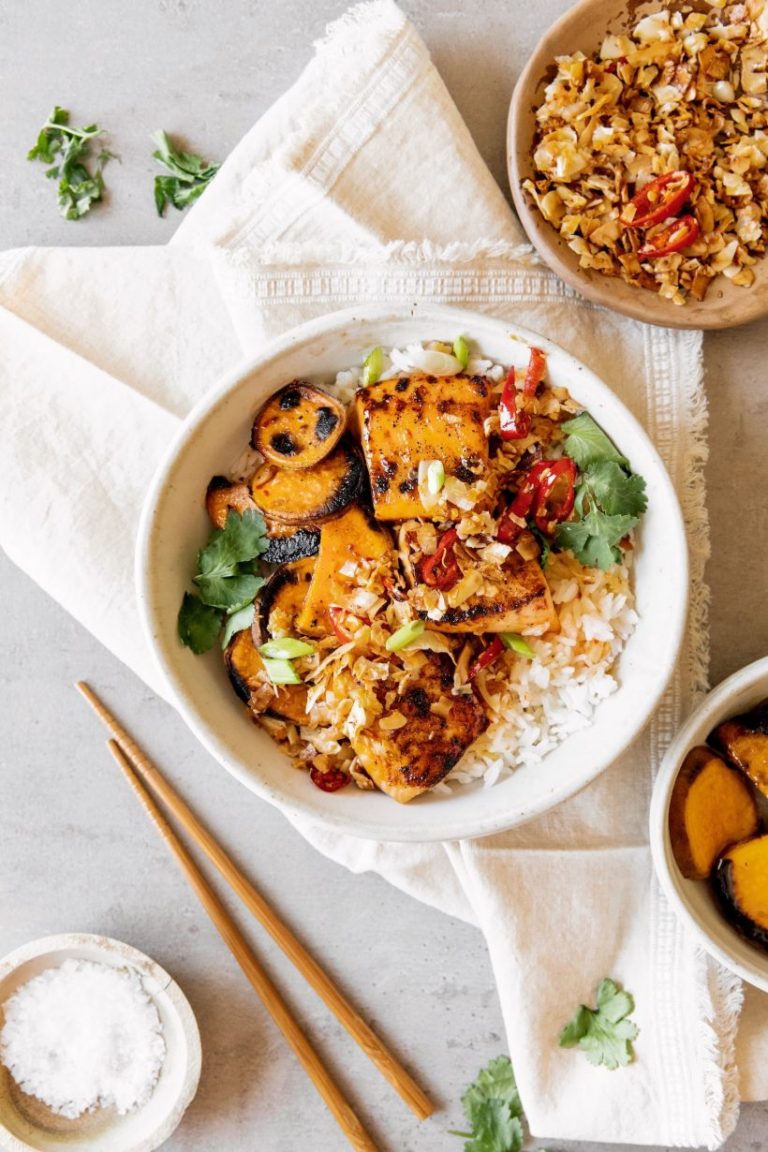 Why We Love It: Not only is salmon a vitamin-packed protein, but it's incredibly simple to make in this dairy-free dinner recipe. Plus, it's just as easy to make for weeknight dinner as it is for a special gathering. Crisp, broiled salmon lays over a bed of fluffy rice and sweet potatoes for a bowl that's as nutritious as it is delicious. And if you haven't hopped on the hot honey bandwagon, prepare to be amazed. The sweet heat from that sriracha honey finishes this dish off perfectly.
Hero Ingredient: The coconut crunch topping is nothing short of totally crave-worthy. It's made with toasted garlic, chili, and coconut flakes and is crisped to perfection in the skillet.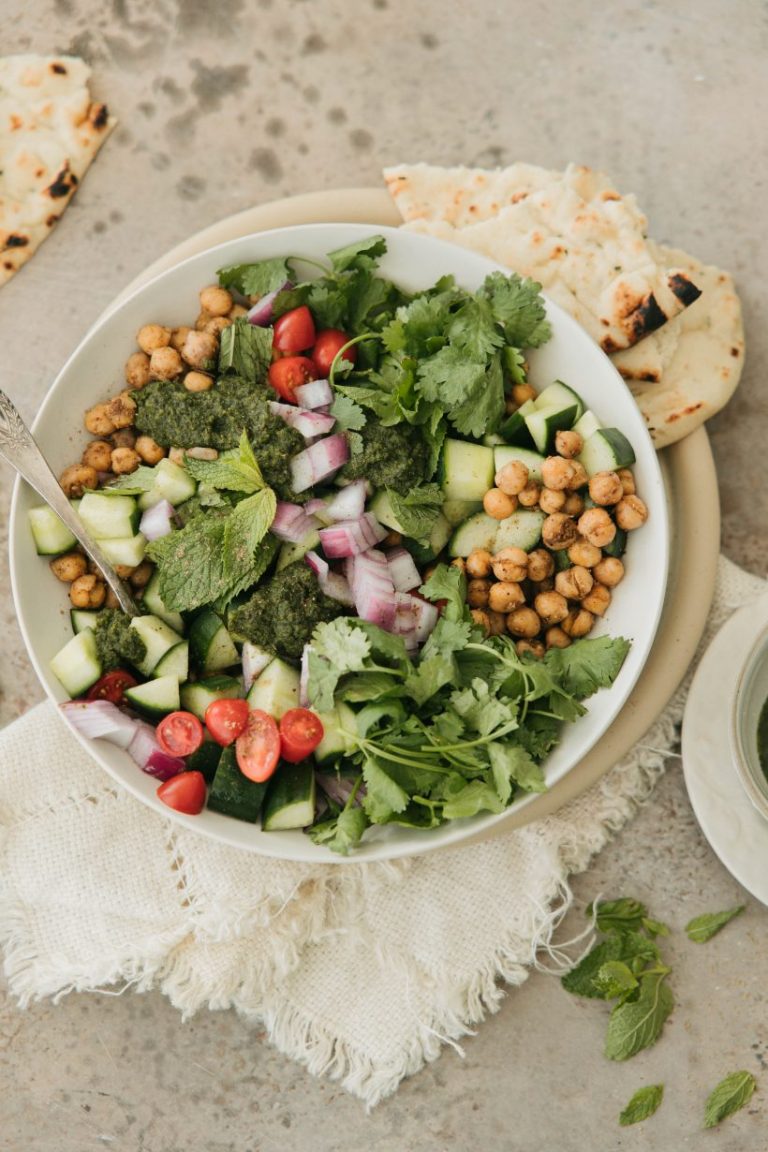 Why We Love It: Chickpea salads strike a lovely balance between filling and healthy, which is always something worth celebrating. This variation involves your daily dose of greens and mouthwatering mint chutney to tie it all together. Baby tomatoes, cucumber, red onion, lots of herbs, and hearty chickpeas play starring roles in this salad that you'll want on repeat.
Hero Ingredient: The key to a great chutney is ensuring your flavors are balanced. Go by taste and measure with your heart. It's all in the fresh flavor!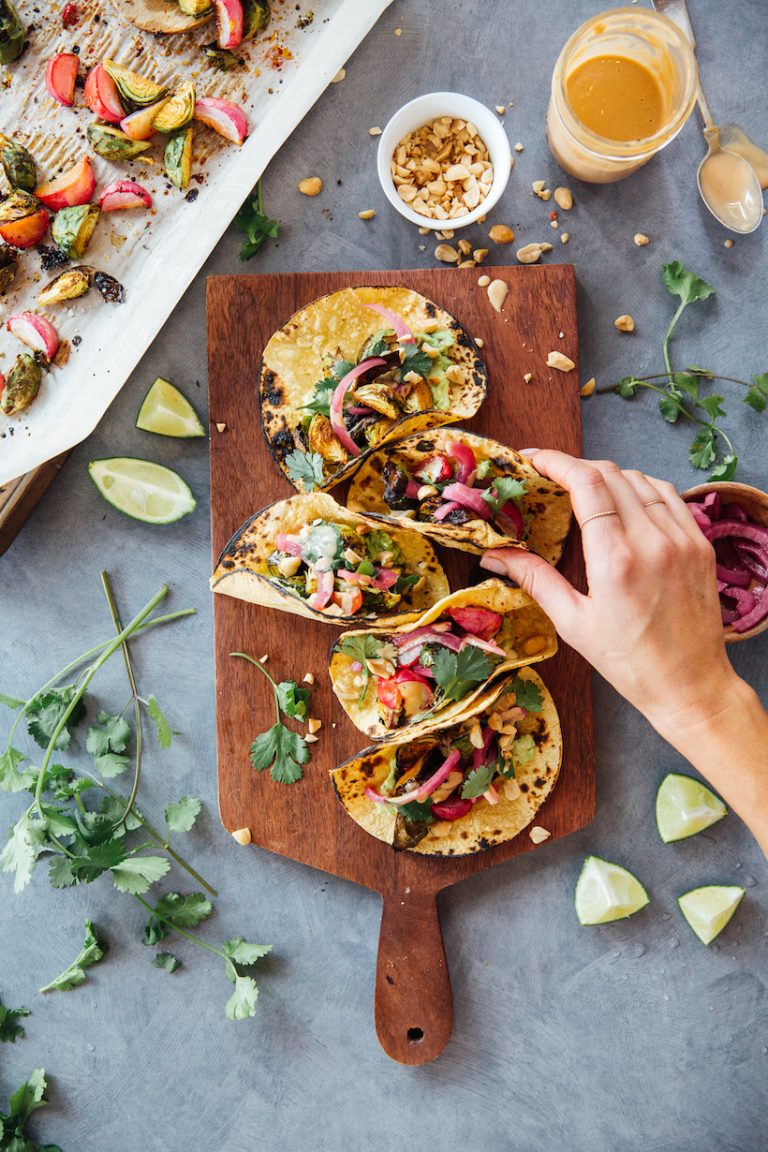 Why We Love It: A vegetarian taco that means you won't miss the meat? Sign me up. This brussels sprout taco recipe boasts brussles (duh), smashed avocado, and a spicy peanut sauce that's good enough to drink. They're substantial, easy to make, and loved by all (even your littles)!
Hero Ingredient: The sprouts get coated in honey, coconut aminos, chili powder, and salt before baking to crispy perfection. A little char never hurt anybody—especially when it's surrounded by all the goodness wrapped up in the tortillas.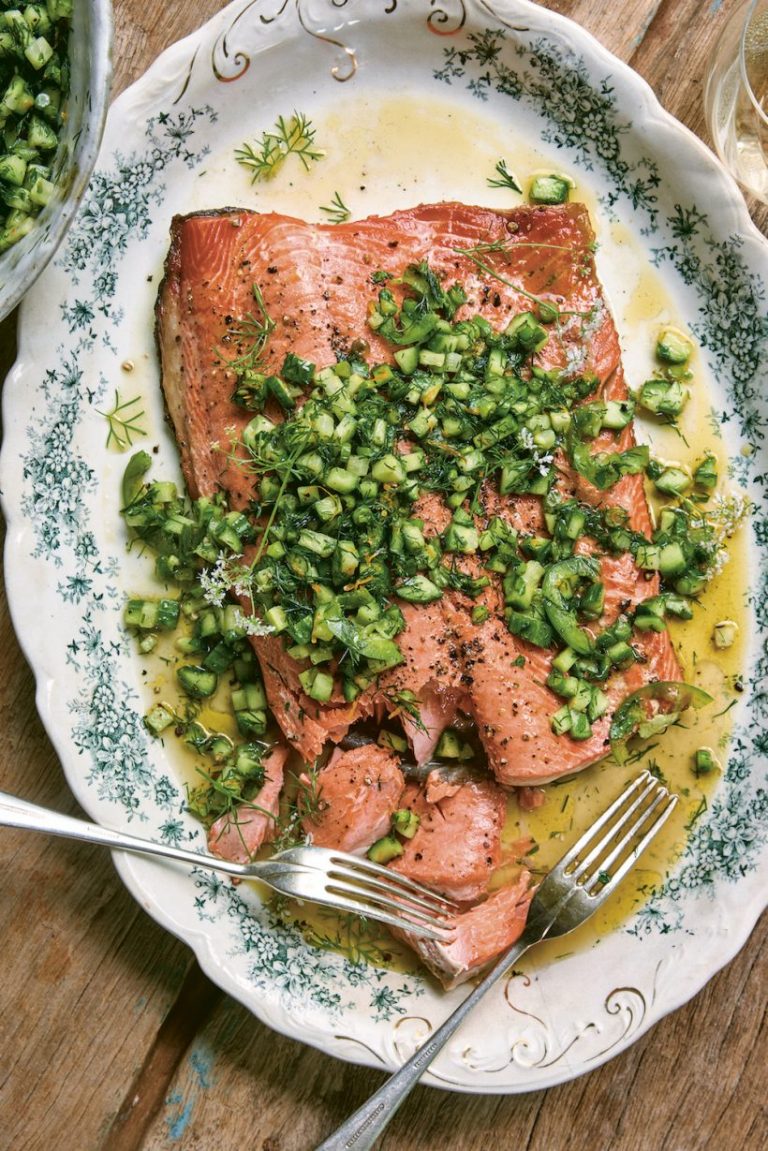 Why We Love It: Simply put, this baked salmon with cucumber-orange salsa is a thing of art. The salmon is cooked without flaw—embracing the height of its juicy, flaky texture—and topped with a salsa that gives it just the right amount of pizzazz. The salsa brings fresh dill, cooling cucumbers, pungent fish sauce, and spicy jalapeño together to create a flavor that perfectly complements each aspect of the salmon beneath it.
Hero Ingredient: Orange zest in the salsa brightens up the fish with a zingy freshness that's not to be missed.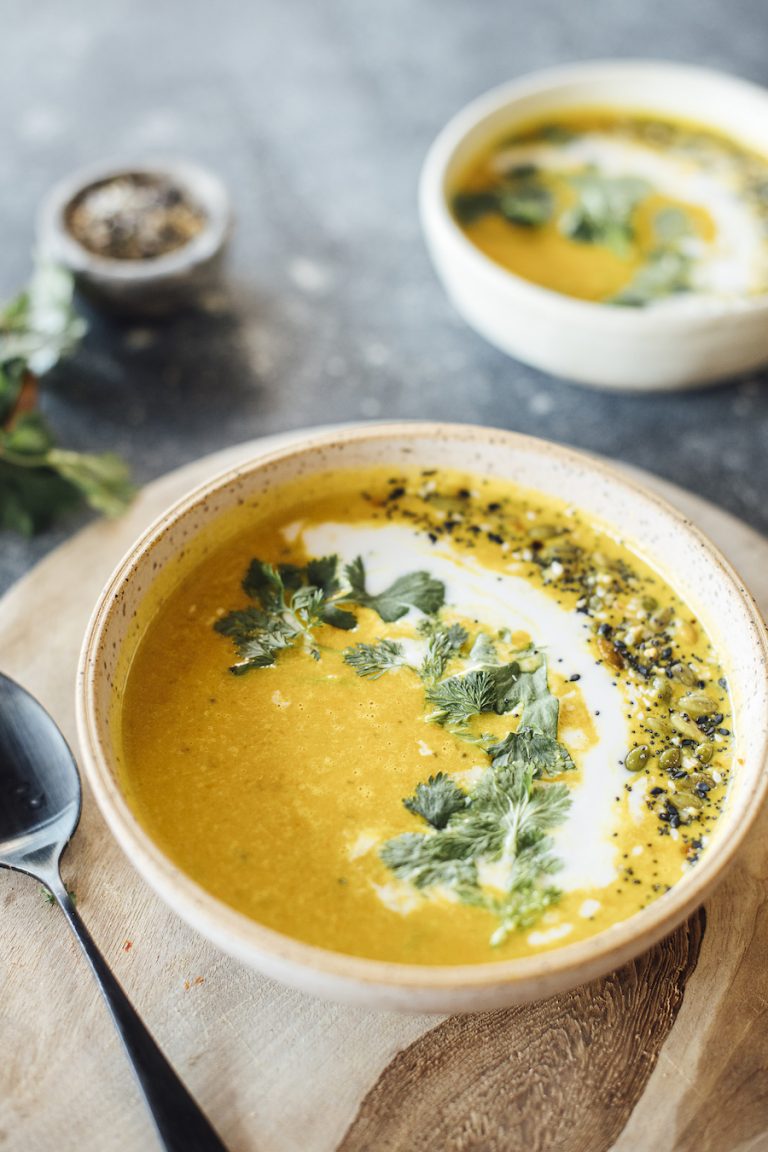 Why We Love It: If your body is in need of a reset, put down the juice and give this vegan butternut squash soup a try. It's one of the most comforting of these dairy-free dinner recipes that's totally creamy and satisfying, but without any cream at all! The aromatics are sautéed until caramelized, then joined by your choice of root veggies (butternut squash, carrots, sweet potato, and/or your favorite winter squash), and flavored by golden turmeric and savory broth. You'll be surprised just how creamy and indulgent this cream-less soup is.
Hero Ingredient: Like any comforting soup, the key is in the presentation. Save a spoonful of your coconut milk for last-minute drizzling coupled with crunchy pepitas and fresh cilantro. Yum!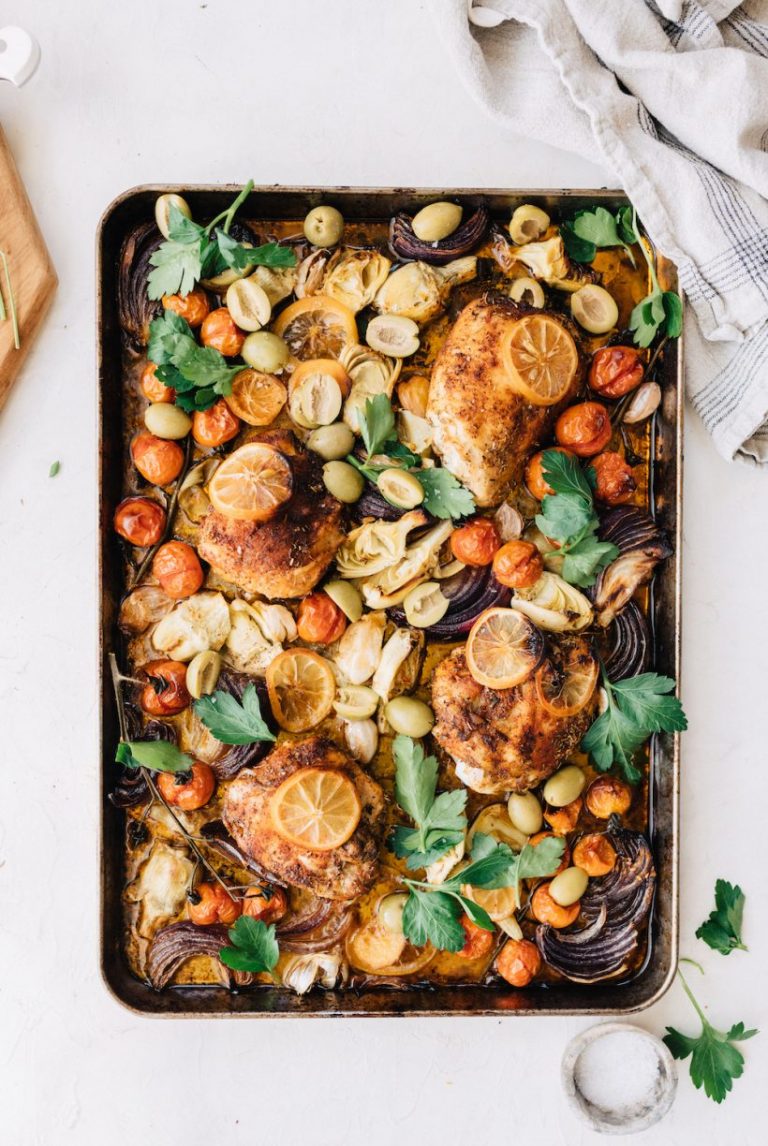 Why We Love It: This sheet pan dinner is made for busy weeknights. Rich chicken thighs roast alongside an impressive panel of veggies and herbs until slightly charred and caramelized. Cherry tomatoes, crushed garlic, red onion, artichokes, lemon slices, and green olives constitute your chicken's sidekick situation. If you're in the mood for something heartier, try serving your sheet pan masterpiece over a bed of dairy-free mashed potatoes or creamy polenta.
Hero Ingredient: This may seem a little out there, but the sheet pan juices are truly fantastic. Once everything is plated up, spoon a healthy scoop over your chicken and veggies—you won't regret it!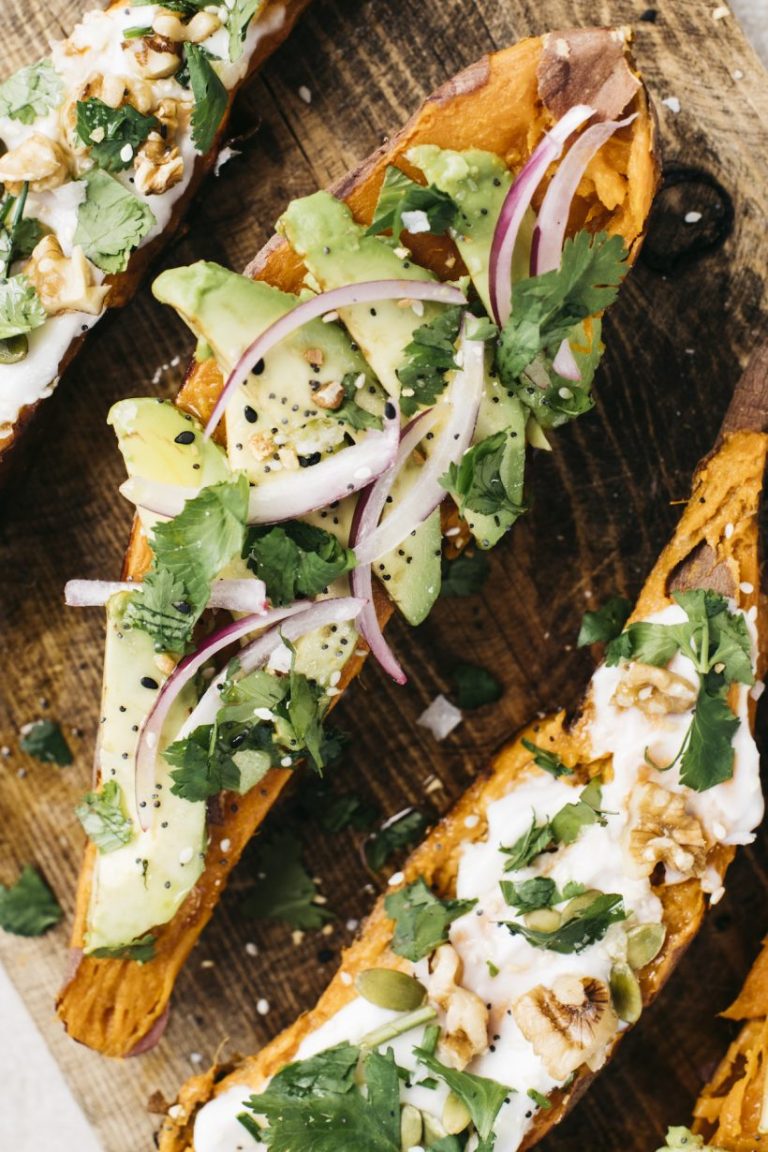 Why We Love It: It doesn't get much easier than a whole roasted sweet potato. When it's loaded up with complex flavors and textures, your taste buds and body will thank you. Here at Camille styles, we could (and do!) eat sweet potatoes year round. And for good reason! Sweet potatoes are an excellent source of plant-based protein, complex carbs, vitamins, minerals, and healthy fats all wrapped up in a hearty and delicious package.
Hero Ingredient: Texture is key here, making nuts and fresh herbs great topping options. Any combination of toasted pepitas, walnuts, seeds, mint, dill, chives, and/or green onion is a sure winner.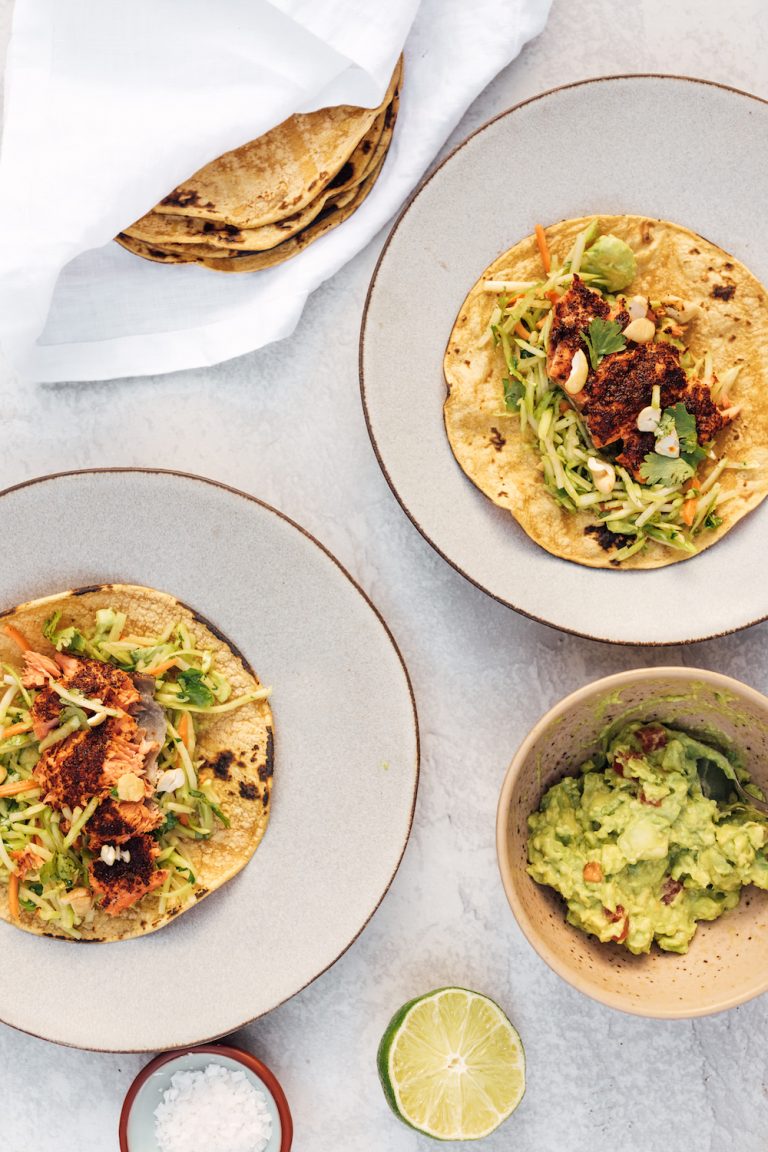 Why We Love It: I love how simple ingredients can come alive wrapped inside a warm corn tortilla. This salmon taco recipe is a love letter to tacos. Simple chili-rubbed salmon joins humble avocado slices and a marinated broccoli slaw to create a complex, nutritious, and satisfying dinner for even the busiest of weeknights. If you make your slaw ahead of time, you can have dinner on the table in under 30 minutes.
Hero Ingredient: The broccoli slaw is delicious enough to eat on its own, and it's even better in this taco situation. The key to quick and easy dinner prep is to make your slaw about an hour ahead of time. Then, all that's left to do is assemble and enjoy!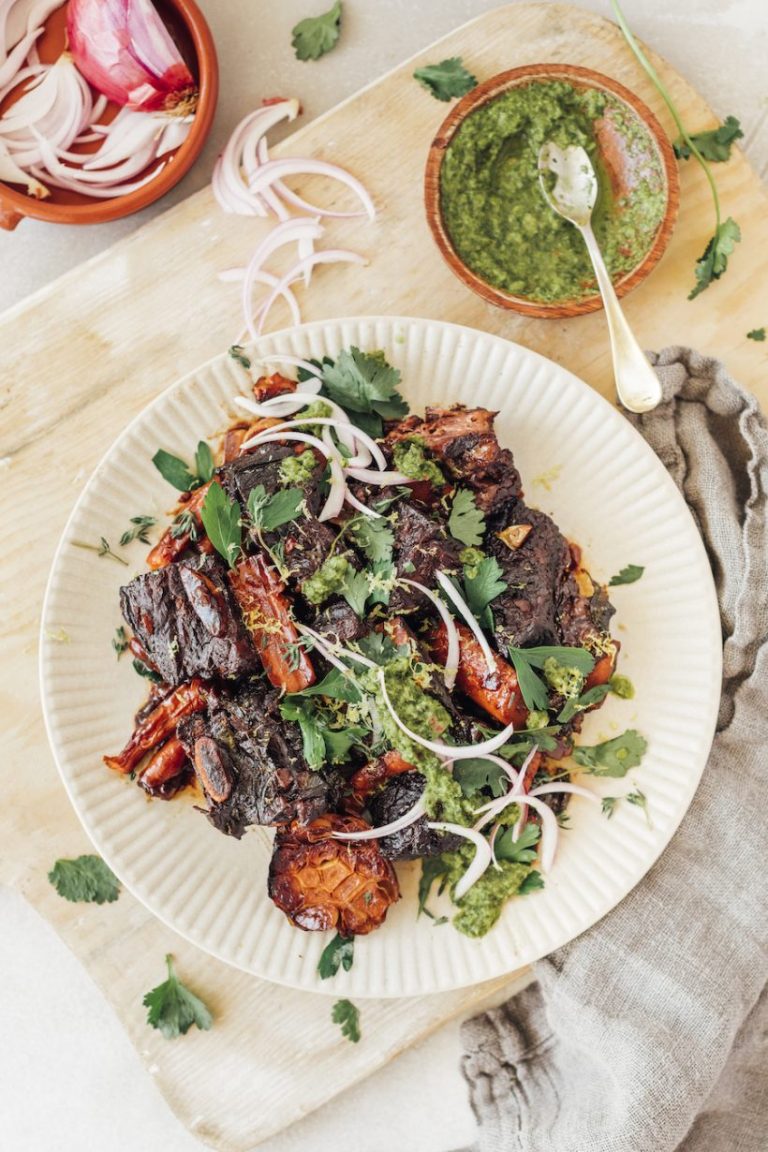 Why We Love It: Braised short ribs are the elevated dinner recipe you need in your life. They're simple enough to enjoy any night of the week, but special enough to serve to friends and family at a gathering. The best part? These short ribs can be prepared almost entirely in advance! Allowing the flavors to meld over a few hours enhances everything to its fullest. When you're ready to enjoy, gently reheat your pot on the stovetop. Serve these beauties alongside mashed sweet potatoes, cauliflower mash, or creamy polenta to soak up that gorgeous red wine-infused sauce.
Hero Ingredient: To top everything off, a zingy chimichurri sauce cuts through the short ribs' beautiful richness. The herb-filled, vinegary sauce brings a bright hint of acidity to one of my favorite dairy-free dinner recipes.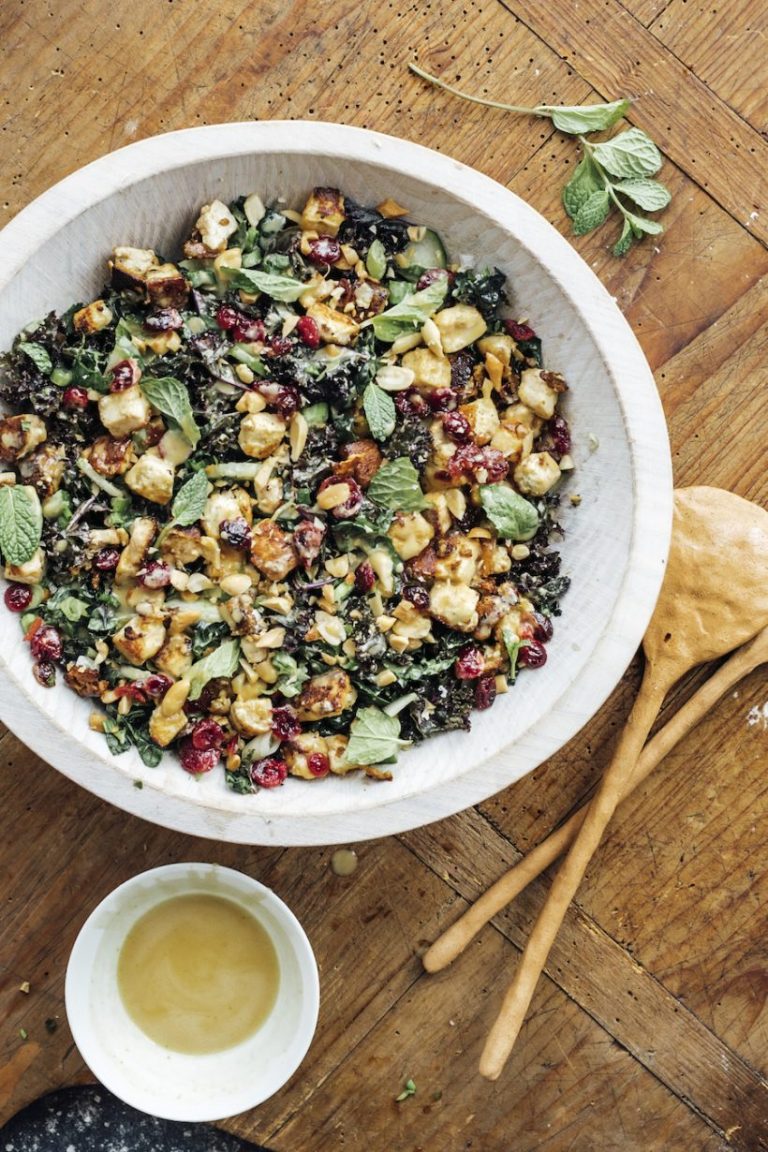 Why We Love It: Shredded kale meets crunchy peanuts, tart cranberries, and a slew of herbs in this delicious salad that you have to bookmark. It's a plant-based superhero that's best enjoyed by the bowlful. Crispy tofu makes it heartier without sacrificing the healthy components. The key is to press all the water out of it and flash-sear it in a hot pan. You won't believe how much mild tofu can transform—especially when coated in the peanut-y dressing on this salad.
Hero Ingredient: IMHO, salads are best when the flavors are layered. A little sweet, a little salty, and a whole 'lotta goodness. For that tart-sweet element, I'm team cranberry all the way.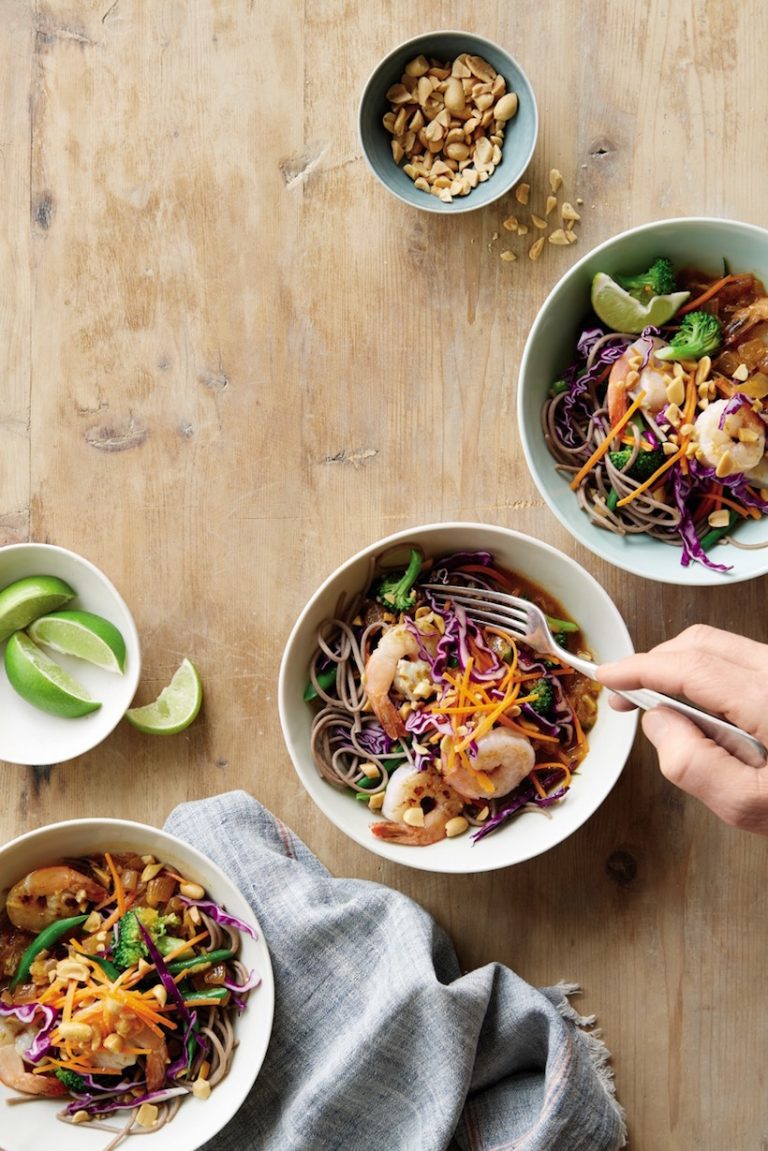 Why We Love It: For a lighter protein-packed dinner, these shrimp coconut curry bowls are a gem. The coconut curry sauce and soba noodles keep things warm and satisfying, while shrimp and veggies fill you up without weighing you down. The key to success is a healthy dose of spice. Peppery ginger is sautéed with onion to lay the foundation for red curry paste and sriracha galore. The flavors are so beautifully layered, so don't be shy with your spices!
Hero Ingredient: Roasted peanuts not only bring a hit of salt to each delicious forkful but they're loaded with a crunchy texture that finishes things off perfectly.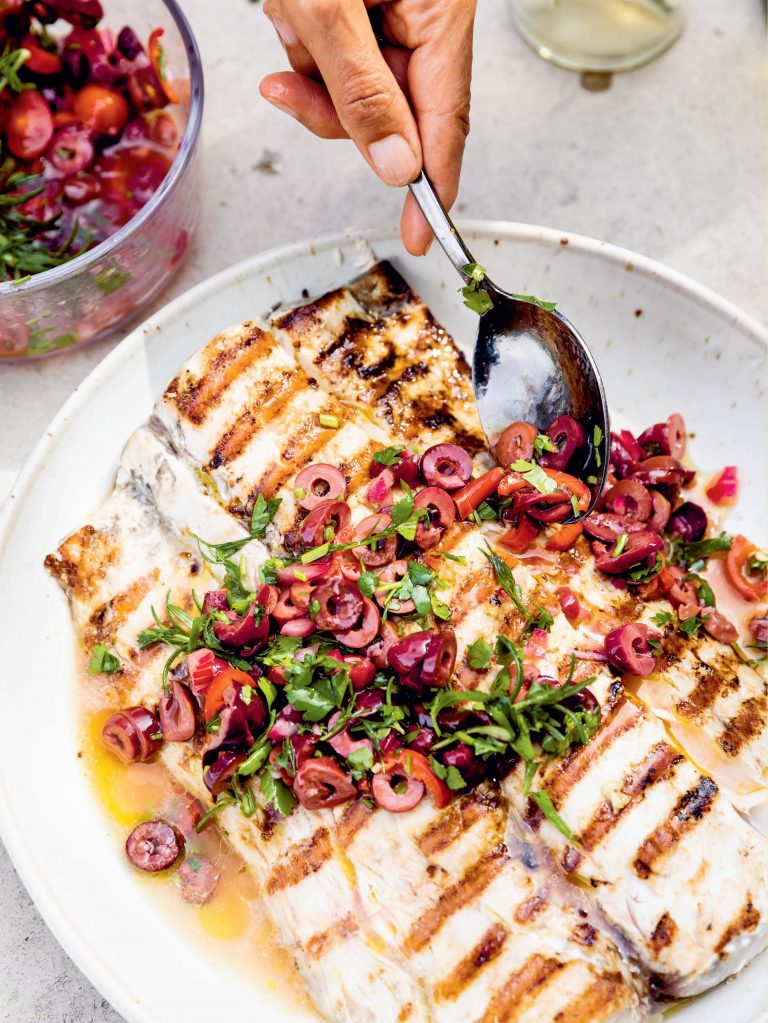 Why We Love It: Flaky Mahi Mahi deserves a spot on your dinner table. It's a mild white fish that lends itself well to any enhancements you can dream up. In this recipe, you have your choice of three sauces: black olive vinaigrette, citrus dressing, or a simple aioli to elevate the fish to new heights. If you're sticking with the olive vinaigrette, expect salty, briney flavors to infuse the fish. Consider serving the fish alongside a green salad, roasted veggies, or this masala corn salad.
Hero Ingredient: Each of these sauces is equally delicious on the fish, so don't be intimidated by making all three!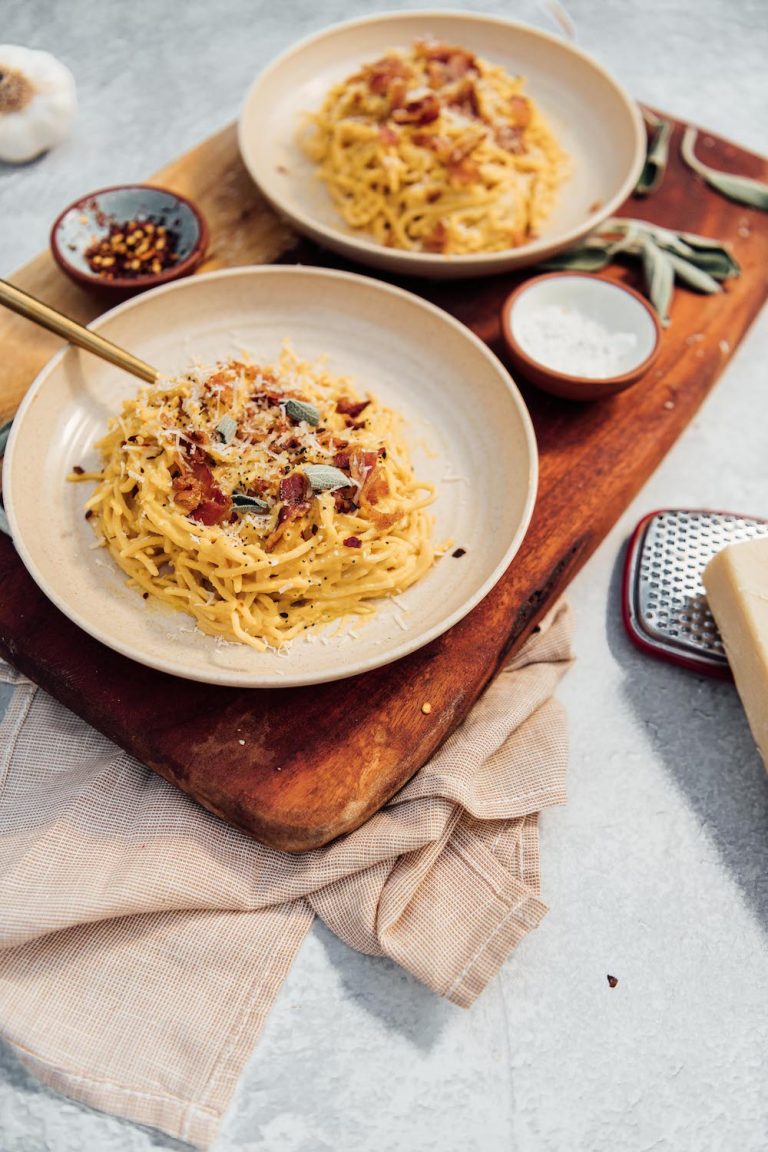 Why We Love It: This recipe is comfort food at its finest. It's creamy, rich, and indulgent enough to satisfy any craving. In a way, it's like a healthy, grown-up mac 'n cheese. Chickpea noodles are cooked to al dente perfection and coated in a dairy-free, cashew-fueled butternut squash sauce. To top it all off, "cheesy" nutritional yeast and chickpea miso seal the deal on flavor. Combine all of that with sharp garlic and savory broth and you have one of the easiest, most elevated dairy-free dinner recipes in your back pocket.
Hero Ingredient: Crispy sage will always win. It's fresh, herbal, and full of leafy texture that makes this recipe next-level.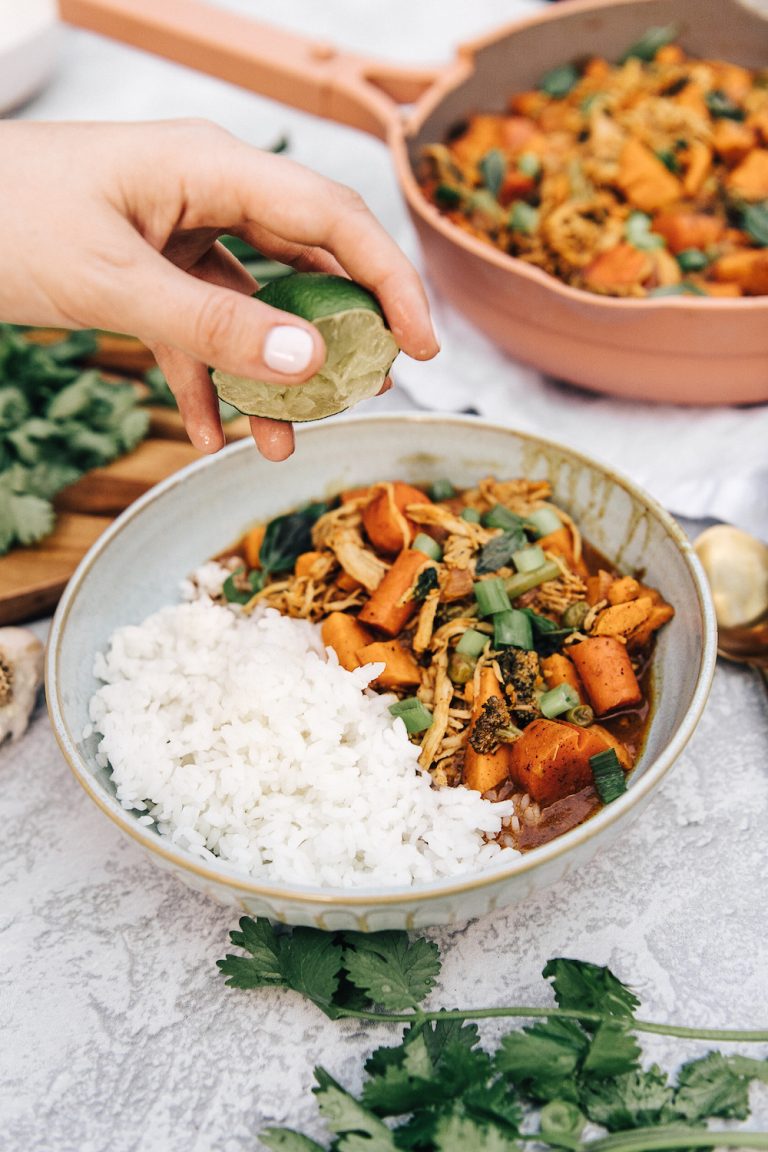 Why We Love It: Fall-ified, dairy-free dinner recipes are meant to be warm, cozy, and completely comforting—which is what you're getting with this silky coconut curry bowl. It's a one-pot wonder (if you don't count the protein prep) and is universally loved by even your pickiest eaters. Golden turmeric fuels the curry here, alongside chili powder and yellow curry paste. Couple that with tender sweet potato, zesty lemongrass, and savory chicken, and you're on your way to a comforting dinner in minutes.
Hero Ingredient: In addition to the succulent broth and chicken, there's an impressive assortment of veggies here that keep things hearty and healthy. Broccoli, green peas, carrots, and scallion keep things fresh and fulfilling.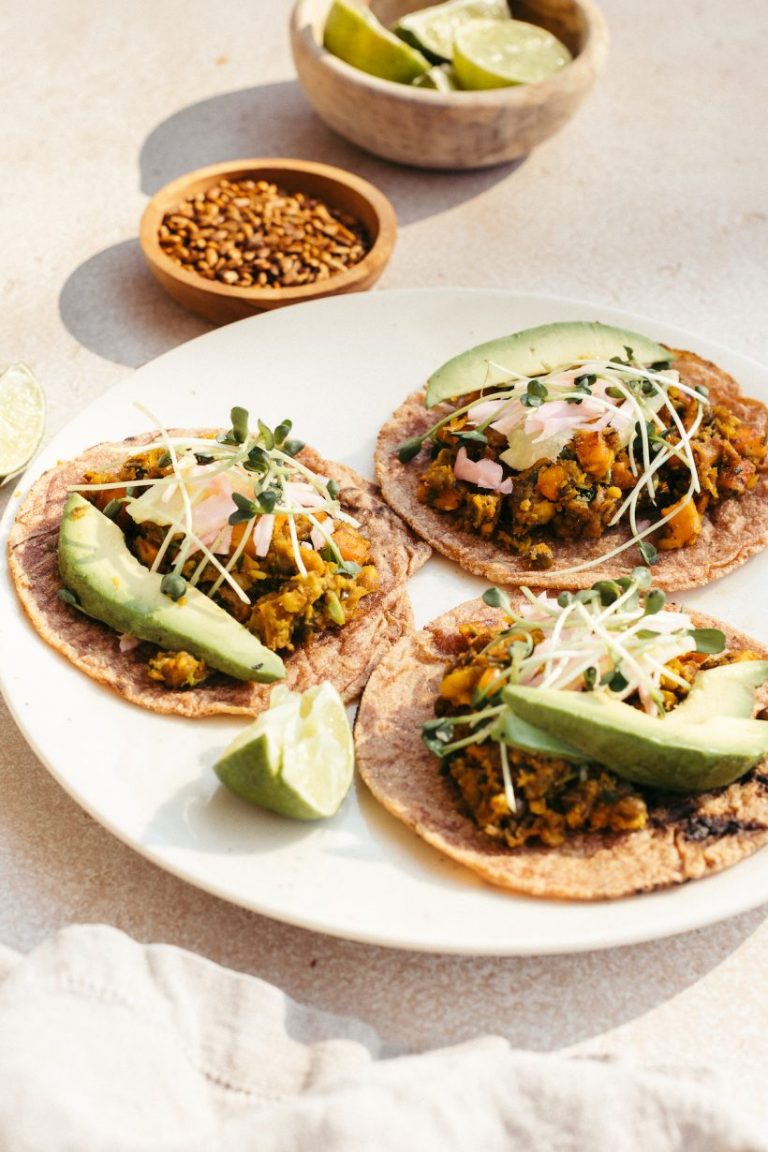 Why We Love It: For a different take on your typical taco, give these chorizo tacos a try. The vegan lentil chorizo is composed of chickpeas, lentils, and a whole set of spices for just the right amount of kick. The legumes are sautéed with cayenne, apple cider vinegar, cilantro, and a chorizo oil that's life-changing. Then, that glorious non-meat mix gets wrapped up in a warm cassava flour tortilla made with five simple ingredients. If you're looking to shake up your Taco Tuesday, this recipe is the way.
Hero Ingredient: The chorizo oil is nothing short of liquid gold. It enhances the flavor of anything and brings a lovely umami element to these tacos.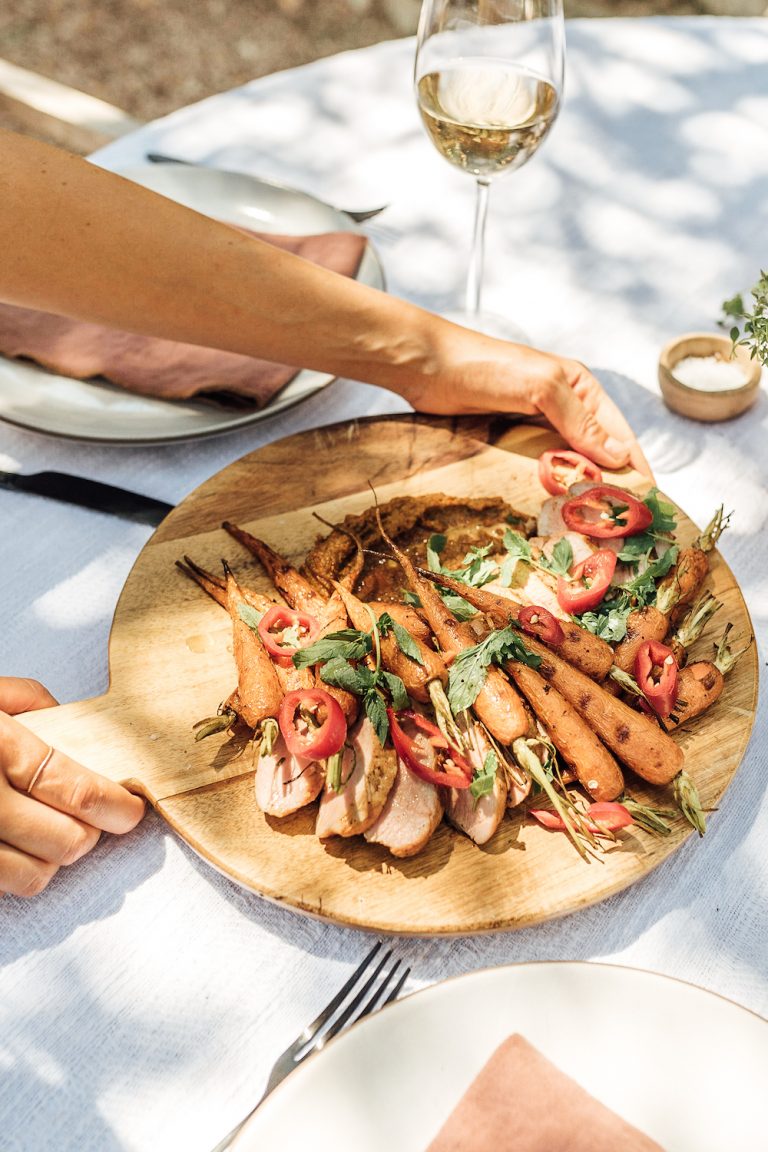 Why We Love It: I feel like pork gets a bad rap. Maybe it's because people prefer a juicy steak or a flavorful piece of chicken, but pork tenderloin deserves to be recognized as the powerful protein it is. In this recipe, it's marinated for a few hours and grilled simply with seasoned carrots, and plated up over a carrot pesto. It's simple and gives you an opportunity to fire up the grill. Is that ever a bad thing?
Hero Ingredient: The carrot pesto livens up this dish beautifully. It's vibrant, sweet, savory, a little zingy, and a whole lot delicious.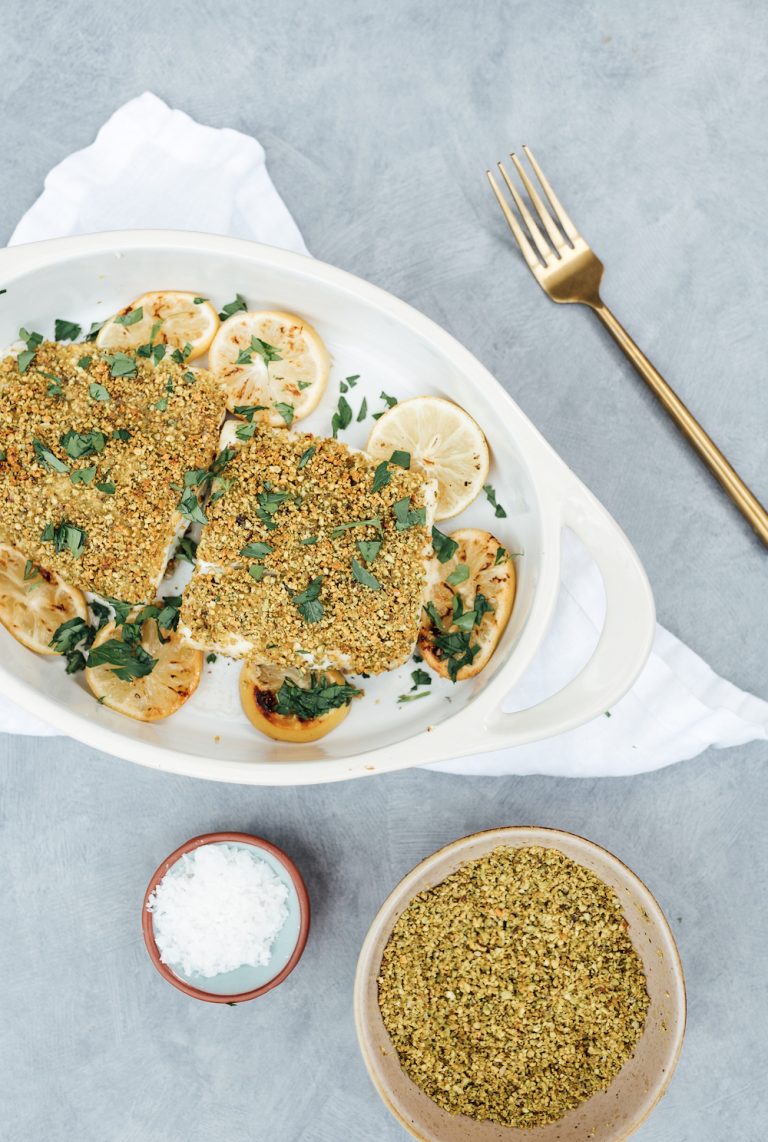 Why We Love It: Another superstar white fish recipe, this crusted halibut is what your next date night needs. It's charmingly rustic with an elevated look which means it's also equipped for dinner parties. The soft fish is coated in nutty pistachios and baked until golden brown. The lemon slices over top of each filet lend a hint of acidity to the crust.
Hero Ingredient: Broccolini might be the best vegetable—especially when roasted to a crisp in the oven. You just can't beat those burnt edges.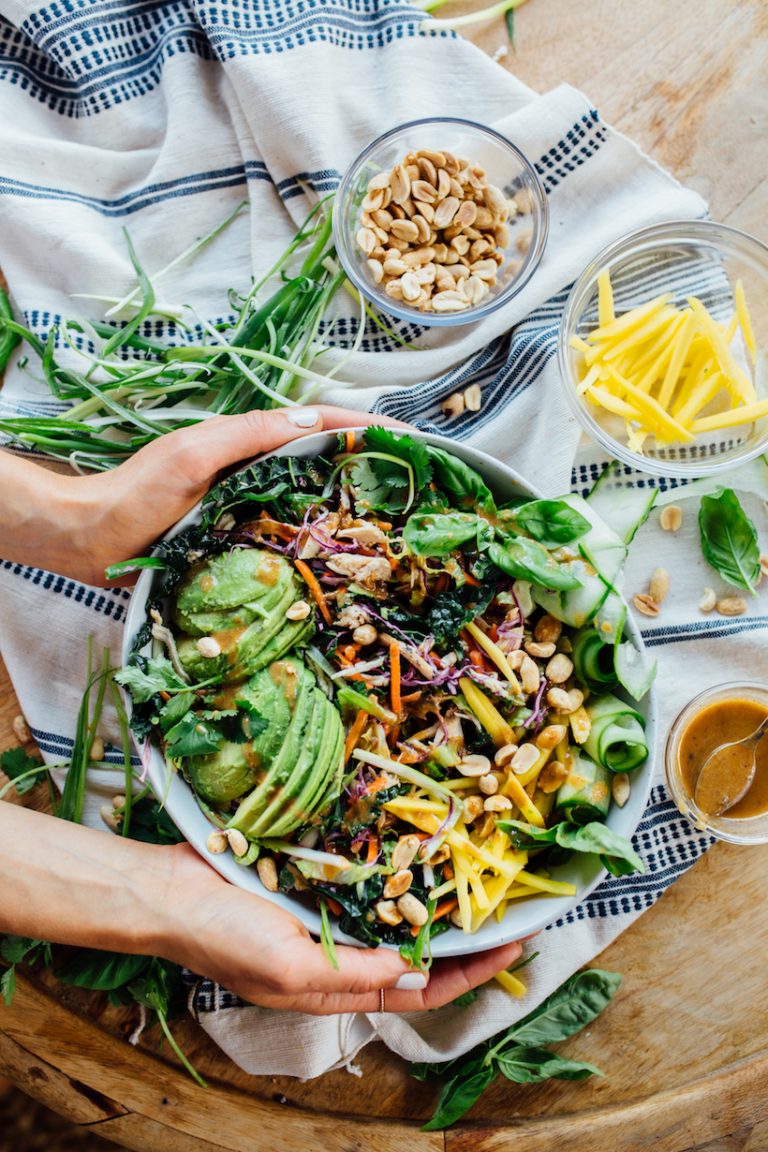 Why We Love It: To transport yourself straight to the West Coast, give this Thai chicken salad a try. It's bursting with color, flavor, and just about everything you could crave on a sunny day. Shredded chicken, red cabbage, kale, carrots, mango, cucumber, cilantro, avocado, peanuts, spicy peanut sauce… need I go on? The only thing missing is a large body of saltwater in front of you and some sand between your toes.
Hero Ingredient: The spicy peanut sauce uses crunchy peanut butter for a boost of texture to this stacked salad.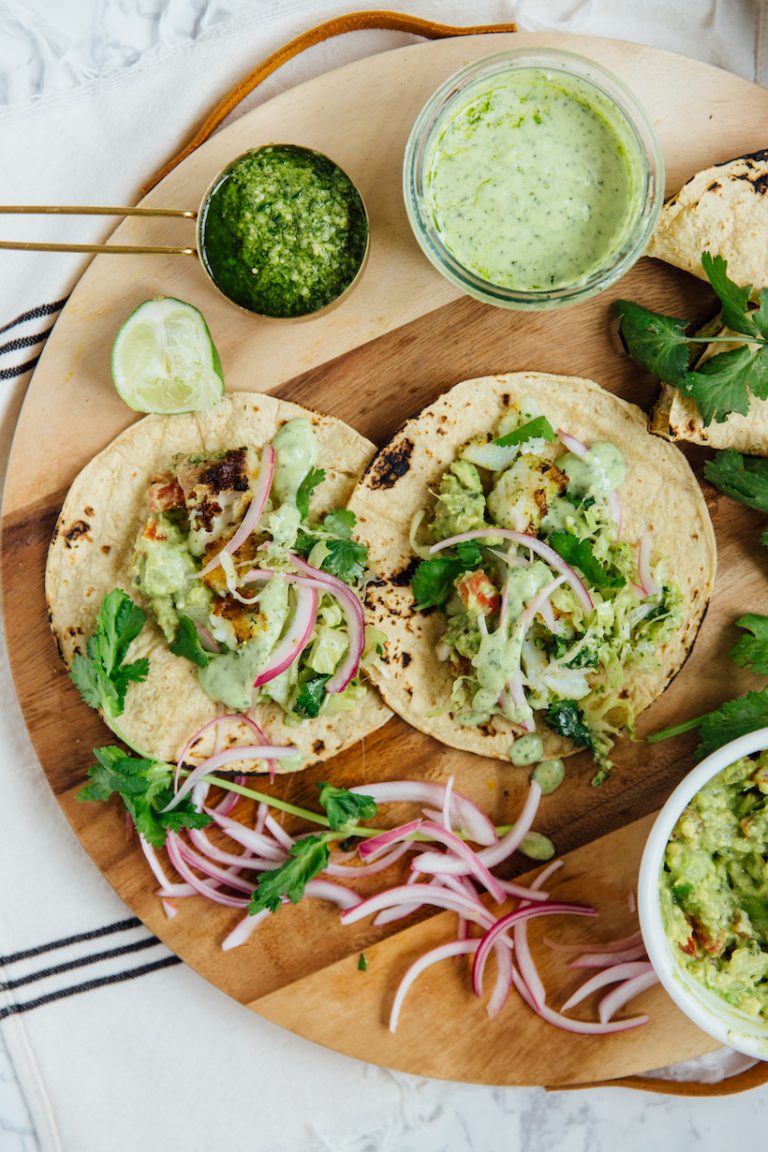 Why We Love It: Another warm-weather fan, these chimichurri fish tacos are straight out of summer. Flaky halibut meets crunchy cabbage and creamy aioli—all wrapped in a warm corn tortilla blanket. Are you drooling yet? Same.
Hero Ingredient: Like a lot of taco recipes, the toppings are the unsung heroes. Pickled red onion, fresh cilantro, guac, lime wedges, the list goes on…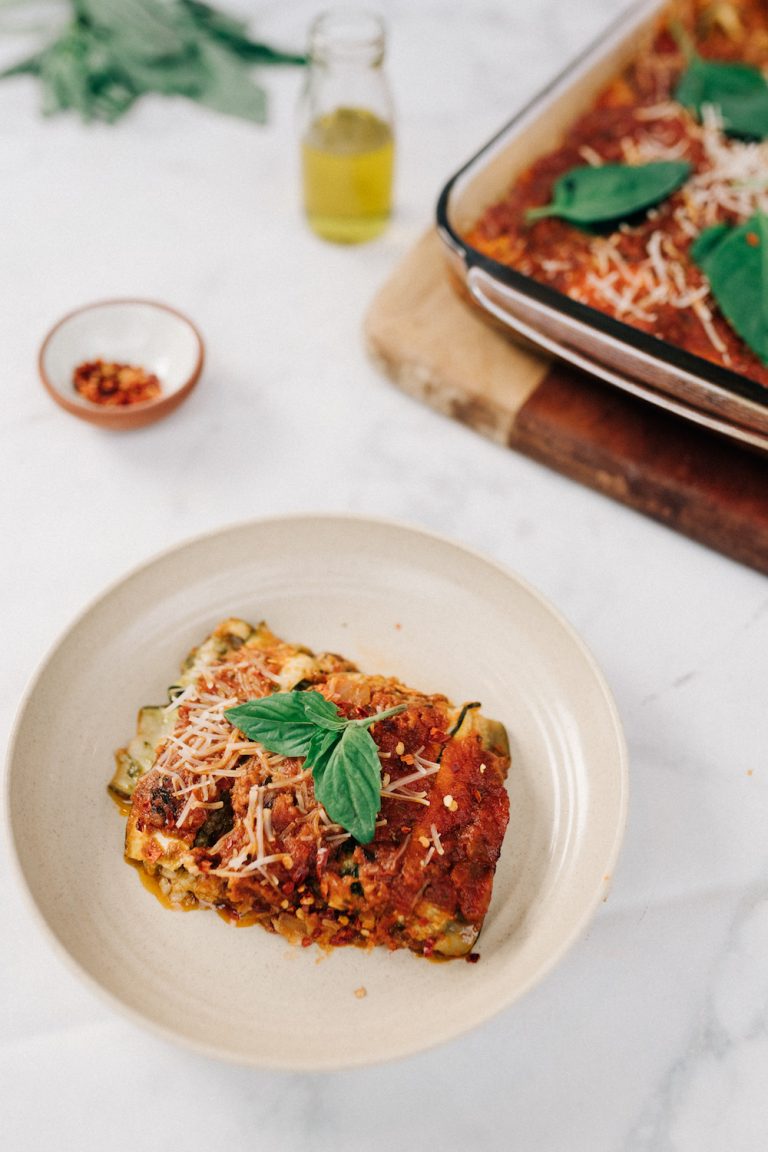 Why We Love It: This gluten and dairy-free zucchini lasagna is something you'll enjoy making as much as you do savoring. As our executive producer Michelle notes: "Italian cuisine has a romantic quality that makes me slow down and savor the details, and for me, nothing captures those old-school flavors quite like lasagna." This lasagna embodies each of those meditative qualities with its elegantly simple layers. Zucchini ribbons lay the groundwork for rich bolognese, dairy-free mozzarella, and homemade pesto to shine through beautifully.
Hero Ingredient: You can cut corners by using a jarred tomato sauce (check out our faves) for the bolognese. However, homemade pesto is key. (And you'll probably have some left over for the rest of the week!)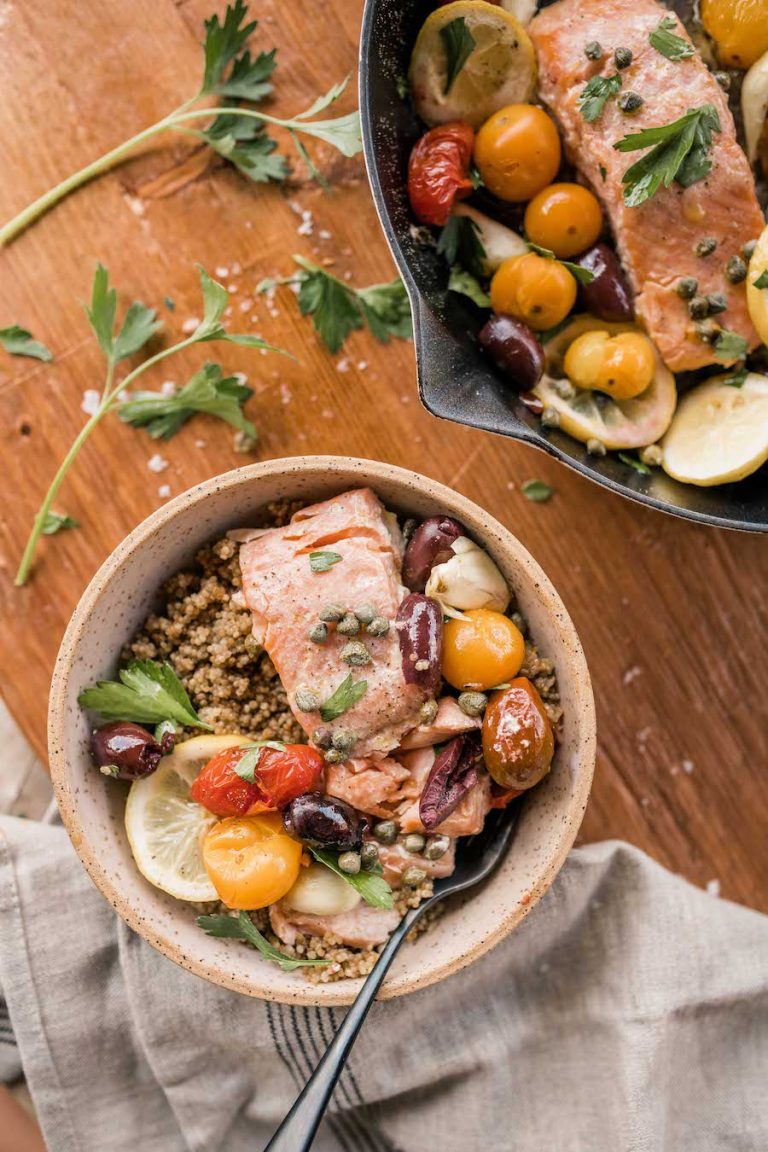 Why We Love It: Another healthy one-dish wonder, this Mediterranean-baked salmon is sure to win you over. Baking the salmon alongside lemon slices and vegetables gives everything a cohesive flavor and tenderness. Serve these offerings on their own or with a simple green salad—you can't go wrong either way.
Hero Ingredient: Briny olives and salty capers bring complexity to each tasty bite.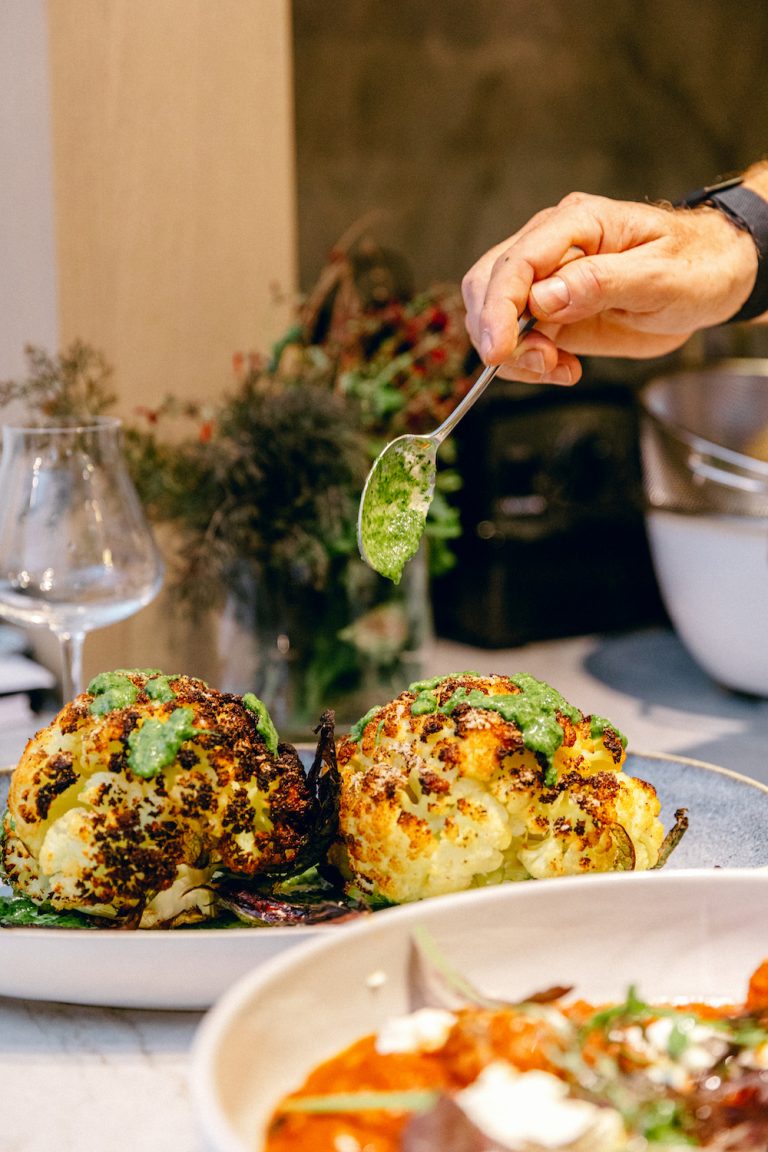 Why We Love It: An entire cauliflower roasted in the oven until crisp, caramelized, and tender is a thing to behold. You may think of cauliflower as a mild, lackluster-at-times vegetable without a whole lot to offer, but I'm here to tell you to not overlook it. In this recipe, it becomes melt-in-your mouth tender with loads of flavor. It transforms into a thing of beauty—making it a unique and satisfying dairy-free dinner recipe for any occasion.
Hero Ingredient: I highly encourage you to double that salsa verde recipe to use on fish, meat, raw veggies, and/or salads throughout the week.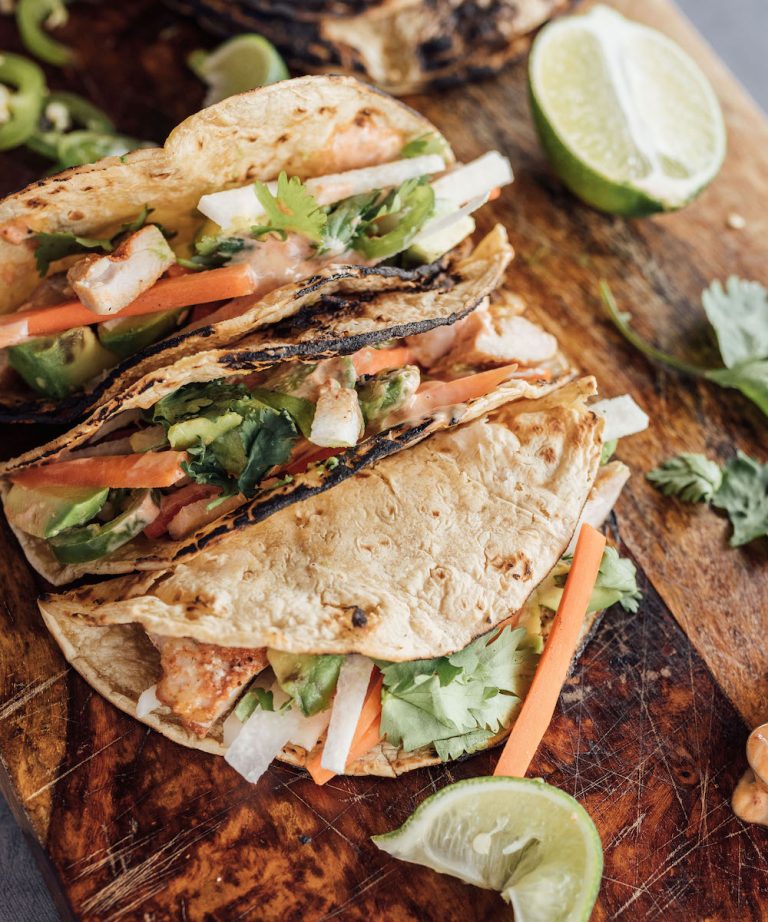 Why We Love It: These tacos are insanely simple to put together, making them perfect for weeknight dinners, gatherings, or date nights. The lime-y flavor profile keeps everything light and fresh, while chipotle aioli offers a smoky heat.
Hero Ingredient: Fresh mint leaves bring an herby freshness that you can't go without. If you don't have mint on hand, feel free to sub in any green giants lurking in your fridge.