It's that time of year. Easter is just around the corner and with it comes all the cheeriness of spring's best menu offerings. Carrot cake is back, veggies like asparagus and arugula are sprouting up, and al fresco dining has returned with all its joyful might. And while it might be a little stressful to plan your Easter menu, you can breathe easy with these vegan Easter recipes in your repertoire.
Whether you're a vegan eater or simply looking to pack in more daily veg with easy recipes, these vegan Easter recipes are real stunners that bring just as much joy to your table as the holiday itself ushers in.
Featured image by Michelle Nash.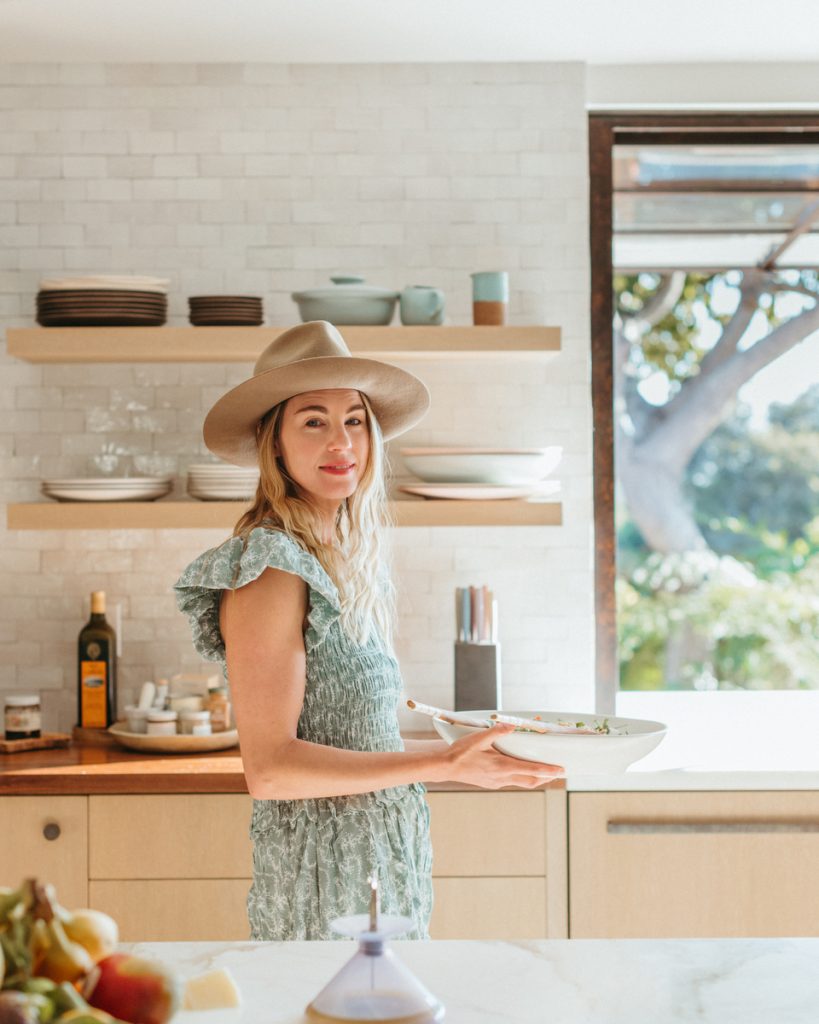 25 Vegan Easter Recipes to Brighten Up Your Table
Traditions vary, but my family typically enjoys our Easter meal during mid-afternoon. That way, the morning takes a laid-back pace and there's just enough time between lunch/dinner to "rest your eyes," as my dad would say. (Although we all know that means nothing less than nap.) There's no rush to organize a proper brunch situation, and you can basically just graze your way through the afternoon and into dinnertime. It's the best of both worlds, really. But that said, more power to you brunch people! There's nothing like a spring table in the early afternoon to brighten up the day and spark joy.
Can I let you in on a secret? Each of these recipes is equally enjoyable at any time during this lovely holiday. We've got something for everyone on this list, and you can rest assured that no dietary needs will be left unmet. From simple cocktails to dazzling desserts and everything in between, these vegan Easter recipes are must-makes this spring season. Hop to it, folks!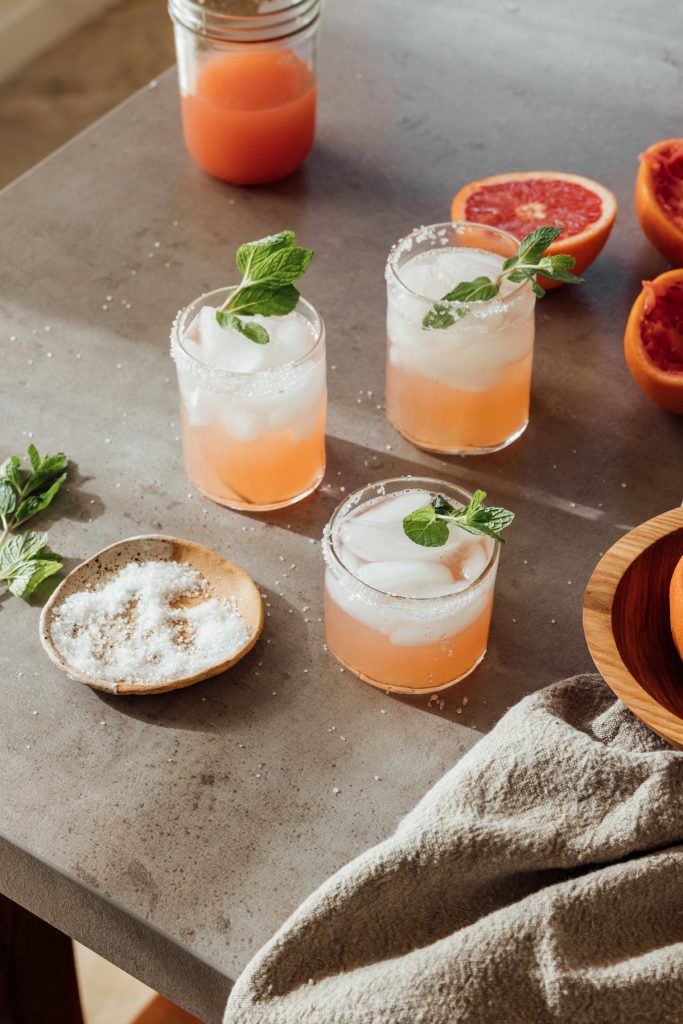 Why We Love It: Grapefruit, vodka, and agave come together to create a vibrant cocktail that's perfect for spring. It's blissfully simple to make and so refreshing thanks to the tart grapefruit. The best part? You can batch it with everything but the sparkling water, which you can add to each glass just before serving. That way, everyone at your table gets a bubbly bev to sip on and savor alongside good company and conversation.
Hero Ingredient: We're calling for regular salt here, but feel free to spice things up with chili salt or even sugar for a dash of sweetness.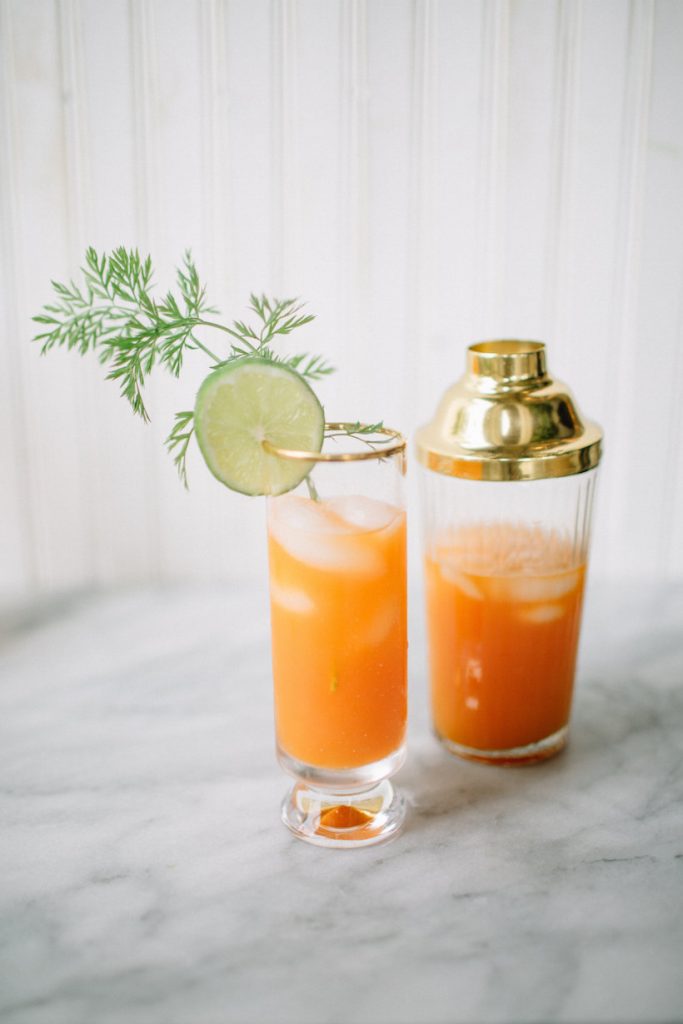 Why We Love It: Born from carrot and lime juices, simple syrup, peeled ginger, and a mixture of coconut and silver rums, this cocktail is a springtime stunner. As Camille shares in the recipe, this one is just as delicious as a mocktail, so those of you sans alcohol can enjoy a sprightly beverage that's both tasty and celebratory. Just look at the color! Unmistakably spring. Unmistakably fun.
Hero Ingredient: Don't worry, the ginger doesn't live in the final product. You'll strain it out, but be sure to give it an extra-vigorous shake to infuse your bevvy with its sharp flavor.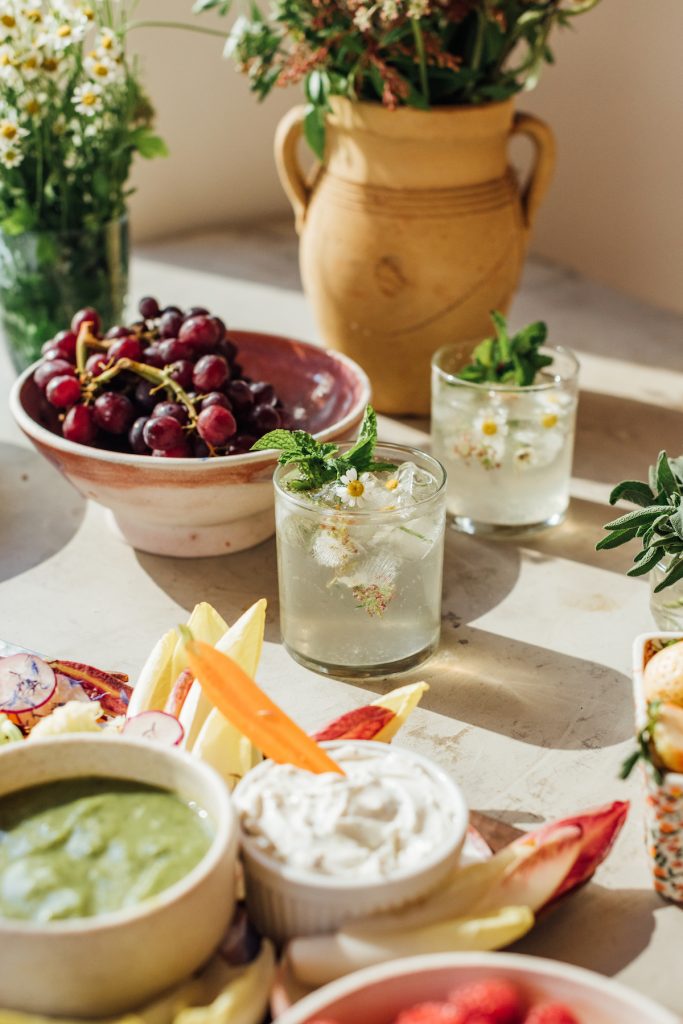 Why We Love It: Vodka, St. Germain, meyer lemon juice, and sparkling water are all you need to make this simple sipper that's a real showstopper for spring. It's uber-festive with those gorgeous floral ice cubes, so I highly encourage you to give those a try if you have the resources. Dainty chamomile flowers make the cutest cubes, but feel free to experiment with other offerings! Lavender, forget-me-not's, thyme, the possibilities are endless.
Hero Ingredient: That meyer lemon is much more subtle on the tartness than your typical lemon.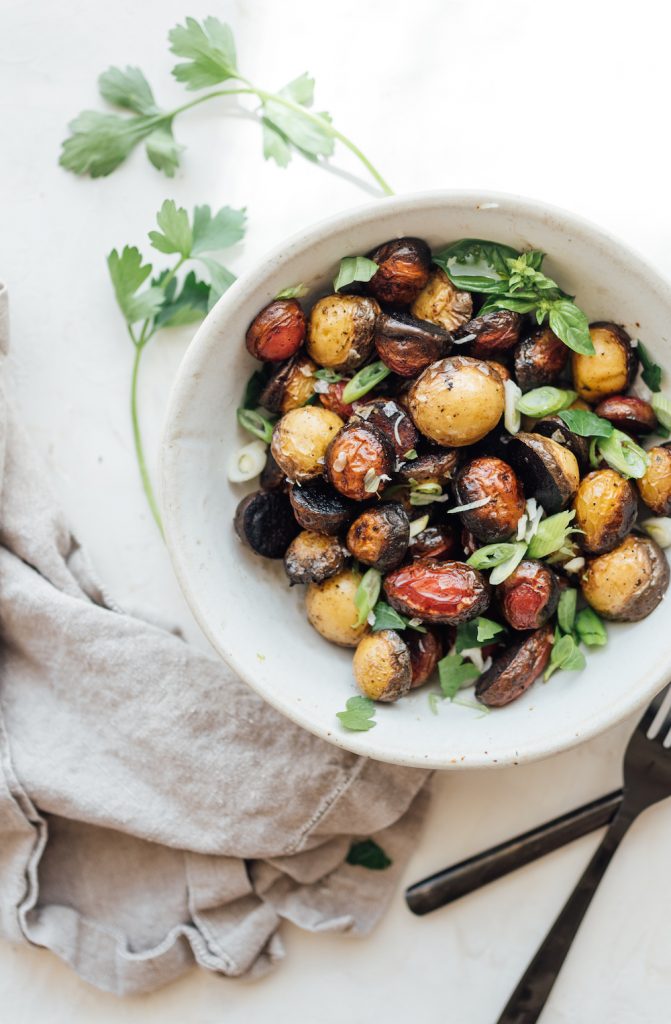 Why We Love It: It's not an exaggeration to say that these are the best potatoes I've ever had. As a devout sea salt and vinegar chip fan (these are my current obsession btw), I was immediately inclined to give this OG potato version a try. And let me say, they did not disappoint. Not only are they easy to make, but the recipe only calls for four ingredients that I almost always have on hand. Run, don't walk to make these—you will not regret it.
Hero Ingredient: That lip-smacking salt and vinegar flavor? It's made possible by apple cider vinegar… which means it's healthy, right? I'm going with yes.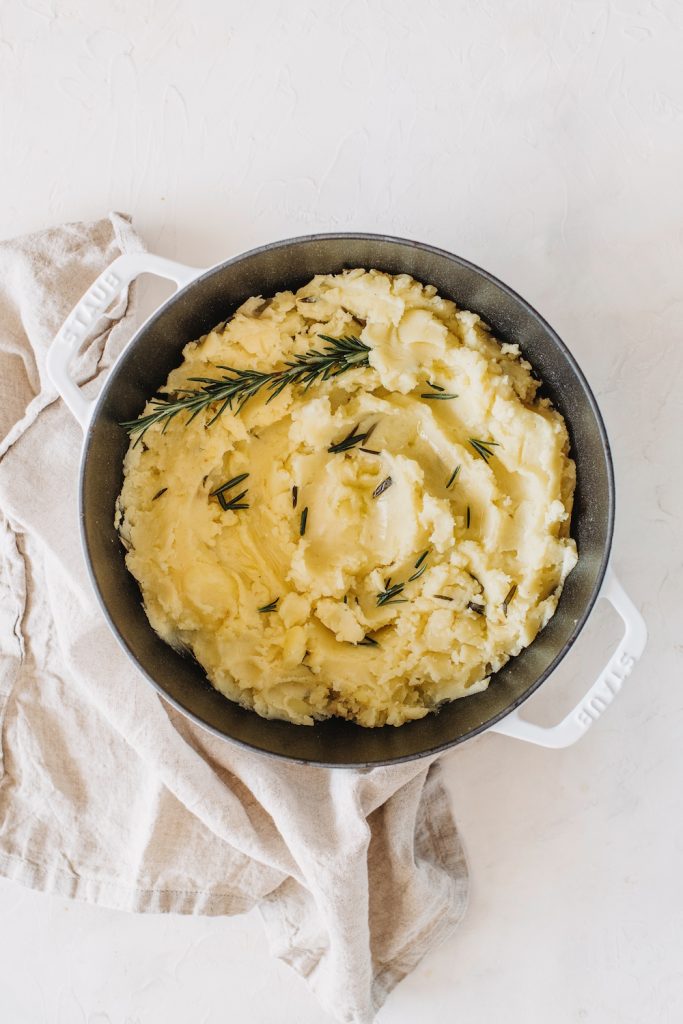 Why We Love It: Yes, vegan mashed potatoes are possible and delicious! Here, you're getting all the buttery, potato-y goodness of traditional mashed potatoes without the actual butter. That's right—these mashed potatoes let the tuber itself shine with lots of olive oil-laced flavor and texture. They're silky smooth and so indulgent tasting, plus you get the privilege of a healthier version without any sacrifice on taste. Total win-win.
Hero Ingredient: Garlic, and a lot of it.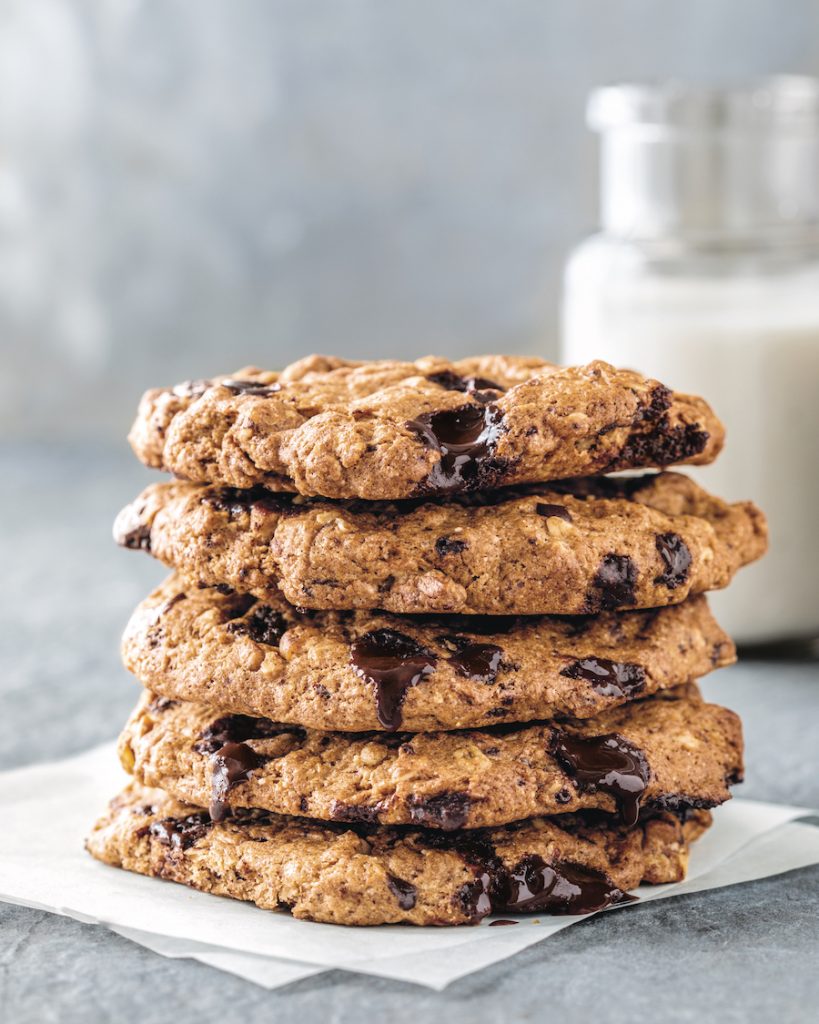 Why We Love It: A vegan and gluten-free chocolate chip cookie that's actually good? Few and far between. This one from Café Gratitude? Living proof that it's very much possible. With oats, almond butter, maple syrup, and more, these bad boys have got it going on. P.S. They're best enjoyed straight out of the oven, or after an hour or so in the sun. Melty chocolate chips for all!
Hero Ingredient: Toasting the walnuts before adding them to the dough is a small step that makes a big difference.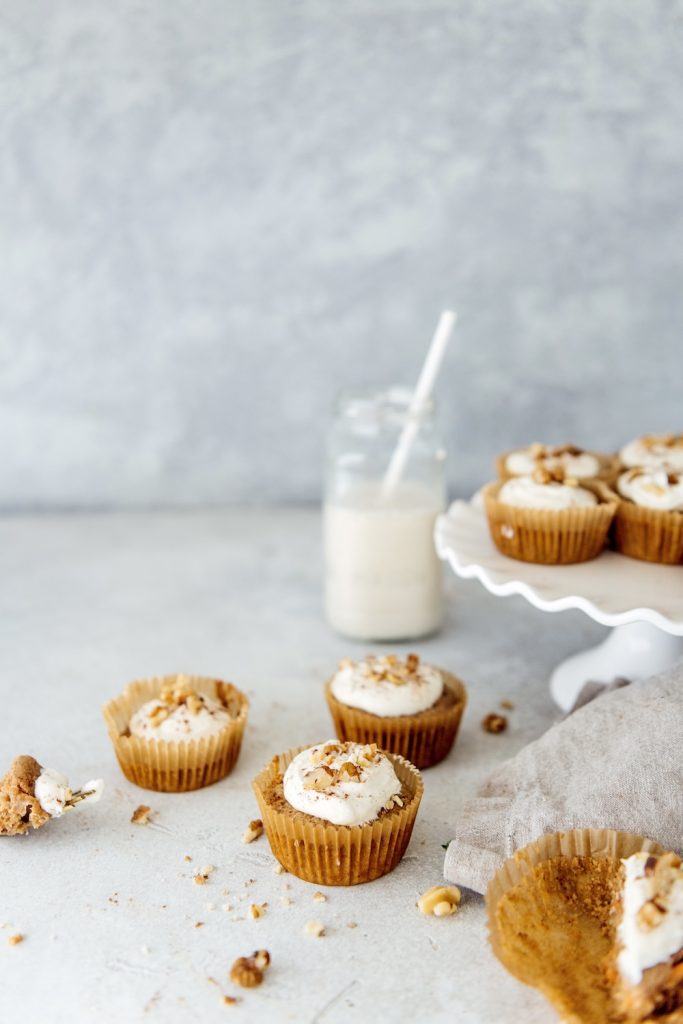 Why We Love It: So about that carrot cake I mentioned earlier… this is it in miniature, grab-and-go form. On top of that, this recipe is a cleaned-up classic that you can come back to over and over. With oat milk, maple syrup, walnuts, and shredded carrots (duh), this muffin's practically perfect in every way. It's on the denser side with a full 12-muffin tin, so keep it to six if you like a fuller muffin (and can limit yourself to fewer muffins, which is a challenge honestly).
Hero Ingredient: Flax eggs mimic regular eggs when baked, which is an impressive feat.
Why We Love It: Talk about miniature versions, these banana muffins are essentially individual little banana breads. And what's the best part about banana bread? Using up those bananas you enthusiastically bought at the beginning of the week and never touched. (Tell me I'm not the only one). With lots of nutty flavor from tahini and the nut crumble, they're pretty addictive, and that's a warning.
Hero Ingredient: You didn't hear it from me, but some vegan chocolate chips snuck into this batter is life changing.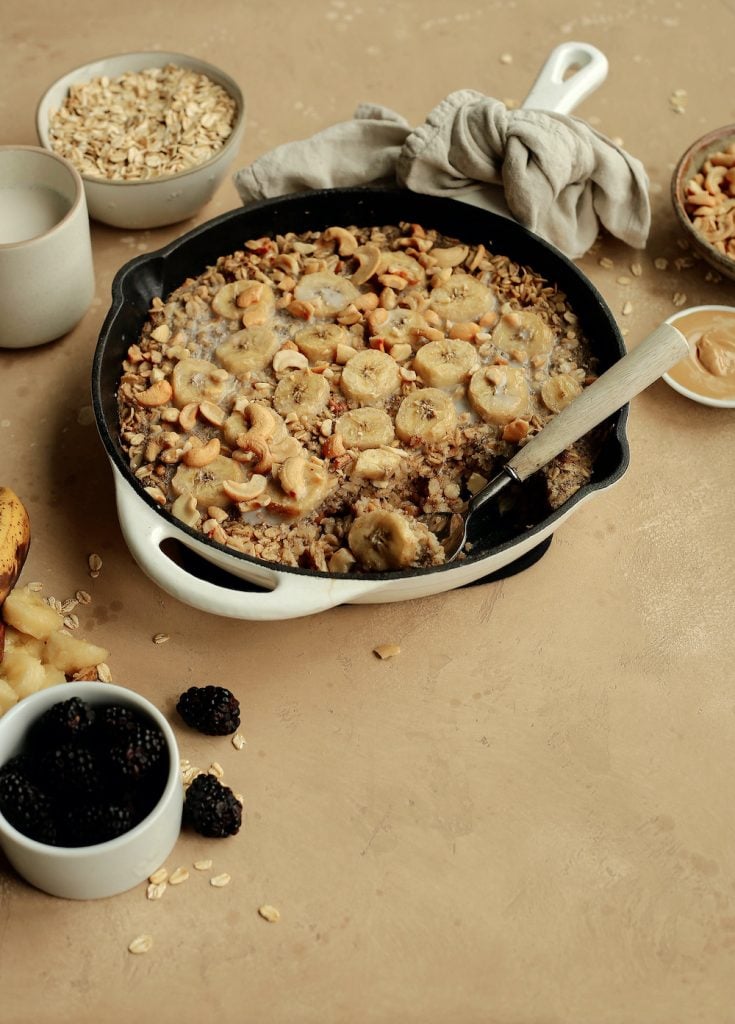 Why We Love It: You know all about chilled overnight oats, but let me introduce you to a warm-style oatmeal bake that you can meal prep for your gathering. This banana cashew oatmeal truly fires on all cylinders. It combines banana, peanut butter, cashews, and cinnamon to deliver in the flavor department, plus oats and ground flax seed to bulk up the health benefits. You can prep this entirely beforehand, then either bake it immediately and reheat the next day, or refrigerate and wait to enjoy it straight out of the oven. You can't go wrong with either.
Hero Ingredient: Those bananas on top become perfectly caramelized and I will be aiming for as many as can fit in a single scoop.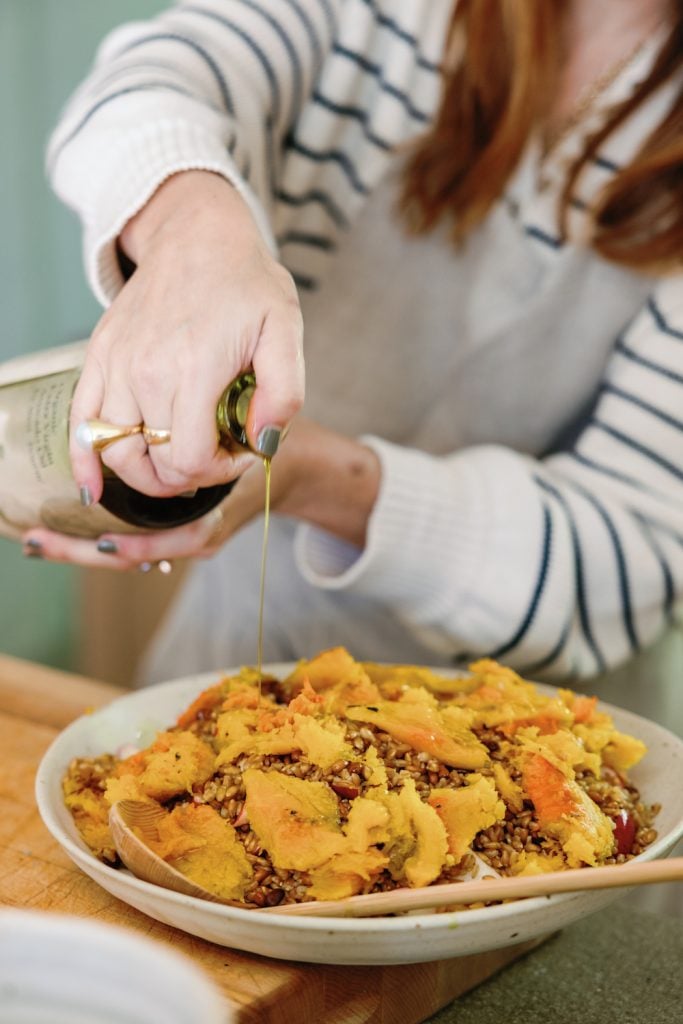 Why We Love It: What's einkorn, you might ask? Einkorn is a wheat grain that's use dates back thousands of years. It boasts a low gluten content, which has resulted in the popularity of einkorn flour. In this salad, einkorn berries straight from the husk are tapped as a textural topping that complements each beautiful element in play. You'll cook the entire kabocha squash until it's tender throughout, then layer with radishes, mustard seeds, pine nuts, herbs, and—of course—the einkorn. Consider this your new favorite spring salad, unlocked.
Hero Ingredient: Use any herbs you've got on hand here. Clean out that produce drawer, people!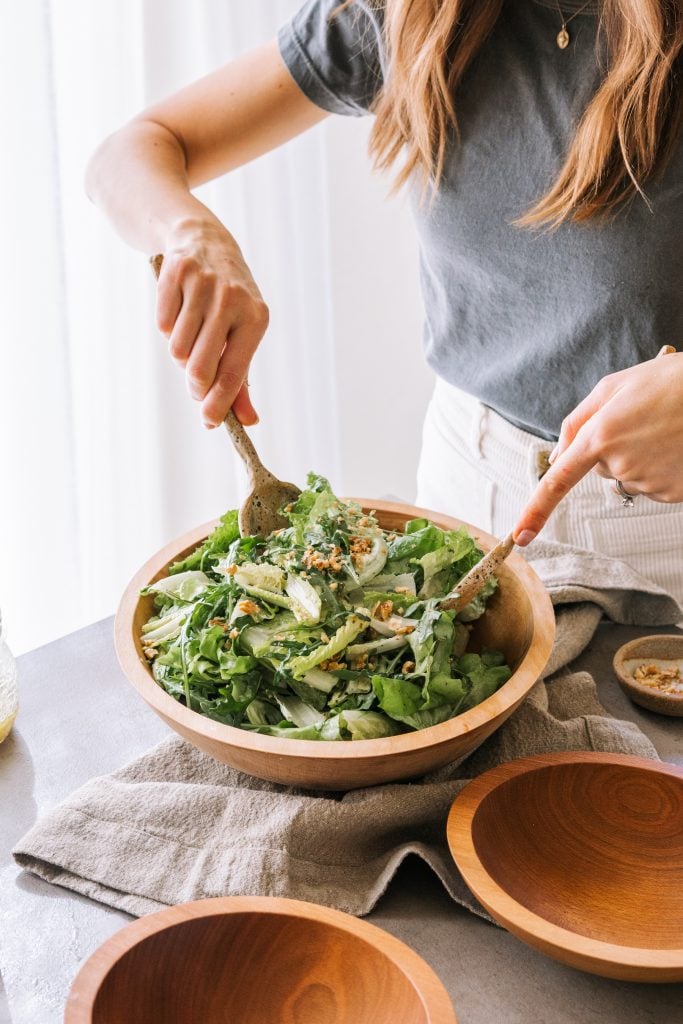 Why We Love It: This simple green salad with walnuts and fresh herbs is the ideal sidekick to any other vegan Easter recipes you've got on your table. It's elegantly simple enough to complement mains without overpowering any flavors. Pro tip? Shake up that dressing the night before so you can drizzle it over the lettuces right before serving with no stress.
Hero Ingredient: Never forget to season your salad! It really brings things to the next level.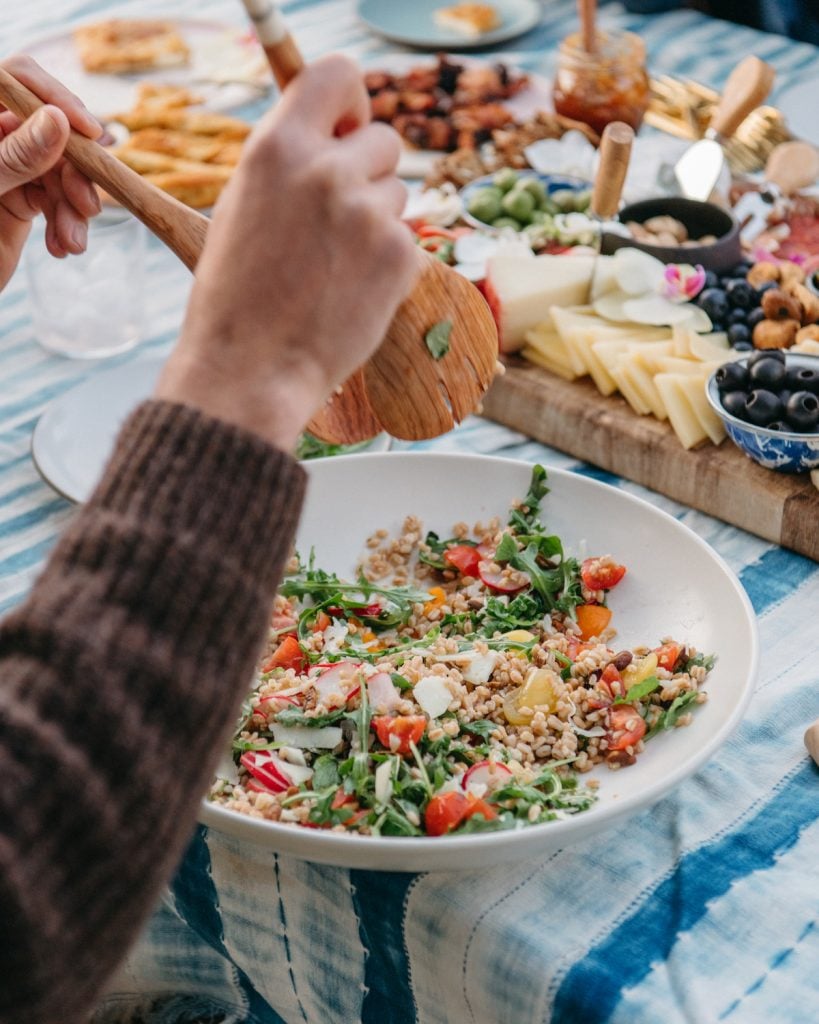 Why We Love It: Arugula, cherry tomatoes, pistachios, farro, radish, mint, and more—yes, more—come together to make this stunning salad that's primed and ready to elevate any Easter table. It boasts the perfect balance of heartiness from the farro and freshness from the veggies, with fresh herbs and crunchy pistachios sealing the deal on flavor and texture. It's a salad to behold.
Hero Ingredient: Don't forget to nix that parmesan or sub with a vegan-friendly alternative.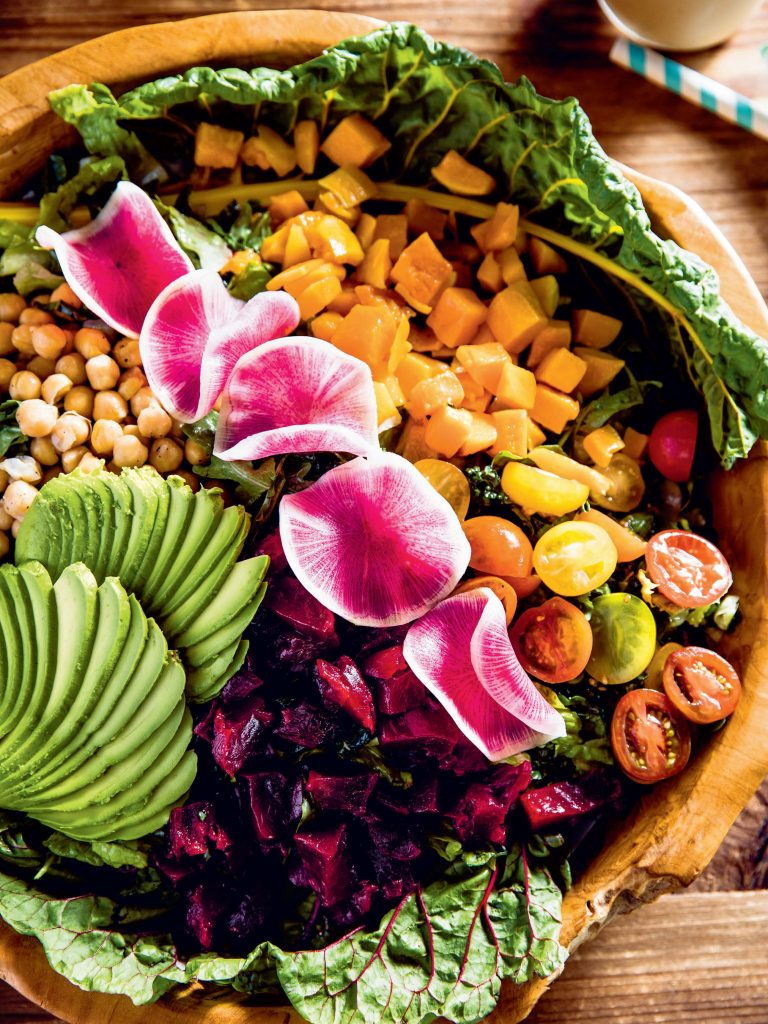 Why We Love It: This vegan chopped salad is bursting with color, texture, and seasonal flavor that makes it ideal for spring gatherings. Appearing in Helene Henderson's cookbook, Malibu Farm Sunrise to Sunset, it's absolutely packed with seasonal veg and freshness. We're talking cherry tomatoes, watermelon radishes, beets, avocado, chickpeas, butternut squash, and more. You'll get your greens on in the most delicious way possible.
Hero Ingredient: The classic chop dressing is simple, yet flavorful enough to bring all those veggies to life.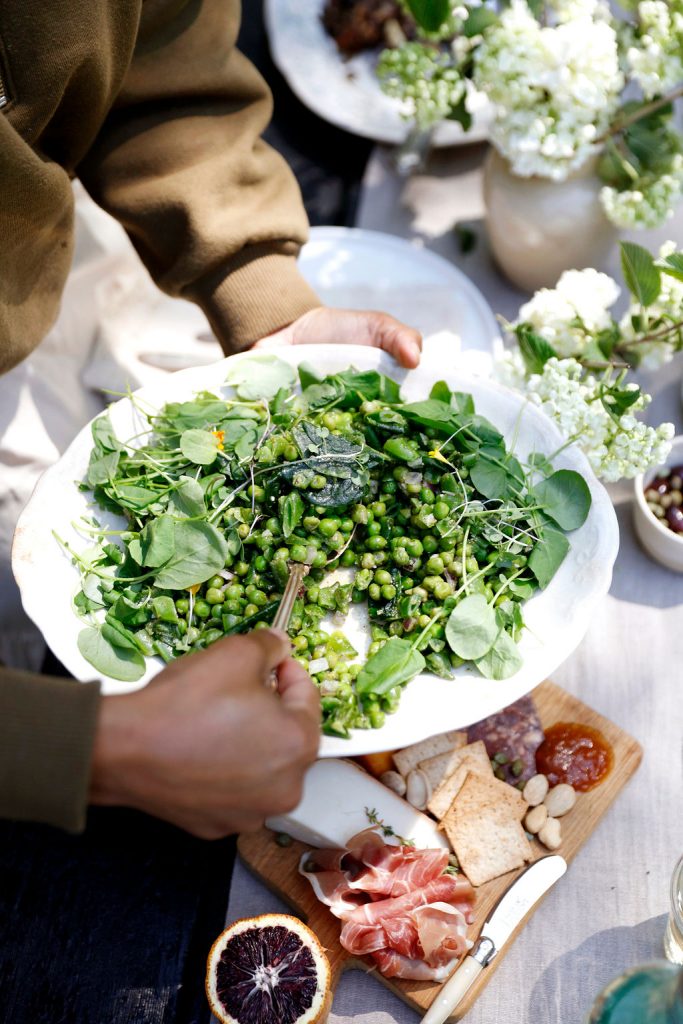 Why We Love It: Whether you're Team Pea or Team Anti-Pea, you can't help but admire this gorgeously green side dish. Like the simple green salad above, this one makes a great companion to the vegan Easter recipes you've got lined up as mains. It's chock-full of springtime veggies like peas (duh), spinach, and sugar snap peas. Plus, it totally oozes spring vibes, no?
Hero Ingredient: A hearty dose of garlic in the dressing amps things up in the flavor department.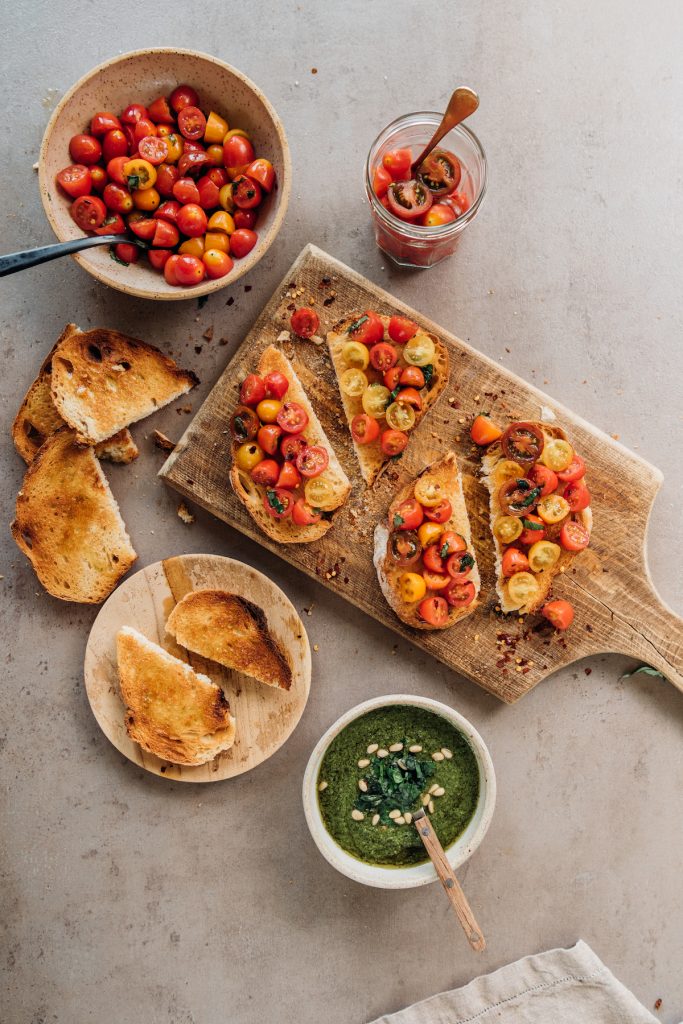 Why We Love It: As a recent tomato fan (used to hate them, sorry), I'm all about bruschetta as an appetizer. It's simple to make as the host and guests always gobble it up. This classic bruschetta is, well, classic. All it takes is fresh tomatoes, basil, olive oil, and balsamic vinegar to bring those bruschetta dreams to life. Oh, and toasty sourdough to house these gorgeous toppings. It's a crowd-pleasing appetizer that you definitely can't go wrong with!
Hero Ingredient: You could toast your sourdough like normal, but it's even better on the grill. Trust me.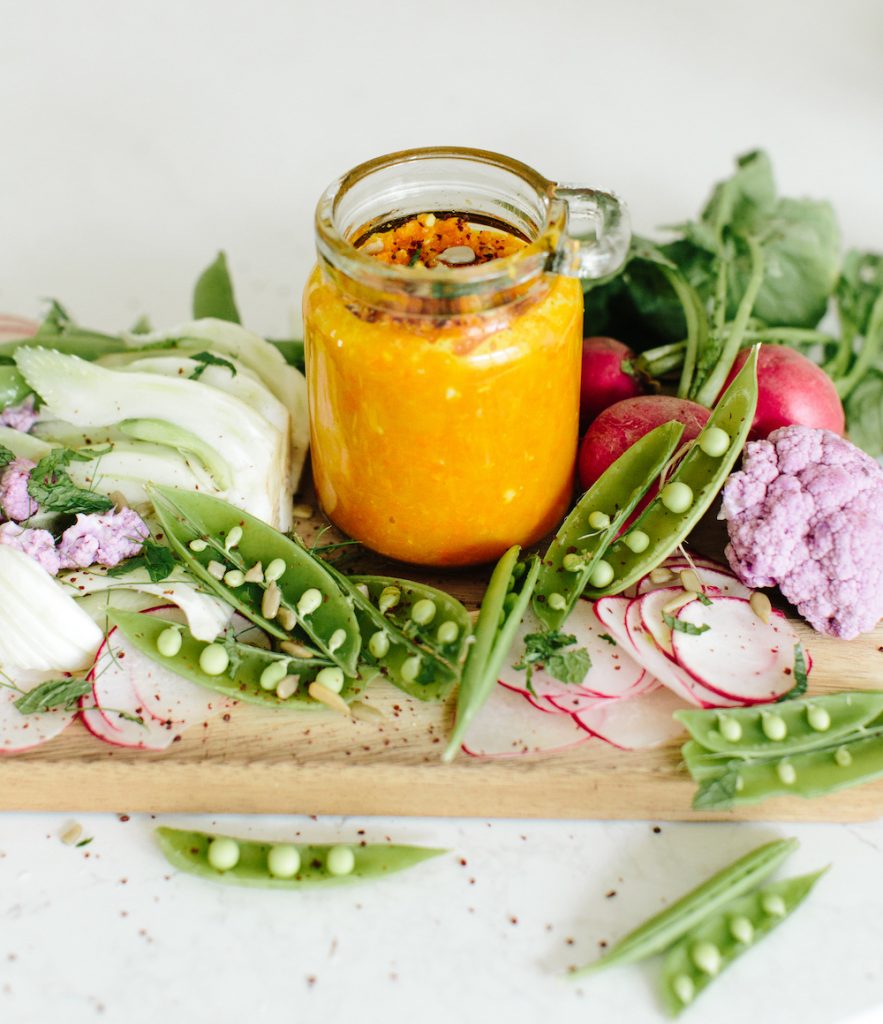 Why We Love It: This carrot turmeric hummus is bursting with seasonal joy and nutrition with its gorgeous color and nutrition specs. It's one of those snacks that makes you feel just as good on the inside as it does upon entry. It boasts anti-inflammatory turmeric in addition to a whole slew of carrots and lots of lemon juice. It's bright, seasonally appropriate, and so fun to enjoy with fresh-from-the-garden/market veggies. Or store-bought—you do you.
Hero Ingredient: Top with lots of toasty sunflower seeds for a dose of crunch with each dip.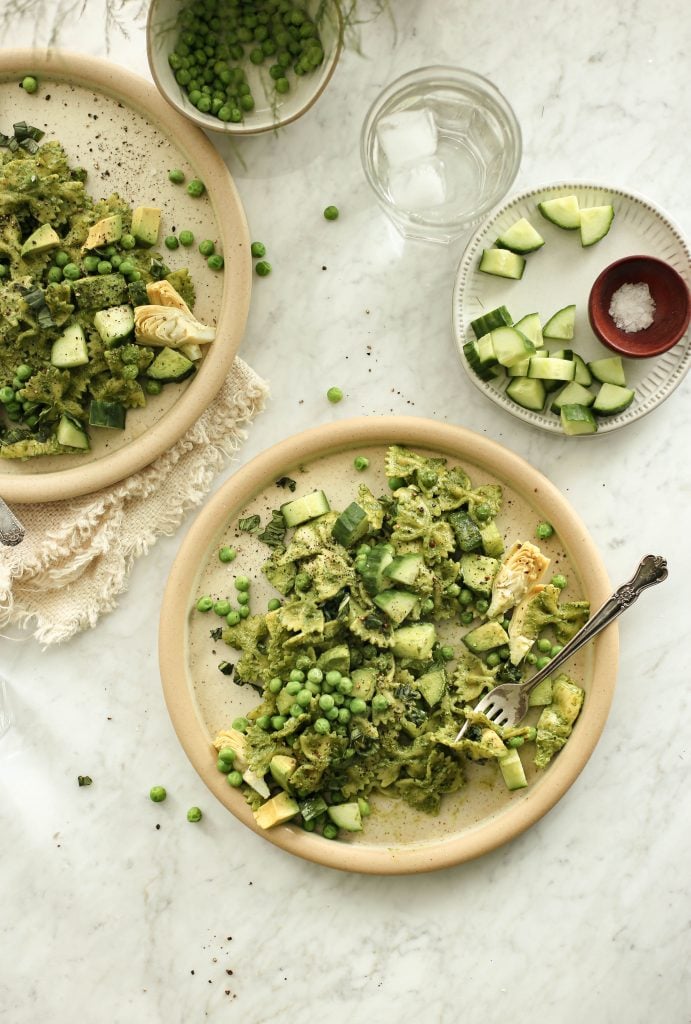 Why We Love It: This pasta salad is a lean, green, and not-so-mean staple for any and all pasta salad lovers. The green content is off the charts, so you can pack in lots of veggies in a different format than your typical salad. It celebrates artichokes, avocado, peas, cucumbers, and a whole slew of fresh herbs to tie it all together.
Hero Ingredient: If you're willing to break up the green, you could add in bell peppers, radishes, baby corn, the list goes on…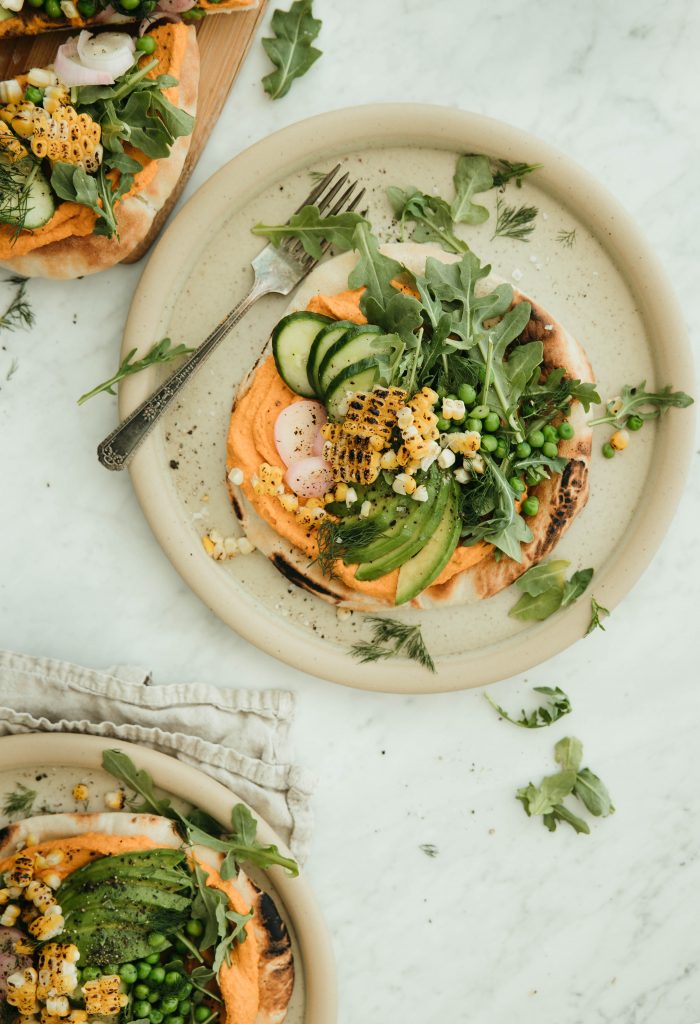 Why We Love It: For a heartier plant-based offering, this vegan flatbread is so simple and enjoyable. If you blitz up that hummus beforehand (highly recommend), all that's left to do is warm your pita, smear on copious amounts of hummus, and top with your favorite veggies. You can go lots of different directions with your toppings. If you prefer bright and crunchy, think snap peas, cucumbers, radishes, asparagus, etc. Or, you might opt for the pickled route, which could entail shallots, red onion, carrots, etc. Totally your prerogative, but use this recipe as inspiration for your next great creation.
Hero Ingredient: If/when you meal prep your hummus, I highly recommend doubling the batch. That way, you'll have it on hand for wraps, sandwiches, salads, and general snacking throughout the week.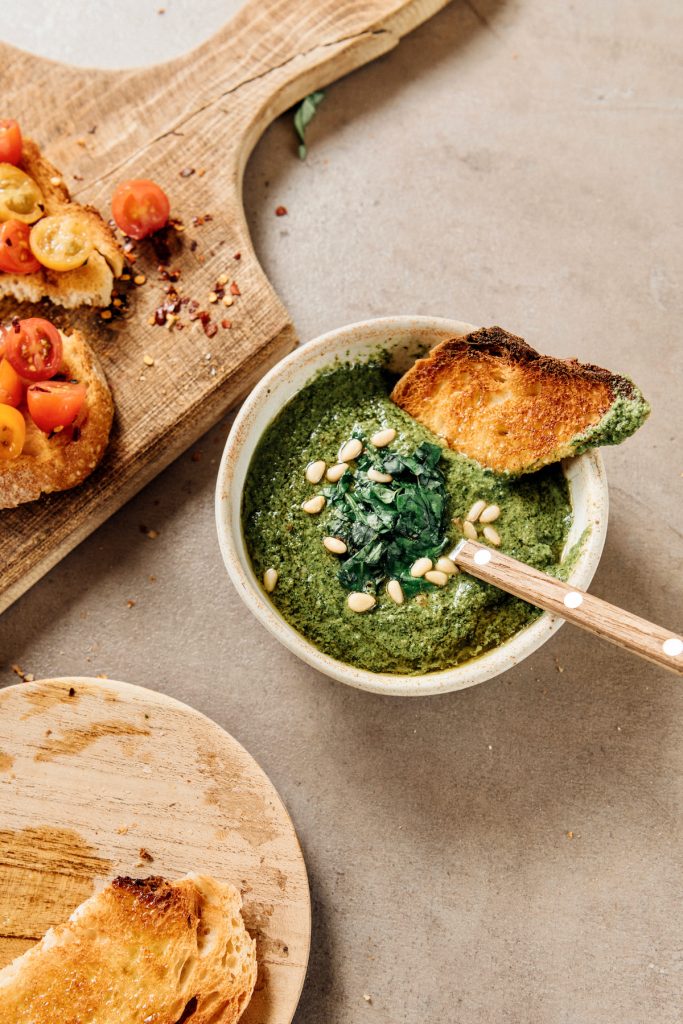 Why We Love It: I like to call this one "anytime pesto" because it takes about ten minutes to go from blender to bowl and enhances just about anything you pair it with. You could use this to top the aforementioned bruschetta, on crudités, or as a "sauce" option with your Easter spread. Whichever way you choose to take it, be sure to top this pesto with lots of toasted pine nuts and fresh basil.
Hero Ingredient: A touch of nutritional yeast boosts immunity, nutrient absorption, and protein intake.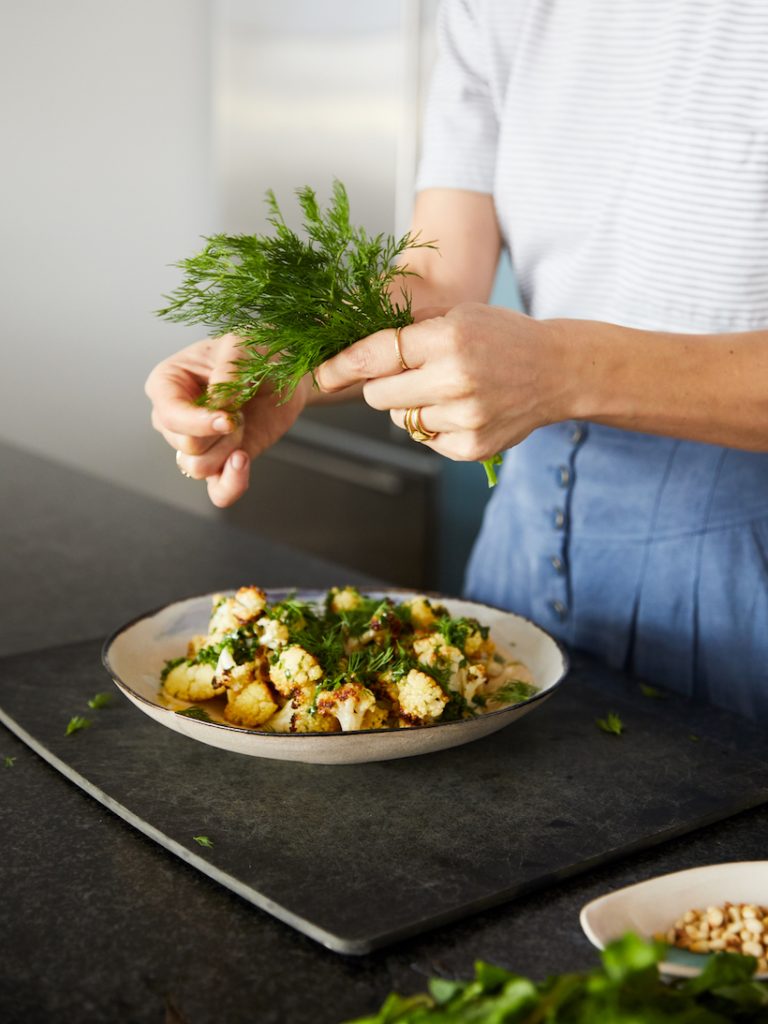 Why We Love It: We've come a long way with the humble cauliflower, and this recipe proves just that. With caramelized roasted cauliflower, garlicky tahini, caper-studded chimichurri, and fresh dill to top it all off, there's nothing holding you back from a decadent plant-based meal. This one is a great main option or side dish to whatever vegan Easter recipes you've got in the queue.
Hero Ingredient: Garlicky tahini lays the foundation for all those flavorful additions to come into their own.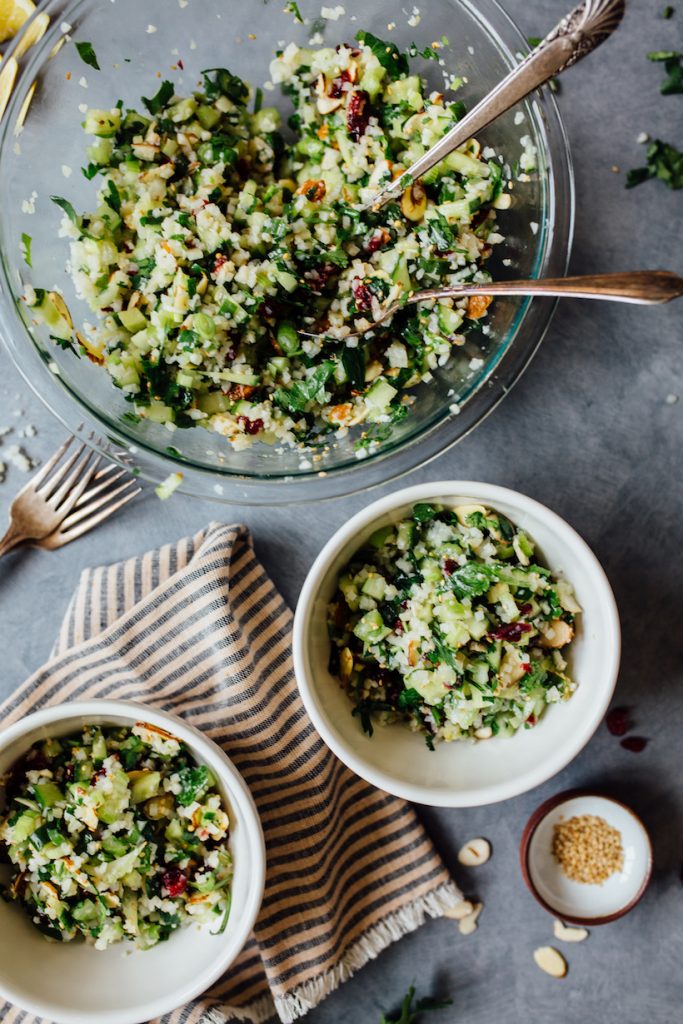 Why We Love It: Boom! More cauliflower. In this cauliflower tabbouleh, you're getting lots of tasty veggies and complementary elements that send it over the top. Cucumbers bring the crunch, dried cranberries bring the tartness, and sliced almonds top things off with just the right amount of texture. It's a delicious vegan side that you can enjoy on its own, in a wrap, or alongside just about anything on your table.
Hero Ingredient: I'm a big fan of dried cranberries, so I love how they bring in a touch of sweetness and tartness to this refreshing salad.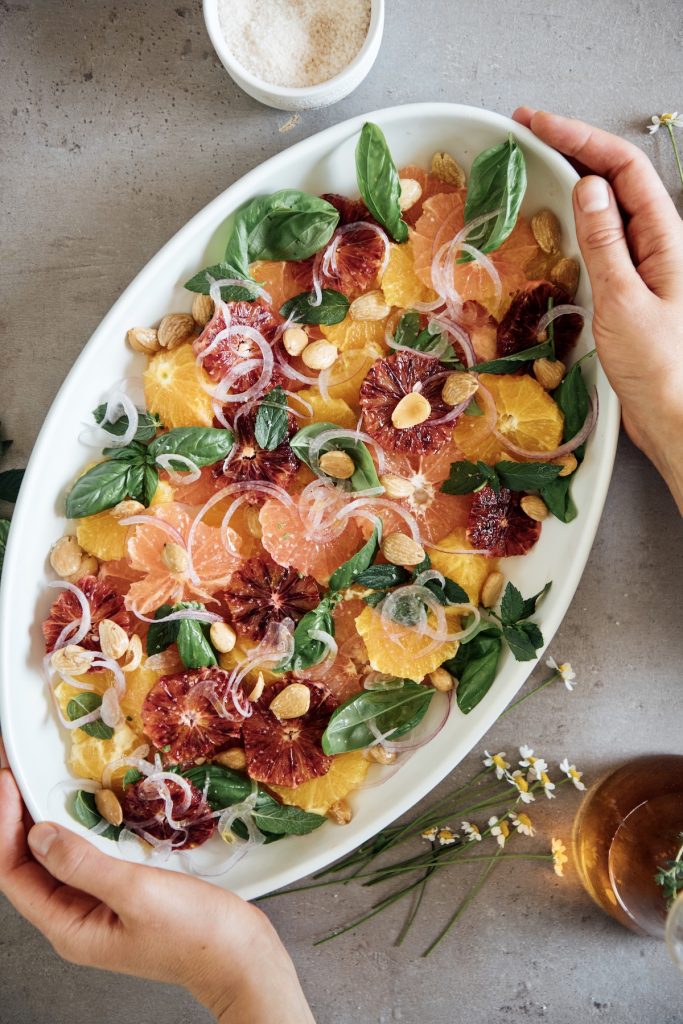 Why We Love It: I'll never stop raving about this easier-than-pie citrus salad. All you have to do is peel and slice up a mix of citrus fruits, top with shaved red onion and marcona almonds, and finish with olive oil, salt, and pepper. That's it! It's a whole that's so much greater than the sum of its parts and it makes a stunning centerpiece to any table.
Hero Ingredient: If you're feeling inspired, a teensy drizzle of white wine vinegar elevates those bright flavors even more.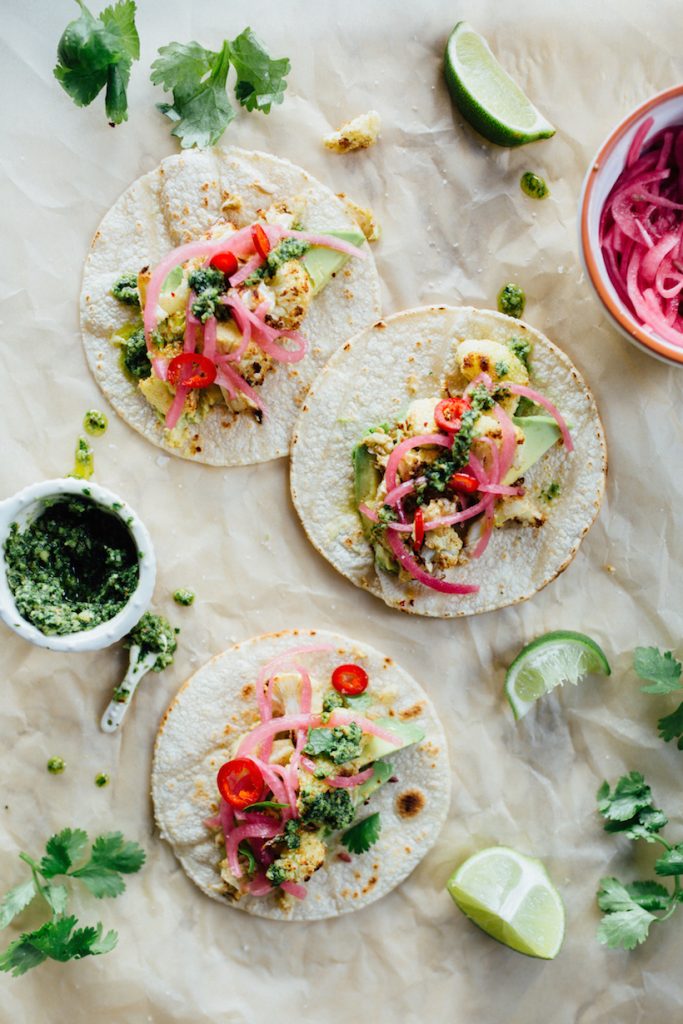 Why We Love It: This might seem like cauliflower overkill, but it's just so easy to praise. In these vegan and gluten-free tacos, crunchy and caramelized cauliflower steals the stage as the superstar it is. Surrounded by creamy avocado, pickled red onion, and a cilantro pesto that's to die for, these tacos make a great main dish to your Easter lineup.
Hero Ingredient: Almonds and pumpkin seeds constitute the nutty component in the pesto, which sets it apart from a traditional pesto. For this recipe, you gotta give it a try. It's perfection.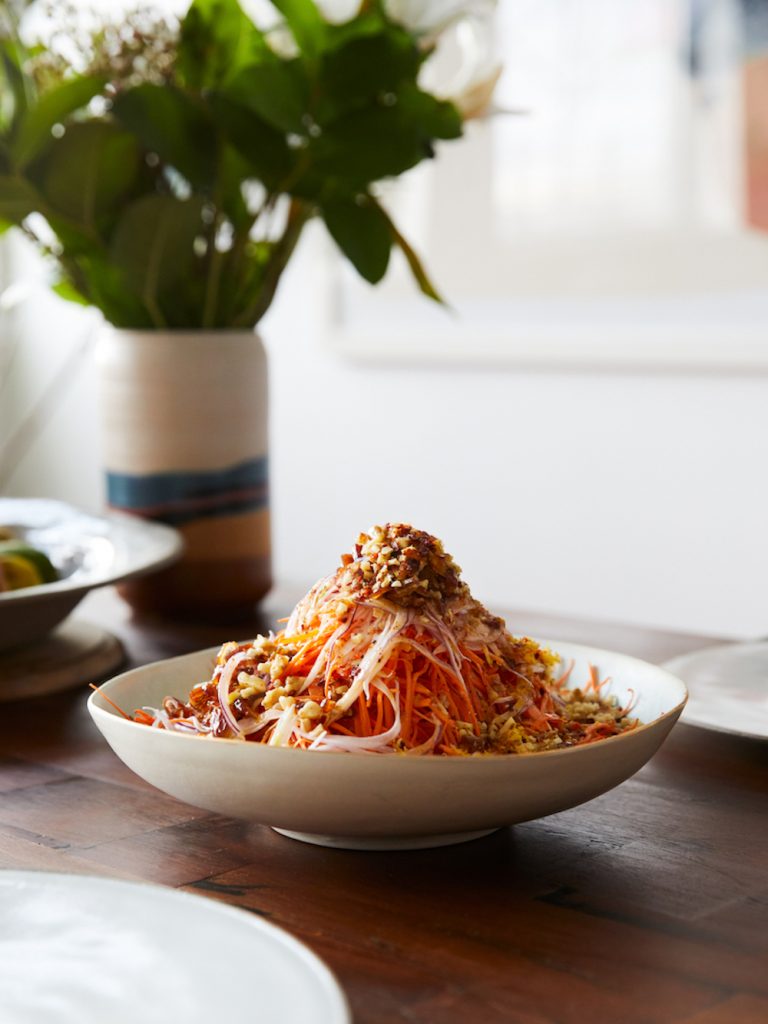 Why We Love It: This carrot tower is a stunner for your Easter table. With carrot strips, date pieces, crunchy walnuts, and a touch of red onion, this veggie creation makes a beautiful starter or side on your menu. It's simple to make and even simpler to enjoy for everyone at your table. Don't forget the extra sprinkle of Aleppo pepper over top—it's the kiss of heat that ties this one together.
Hero Ingredient: The dressing here is so perfectly crafted. It takes a simple lemon vinaigrette with garlic, lemon, honey, and olive oil and kicks it up a notch with a sprinkle of Aleppo pepper. The heat is just right and complements each simple element underneath.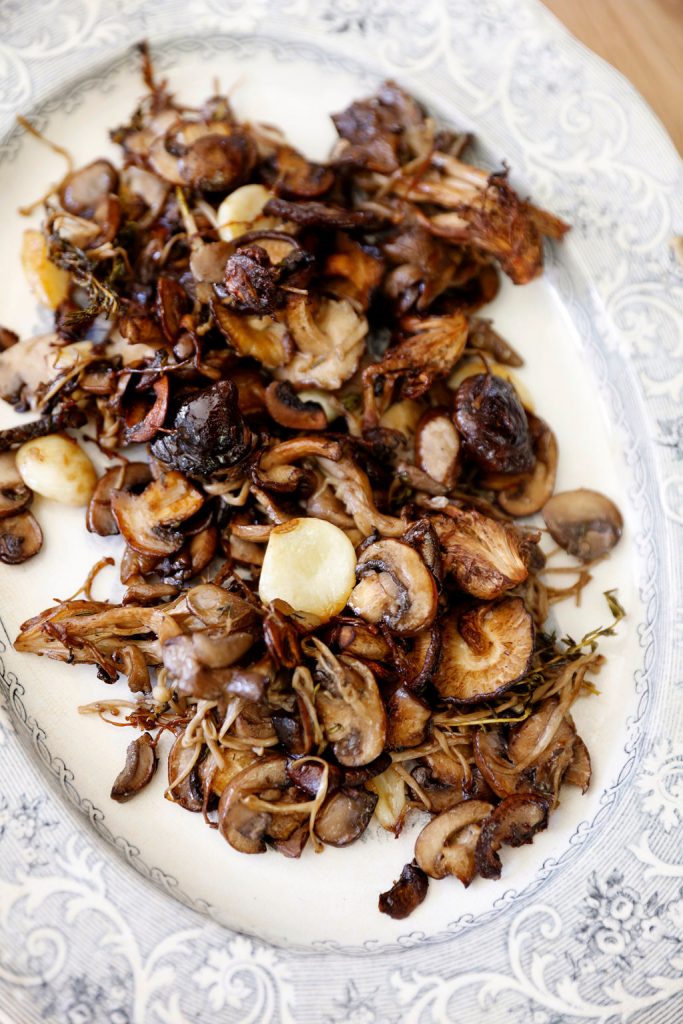 Why We Love It: In case you missed it, mushrooms are the new superfood. And in this recipe, they're superstars as well. You'll take the little gems to the skillet with olive oil, garlic, and thyme and sauté until they're caramelized and slightly crusted. Then, you'll add in a touch of ghee, apple cider vinegar, and grainy dijon mustard. You can serve these alongside a vegan main or eat them as-is—either way is stunning.
Hero Ingredient: Did I forget to mention the flaky smoked salt? Oh yeah, it's happening. And it's nothing short of earth-shattering.
Got any favorite vegan Easter recipes? Drop them in the comments—we want to hear what you're loving this spring!