Confession: I sometimes lose sleep the night before hosting a dinner party. I blame it on a combination of excitement and nerves, but wow, hosting can be stressful. As part of my mission to solve my own host-xiety, I've compiled a list of delicious, easy, and inexpensive meals for large groups that I always return to—and that every guest will love.
These recipes solve the dilemma of deciding what to cook for large groups, but avoid the hefty price tag that can often come with group dinners. As we know, cooking for more than four people can get real pricey, real fast. The bottom line? Impressive doesn't have to mean expensive. These meals utilize grocery store staples, store-bought ingredients, and affordable meats—without sacrificing flavor or quality. Read on for my go-to inexpensive meals for large groups, plus Camille's tips for cooking for a crowd.
Featured image by Hannah Haston.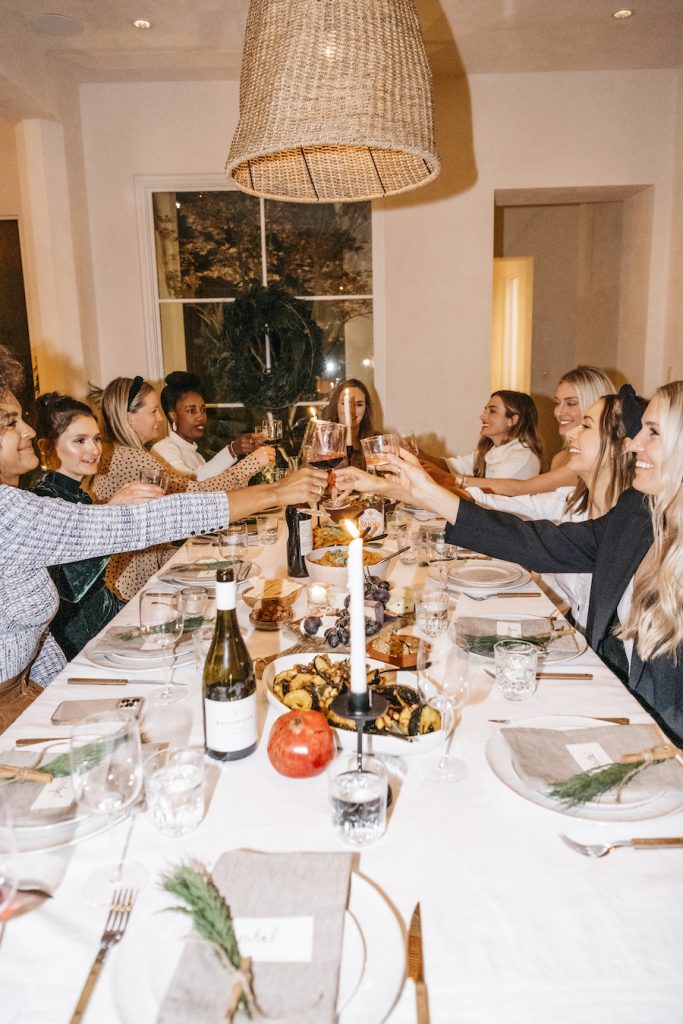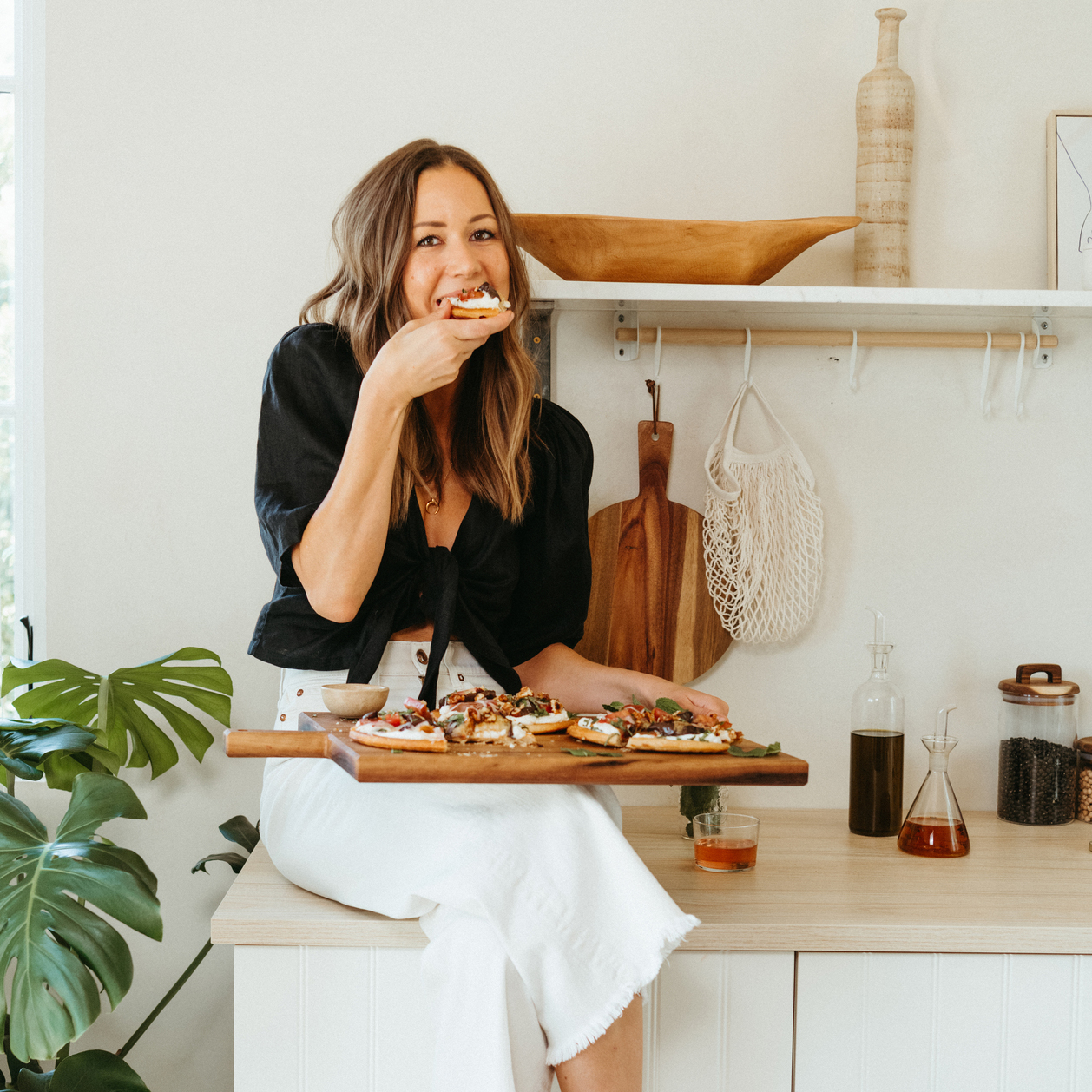 Subscribe
Our Top 10 Recipes
Sign up to receive a FREE E-BOOK of my top 10 most popular recipes of all time!
Thanks for Signing Up!
Oops!
Looks like you're already signed up or your email address is invalid.
Oops!
Looks like you unsubscribed before click here to resubscribe.
Camille's Top Tips for Cooking for a Crowd
Do all possible prep in advance so that you can enjoy the evening, too. Anything that can be made beforehand is key. It takes the stress out of your day-of prep and makes sure you get to enjoy the party yourself. Soups, sauces, and salad dressings can be made entirely in advance so when the clock strikes happy hour, you're ahead of the game. It's also helpful to do any knife work in advance and store your chopped goods in the fridge. That way, when it's time to cook, you've already done a lot of the grunt work.
Choose crowd-pleasing dishes that everyone can enjoy. When you're cooking for a group, it's important to consider your guests' dietary needs. Dairy-free, gluten-free, vegetarian, and/or vegan recipes fare well for large groups. That way, you can ensure everyone is able to savor the moment together. Comforting foods are also always a hit at dinner parties. If it's something you love, the odds are high that your guests will love it, too!
Leverage batch cooking and "build-your-own" components. Sheet pan recipes, informal spreads, and topping bars are heroes when it comes to assembly. Prep the main components and let your guests build their own finished pieces. Not only does this make your job easier, but it's a great way to spark conversation and creativity!
18 Inexpensive Meals Perfect for Large Groups
Why We Love It: Soup is one of the best things to serve to large groups because it's inexpensive and most of the cooking time is hands-off. Plus, as long as you have a big enough pot, it's easy to double. To this day, this Chicken Tortilla Soup is one of Camille's most popular Instagram recipes, so if you haven't made it yet, this is your sign. It's the perfect serve-yourself recipe for big gatherings as well.
Hero Ingredient: The homemade tortilla strips are next-level.
Why We Love It: Minimal effort meets maximum flavor in this healthier take on chicken tikka masala. It has all the flavor of your favorite take-out meal, but all the magic happens in a slow cooker while you're out running errands. Again, it's great to set out in "serve yourself" fashion and is easy to double as well.  
Hero Ingredient: The full-fat coconut milk deserves a medal for making this so creamy.
Why We Love It: We all love a good pasta dinner party, and this recipe is infinitely customizable and easily doubled. In fact, Camille lays out all of the possible swaps and her best tips for cooking this for a crowd in the recipe post. Aside from the simplicity of making this dish, it has all of my favorite things: rigatoni, pesto, and crispy Brussels sprouts. If you're looking for a no-fuss, show-stopping pasta for a large group, this is it.
Hero Ingredient: The caramelized, crispy, garlicky Brussels sprouts taste even more indulgent than the noodles.
Why We Love It: This low-carb alternative to traditional nachos is a great inexpensive meal idea for large groups. Swap tortilla chips for cauliflower and load them up with the toppings of your choice. If you're serving a large group with multiple dietary restrictions, you can simply make the base and let each guest customize their toppings.
Hero Ingredient: The cauliflower has some serious veggie power.
Why We Love It: These tacos are one of my favorite Camille Styles recipes for the simple prep and flavors that are anything but. You can make the chicken beforehand and chop all of the veggies in advance. All you have to do is char the tortillas and serve. You don't even have to build the tacos yourself—let the guests assemble their own.
Hero Ingredient: The lime-y chicken is affordable and addictive.
Why We Love It: Alison Hersel of Plumcot Farm shared this delicious, easy stuffed shells recipe that's fit to feed a crowd. The whole thing can be prepped in advance and popped in the oven when the time is right. (Note: The time is always right for stuffed shells). This recipe can also be made gluten-free by using gluten-free pasta shells.
Hero Ingredient: The ricotta is a whole-lotta yumminess.
Why We Love It: I love a meal that requires zero plating and no stress—especially when it's still bursting with flavors like this Pita and Kebab smorgasbord. This is one of those no-recipe recipes that's perfect for large groups. You can assemble however many boards you want and let guests build their own plates. Or, you can scratch plates altogether and serve these as a casual grab-and-go meal.
Hero Ingredient: Hummus is a must. Or, try your hand at whipped feta with honey.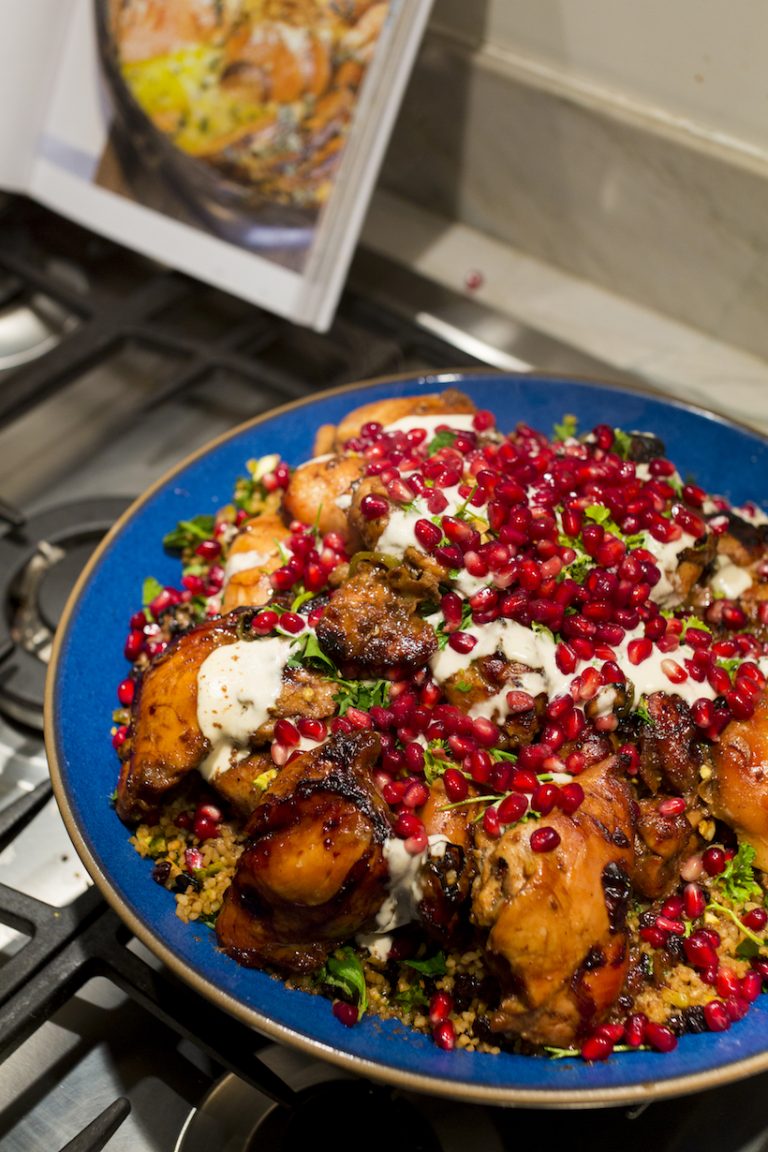 Why We Love It: Joe Holm and Mike Hondorp shared this special recipe with us that's always featured at their Sunday Suppers. This comforting tradition celebrates the simple joy in gathering friends together for a meal. A main dish they often feature is Pomegranate Chicken with a Bulgur Wheat Salad. It's easy to see why. The chicken is marinated in garlic, serrano chile, salt, pepper, and a drool-worthy pomegranate molasses. Then, all that's left to do is prep your bulgar wheat salad (under 15 minutes), and pan-sear your chicken for 12 minutes. Dinner made easy.
Hero Ingredient: When it comes to the bulgur wheat salad, don't be shy with the mint.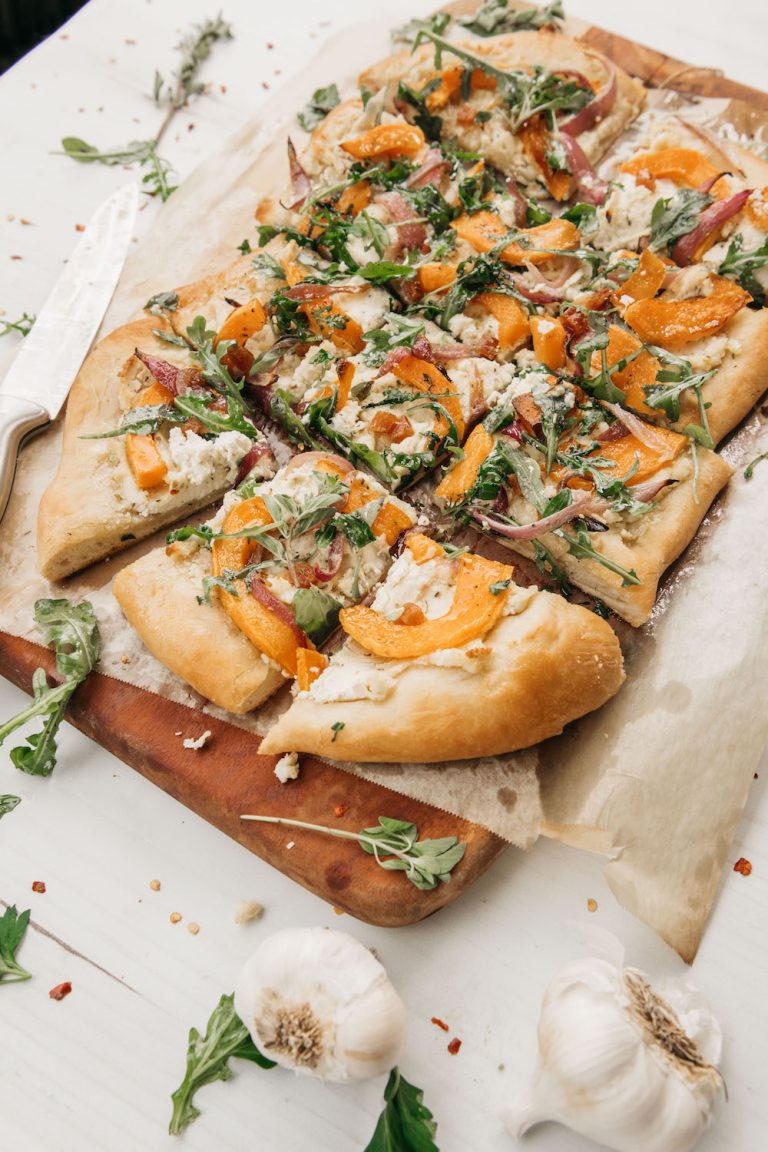 Why We Love It: If I'm invited to a pizza dinner party, 10/10 times I'll accept. Everyone loves a good pizza, and this recipe will be ready faster than Domino's can deliver. Plus, it's bursting with fall flavors from the butternut squash and the sweet/savory balance throughout. If you're looking to make this meal the main event of an evening, you can also let couples customize their own pizzas.
Hero Ingredient: Homemade almond ricotta, while delish, makes this pizza on the more expensive side. If you aren't entertaining for a plant-based crowd, feel free to swap out with store-bought whole milk ricotta.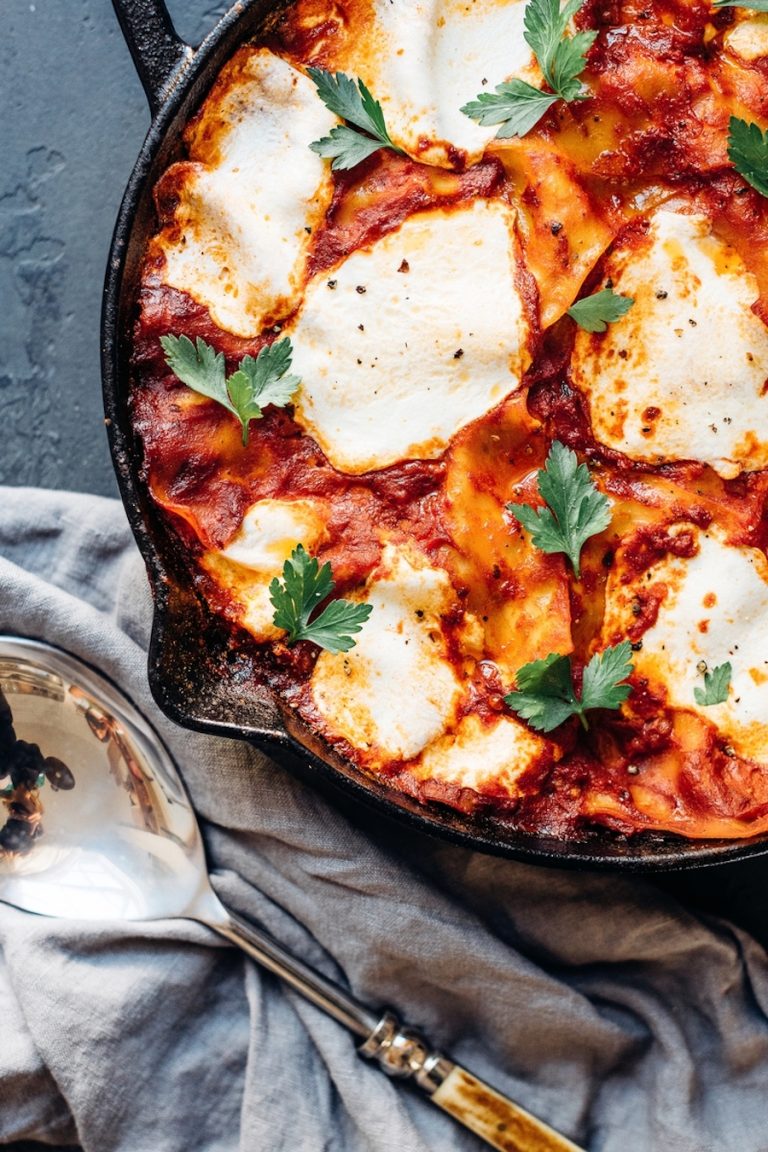 Why We Love It: This Skillet Eggplant Lasagna is a cozy one-pot dinner that guests of all ages and palates will love. It's vegetarian, which is a plus for dinner parties where guests have dietary restrictions, and it's comforting all the same. The icing on the cake? Store-bought marinara makes prep a breeze.
Hero Ingredient: Since it's in a skillet, you can place the entire creation directly on the table and serve it up family style.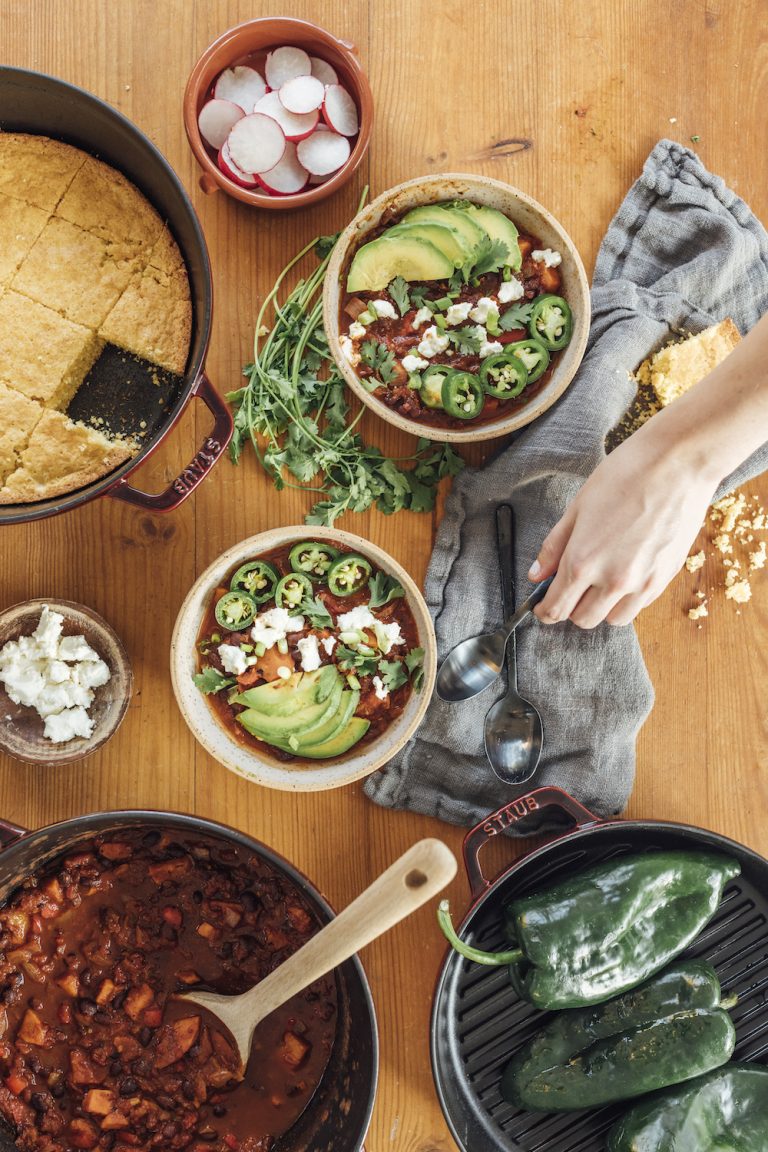 Why We Love It: Soups are a great way to feed a crowd without stretching your wallet. You get a lot more out of them than you put in, which is pure magic. This Sweet Potato and Black Bean Chili exudes all the fall flavors with stick-to-your-ribs veggies that make it hearty and healthy. It's loaded with black beans, flavorful veggies, and lots of spices that keep it warm and comforting. Just a quick sauté of those veggies and a slow simmer takes this recipe from pot to bowl in under an hour.
Hero Ingredient: Like with any comforting soup recipe, the key is in the presentation. Lay out all of your toppings and let guests build their own masterpiece!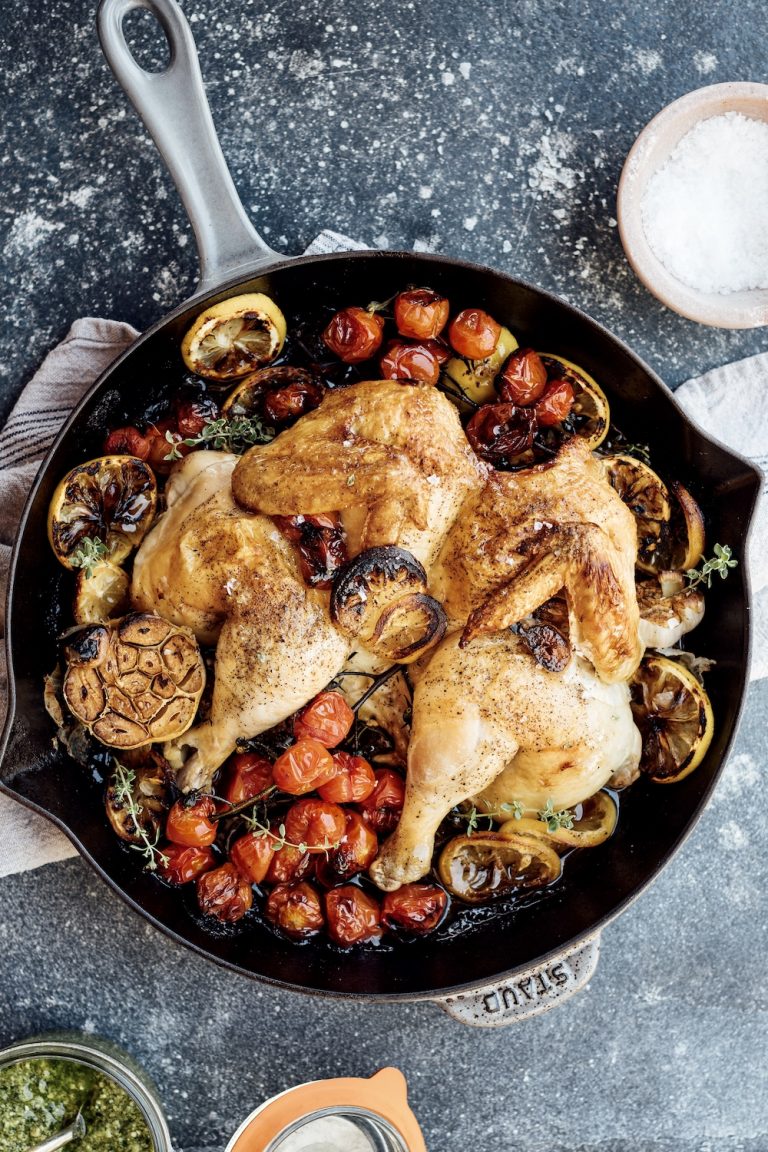 Why We Love It: This roasted chicken recipe yields the juiciest bird with the crispiest golden brown skin. And all you need is olive oil, salt, pepper, and a few supporting actors to make that dream a reality. The cherry tomatoes, garlic, and lemon slices that roast alongside the chicken create the most amazing sauce that flavors the bird beautifully. Then, a salsa verde elevates the entire creation even more. In terms of sides, try serving your chicken with vegan mashed potatoes, roasted root vegetables, or an apple walnut salad.
Hero Ingredient: The garlic caramelizes to pure perfection and is delightfully spreadable.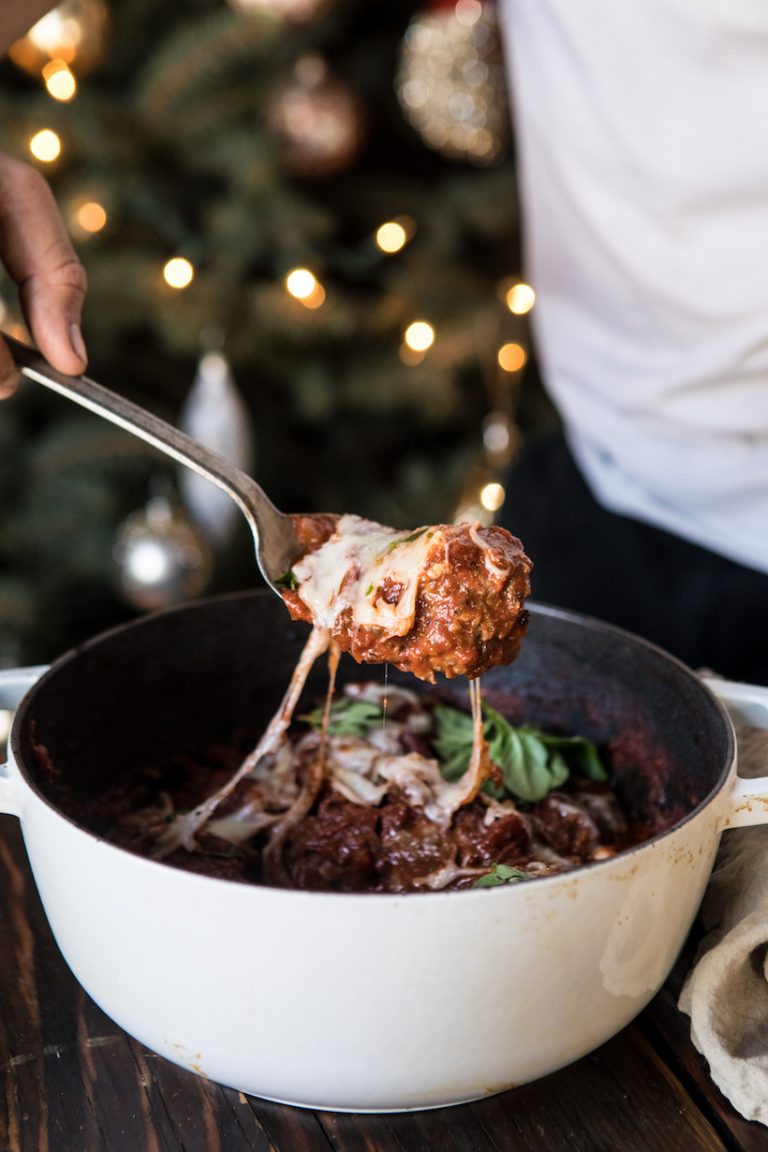 Why We Love It: IMHO—baked meatballs are always one of the best inexpensive meals for large groups. These can easily be doubled and frozen… if you don't eat them all first. If you have a busy week leading up to a dinner party, make these when you have some downtime and throw them in the freezer until the day comes. Pile them on top of some spaghetti, serve on a sub, or simply dunk them in marinara.
Hero Ingredient: Sun-dried tomatoes add a slight tang to balance out the richer flavors.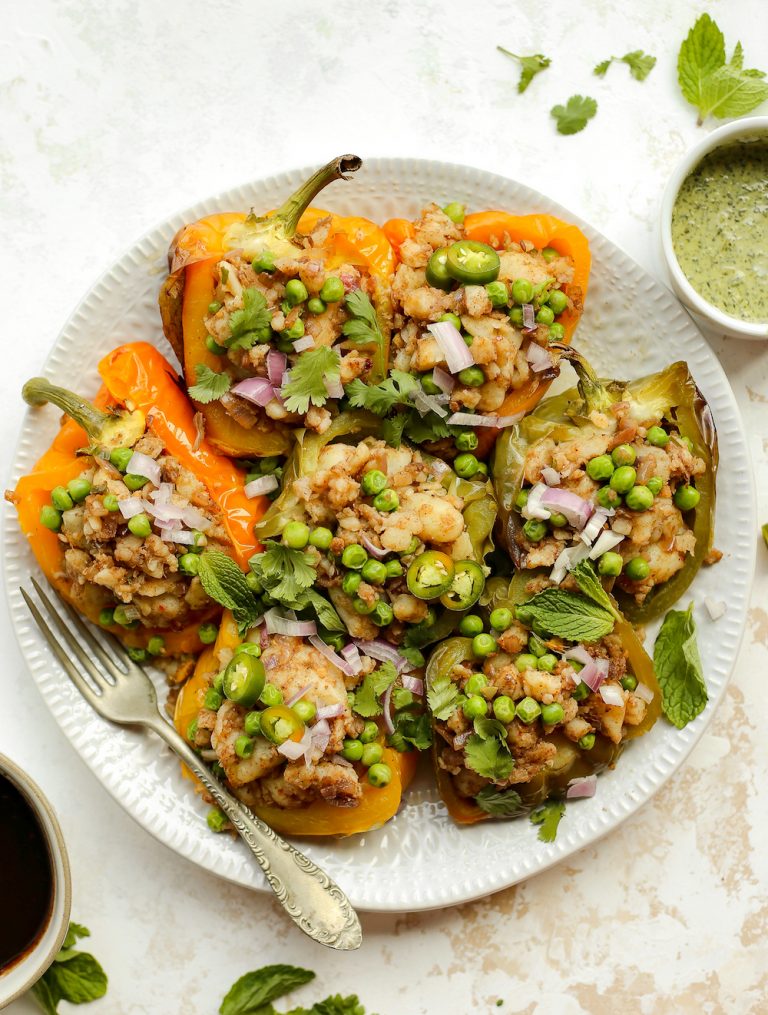 Why We Love It: Spiced potatoes stuffed into soft bell peppers make for a magical dinner. These are lighter than traditional samosa, but delicious all the same. It's such an easy make-ahead dinner because the filling will keep overnight. When the time comes, simply roast your bell peppers, stuff them with filling, and let guests top accordingly.
Hero Ingredient: Chutney, fresh herbs, yogurt, and red onions make delicious finishing touches.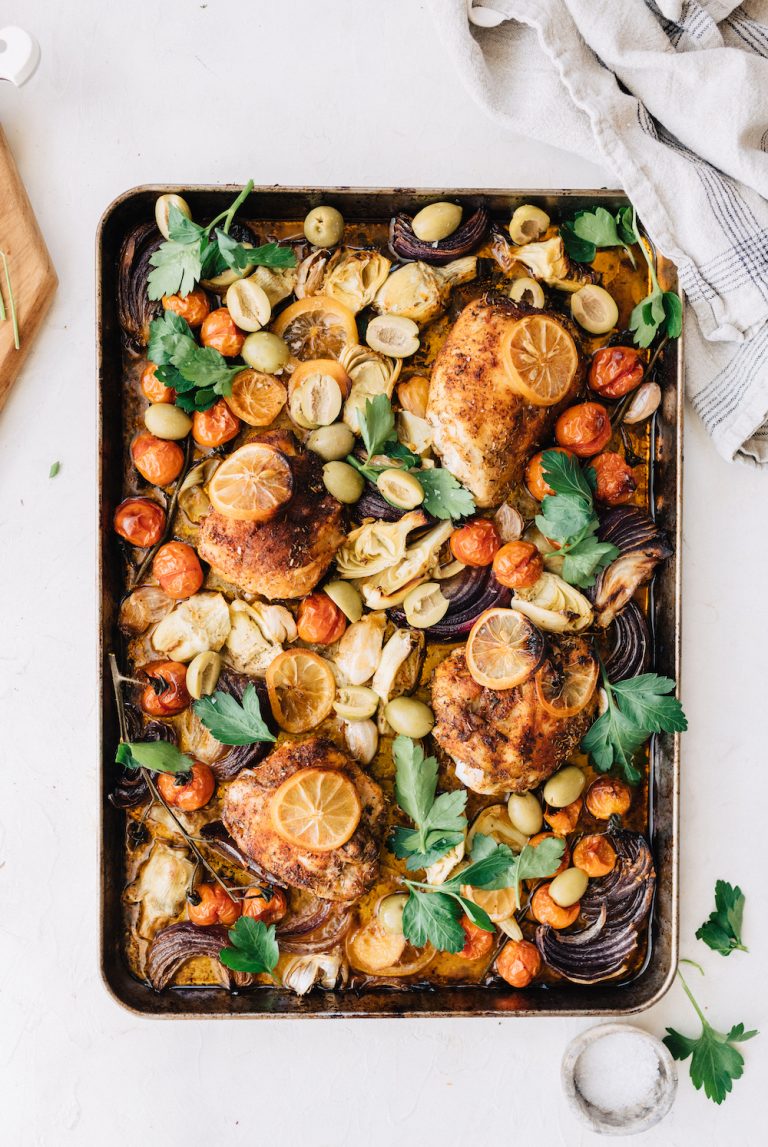 Why We Love It: Bone-in, skin-on chicken thighs get the low and slow treatment in this simple sheet pan recipe. They're roasted alongside artichokes, red onions, cherry tomatoes, garlic, lemon slices, and green olives until golden brown and delicious. The best part? All you have to do is throw everything on a sheet pan and roast for an hour. This is one of those recipes that's so much more than the sum of its parts.
Hero Ingredient: If you think slow-roasted chicken is bland—think again! The key is to crank up the oven for those last ten-or-so minutes to crisp up the skin.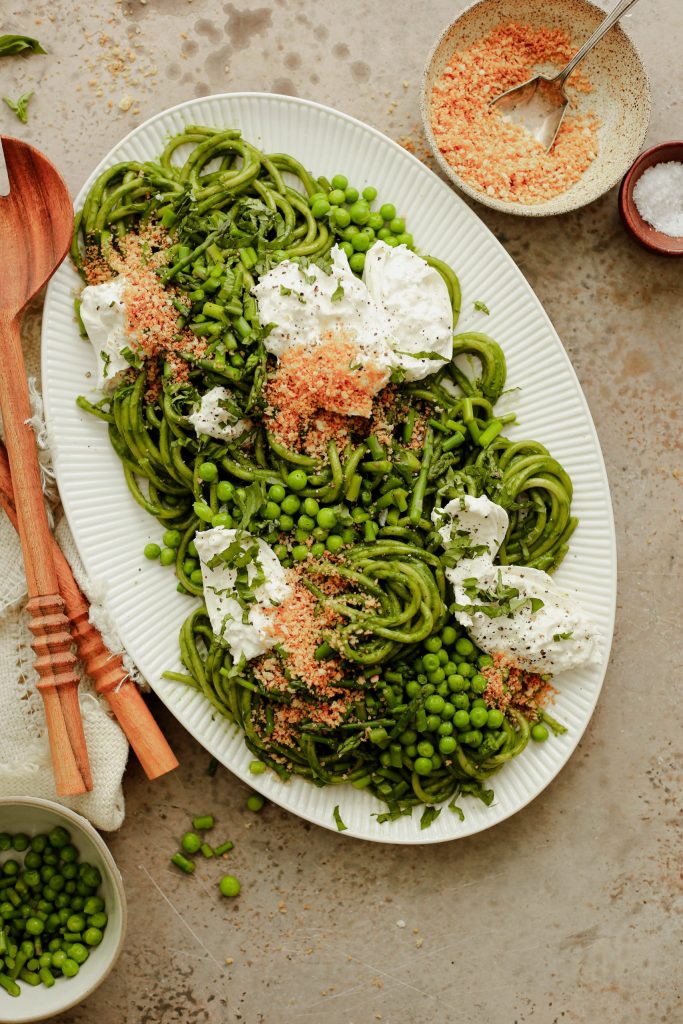 Why We Love It: An entire serving of greens in pasta form? Sign me up. This silky sauce that lovingly coats each noodle is my new favorite way to eat greens. With only five ingredients, this make-ahead sauce is the king of inexpensive meals for large groups. Simply prep your sauce, choose your favorite noodle and accompanying veg, and top with lots of finishing touches.
Hero Ingredient: Burrata, toasted breadcrumbs, fresh herbs, lemon juice, and flaky salt make excellent topping choices.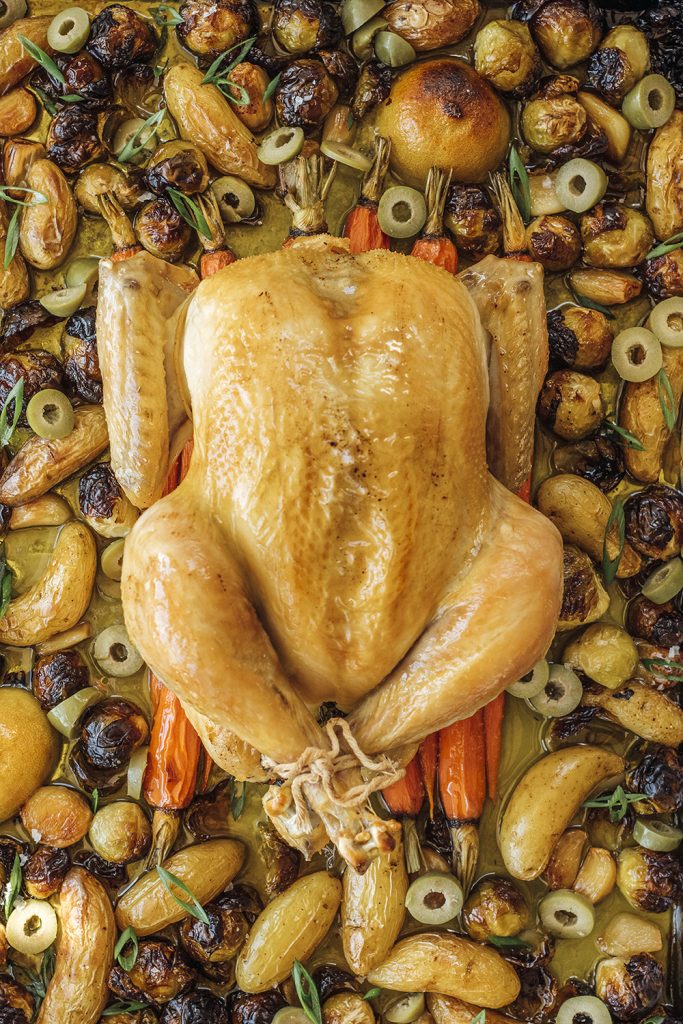 Why We Love It: Talk about a showstopper! This Roast Chicken & Vegetable Confit is just as delicious as it is visually appealing. It features Brussels sprouts, fingerling potatoes, green olives, carrots, and copious amounts of garlic and olive oil. The chicken roasts to perfection while the veggies underneath create a decadent sauce all on their own. It's the hands-off masterpiece your next gathering needs.
Hero Ingredient: Don't you dare waste any of that liquid gold. Transfer those pan juices into some sort of vessel or pour straight over the chicken before serving—you'll be glad you did.
Why We Love It: I was lucky enough to eat this Pesto Pasta Alla Vodka at Camille and Tieghan's holiday dinner party, and not to be dramatic, but I've dreamed about it ever since. I witnessed a bit of the prep and can honestly say that anyone can do it. It's ready in 30 minutes and can be easily doubled, making it perfect for both weeknight dinners and special, large-group occasions.
Hero Ingredient: The basil pesto is a unique twist on my favorite pasta sauce.
Do you have a few favorite inexpensive meals for large groups? Drop them in the comments!
This post was originally published on March 14, 2022, and has since been updated.